This is the most basic beginner's guide you should read If you are new to AFK Arena.
I am trying to cover all of the most basic information, and explain them using the most basic words so that you can easily understand the game and enjoy playing it right from the beginning.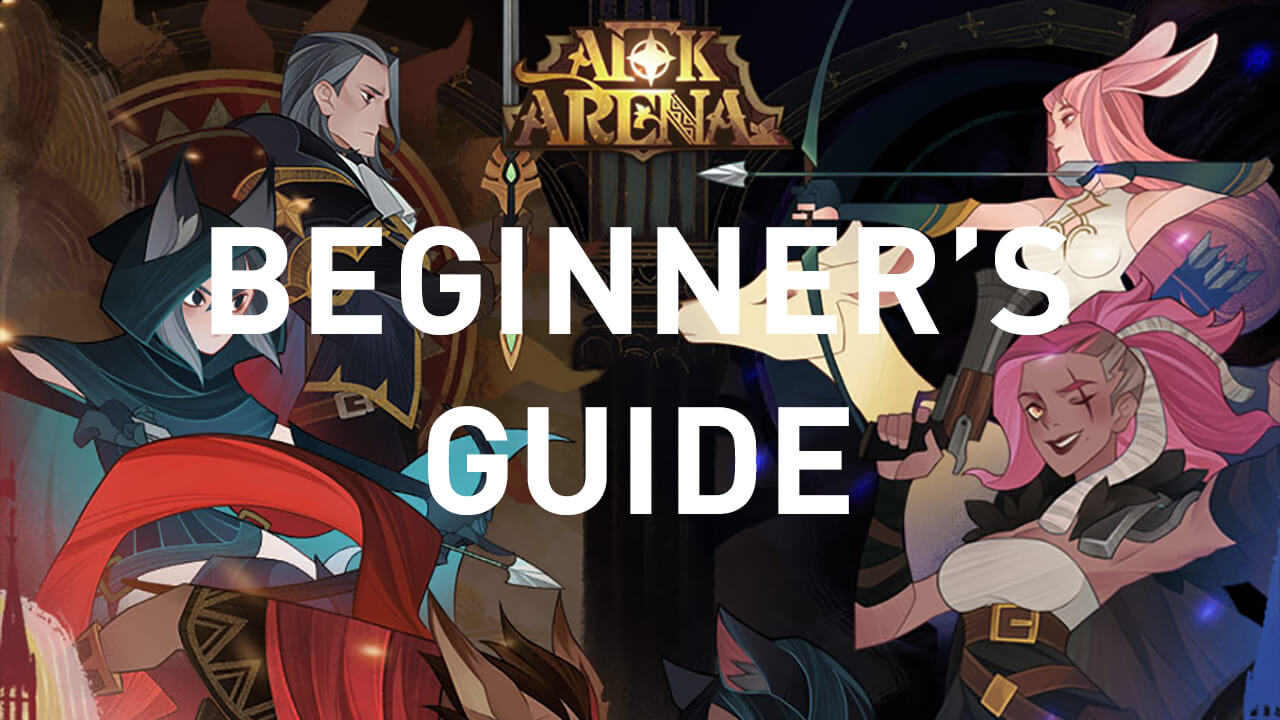 How Should I Play AFK Arena?
Just like its own name, the way to play and enjoy AFK Arena is very simple. You just need to AFK (away from keyboard), turn off the app itself and comeback later to get the rewards, build your dream teams, get into the new campaign maps and keep going AFK.
Slang Words
Before going further, here are some basic slang words you could see everywhere in the AFK Arena world. I think it's best to understand some of them first before reading the rest of this article. It helps you understand the guides easier!
A = Ascended Heroes
E = Elite Tier
E+ = Elite + Tier
L = Legendary Tier
L+ = Legendary+ Tier
M = Mythic Tier
M+ = Mythic + Tier
Food/Fodder = Heroes used to upgrade other Heroes.
Buff = The effects that increase the properties of your Heroes such as damage, attack speed, health, etc.
Debuff: Effects that make Heroes weaker.
CC (Crowd Control) – Effects like stun, tie, sleeps etc… which disable the enemies.
ATK = Attack
HP = Health Points
DEF = Defense
ACC = Accuracy
MSPD = Movement Speed per Duration
MR = Magical Resist
PR = Physical Resist
CRIT = Crit Rate
Haste = A kind of buff that increases your attack speed, movement speed and spell casting speed.
LL = Life Leech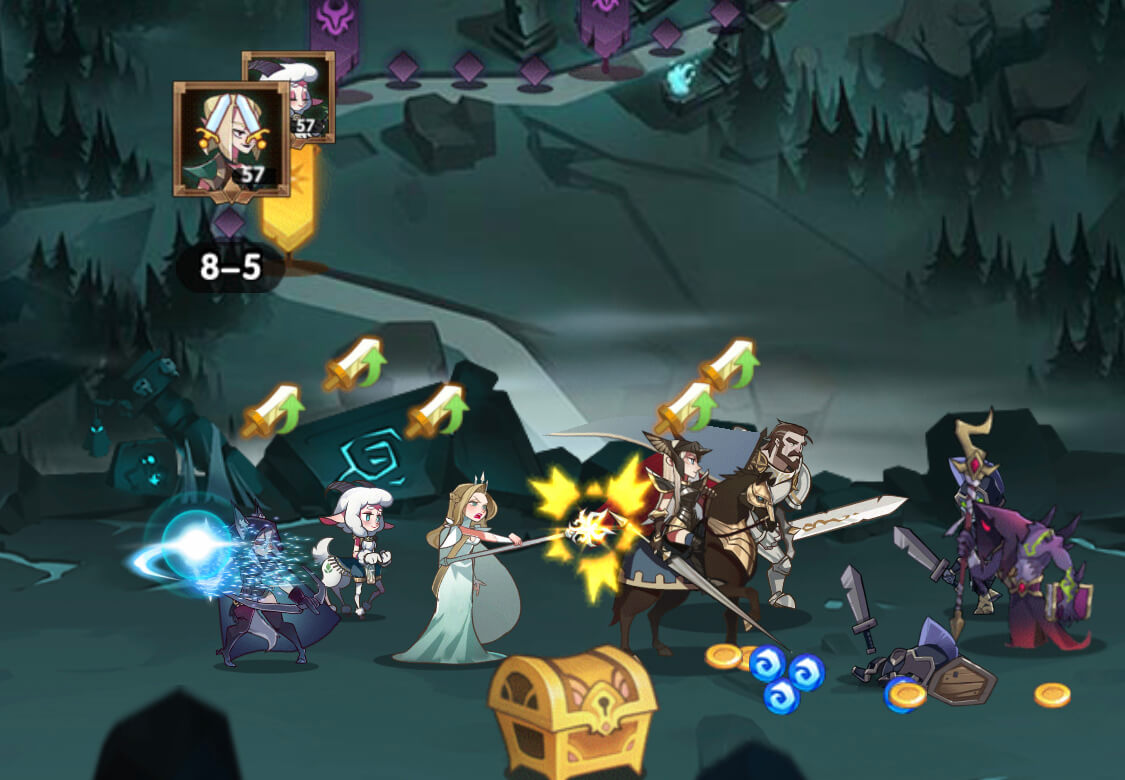 AFK Arena Heroes
There are 6 Hero factions in total.
Lightbearers
Examples:



This is the all-round faction as it has plenty of Heroes with different skill properties. Together, they can strengthen the other Lightbearers heroes effectively. However, since Lightbearers Faction is too abundant, it does not fully focus on any role.
Normally you want to pair your Lightbearers with other Factions. However, using 5 Lightbearers Heroes at once is not a bad idea.
Maulers
Example:



The Maulers are really dominating right now in AFK Arena as most of their core heroes could do significant amount of damage as well as have great support skills. Thus, you can find so many super carry Heroes here such as Vurk, Brutus, Warek or Saveas.
In general, you could boost their potentials a lot by grouping them with the Wilders, the faction that has a lot of great supporters.
Wilders
Examples:


People love Wilders because they have a lot of notable Supports for so many team building compositions in the game. They can bring a perfect balance for almost all lineups, helping heroes from other Factions making the best of their owns.
Most of the time, you will not find any team of full Wilders Heroes viable. You always want to put them with Heroes from other Factions.
Graveborns
Examples:



Graveborn Heroes are also super versatile comparing to the Lightbearers. Graveborn Heroes. Graveborns have excellent Heroes for all of the roles in a team: Damage Dealer, Tanker, Assassin, Support etc.
Their signature features: Getting stronger over time, life-stealing and game-stalling.
The Graveborn Faction doesn't have many supporters. You almost always want to strengthen them with Supporters from other factions.
Celestials
Updating… There is only one hero in this faction for now.
Hupogeans
Updating… There is only one hero in this faction for now.
More: Complete AFK Arena Hero List
What is Lineup?
Lineup is the team of 5 Heroes you use to participate in battles while playing AFK Arena.
Having a great team composition is the most crucial thing you want to achieve so that your team will have a great synergy as well as the aura buff following these rules:
Team Compositions
Buffs
3 Heroes have the same faction
The rest has different factions
ATTACK +10%
HP +10%
3 Heroes have same faction
The rest has same faction
ATTACK +15%
HP +15%
4 Heroes have the same faction
ATTACK +15%
HP +20%
5 Heroes have the same faction
ATTACK +25%
HP +25%
The Celestial Heroes can join any other faction and work as either Lightbearers, Maulers, Wilders or Graveborns to activate the team auras.
The Hypogean Faction is very special. They can boost the power of the entire team based on the amount of Hypogean Heroes you have in the lineup:
1 Hypogean Hero: Defense + 30%
2 Hypogean Heroes: Energy recovered when attacked +25%
3 Hypogean Heroes: Crit Rating +15%
4 Hypogean Heroes: Critical Damage +30%
5 Hypogean Heroes: Haste +15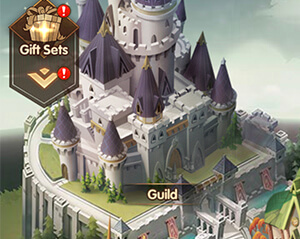 What is Guild?
Take a look at this article to read more about Guild: AFK Arena Guild.
Summary:
There are 2 Guild Bosses:

Wrizz: Players can raid every day.
Soren: Only open once the Guild had 9,000 Activity Points.

You can get Gears (have a small chance of getting Legendary Gears), Gold and Diamonds.
Guild Members can help each other activate the Library buffs and do Bounty Quests.
Guild Members can participate in Guild Wars vs. other Guilds.
The member cap of the guild is determined based on Guild level.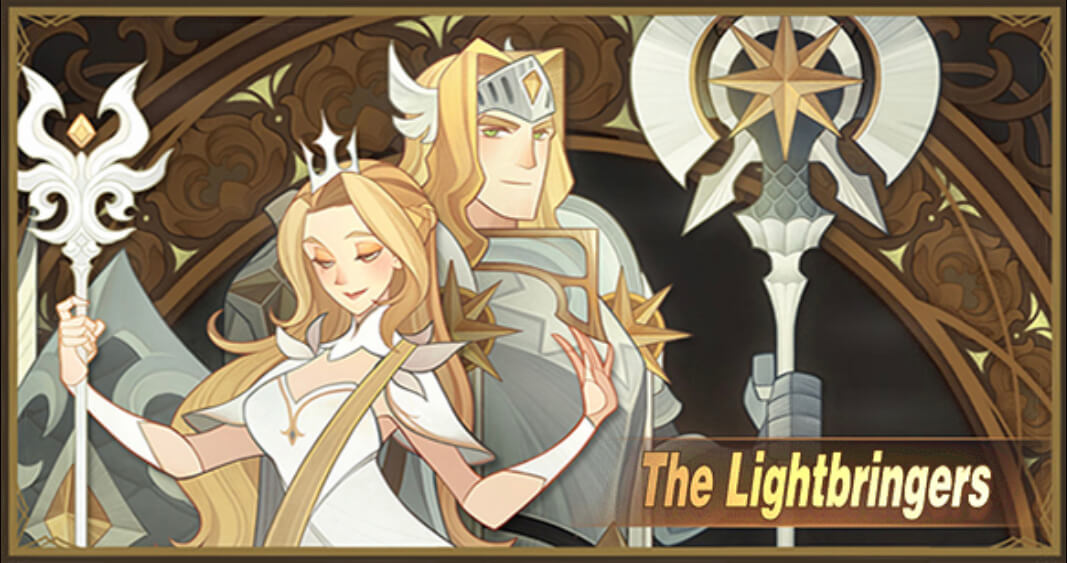 What is Library?
Check this article our for more details: Library Unions
This is the place where you can get lots of buffs for your Heroes by filling up the empty spots with the desired Heroes.
You can use either your Heroes or your friends'/teammates' Heroes.
An union's buffs only affect only Heroes in that specific union, not all Heroes in the team.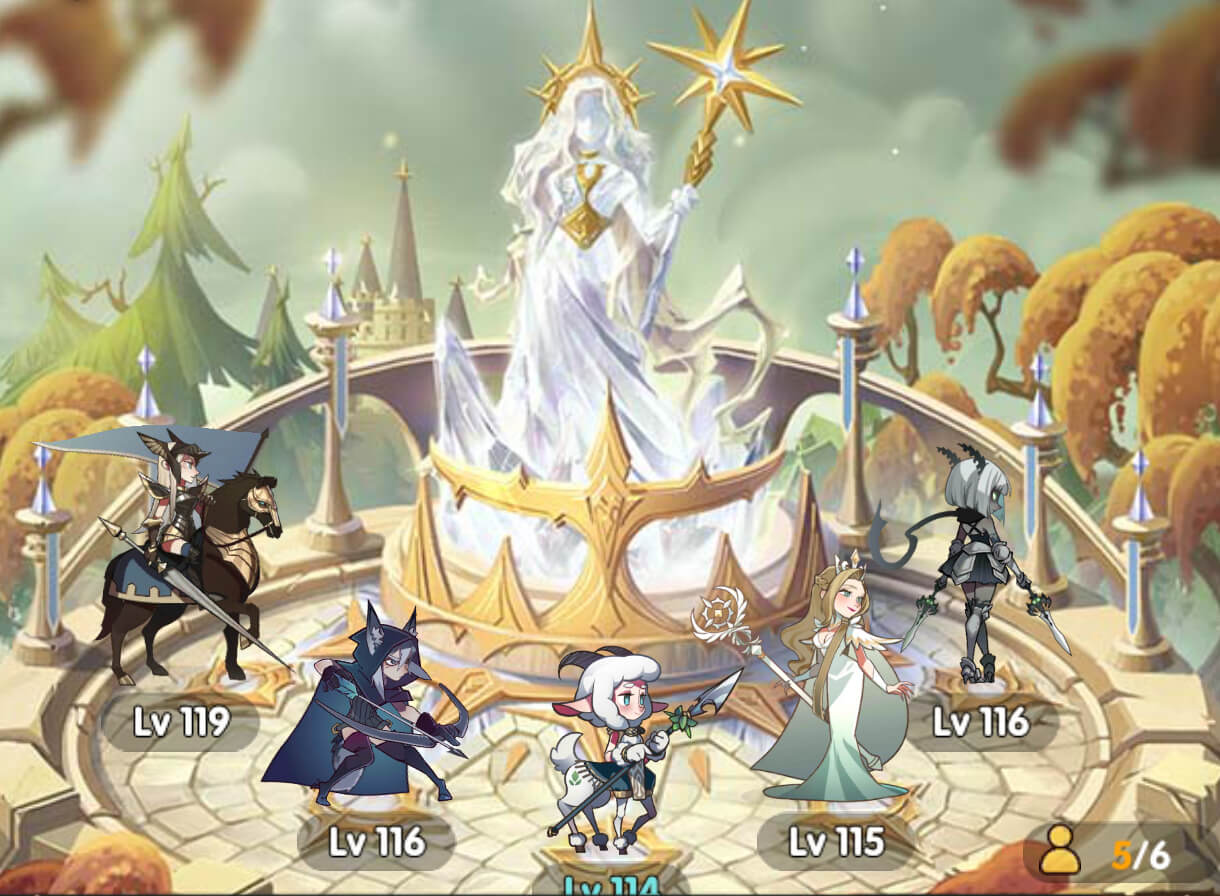 Resonating Crystal
More details: Resonating Crystal
The Resonating Crystal automatically picks 5 of your highest level Heroes.
You can select a certain amount of Heroes in your bag to the level them up to the level of the 5th highest level Heroes.

The Noble Tavern
The Notable Tavern is where you can spend your


Summon Scrolls and your

Companion Points to summon the Heroes.
You can also purchase Scrolls here as well using

Diamonds.
Check out The Notable Tavern article for more details about Hero Droprate and more!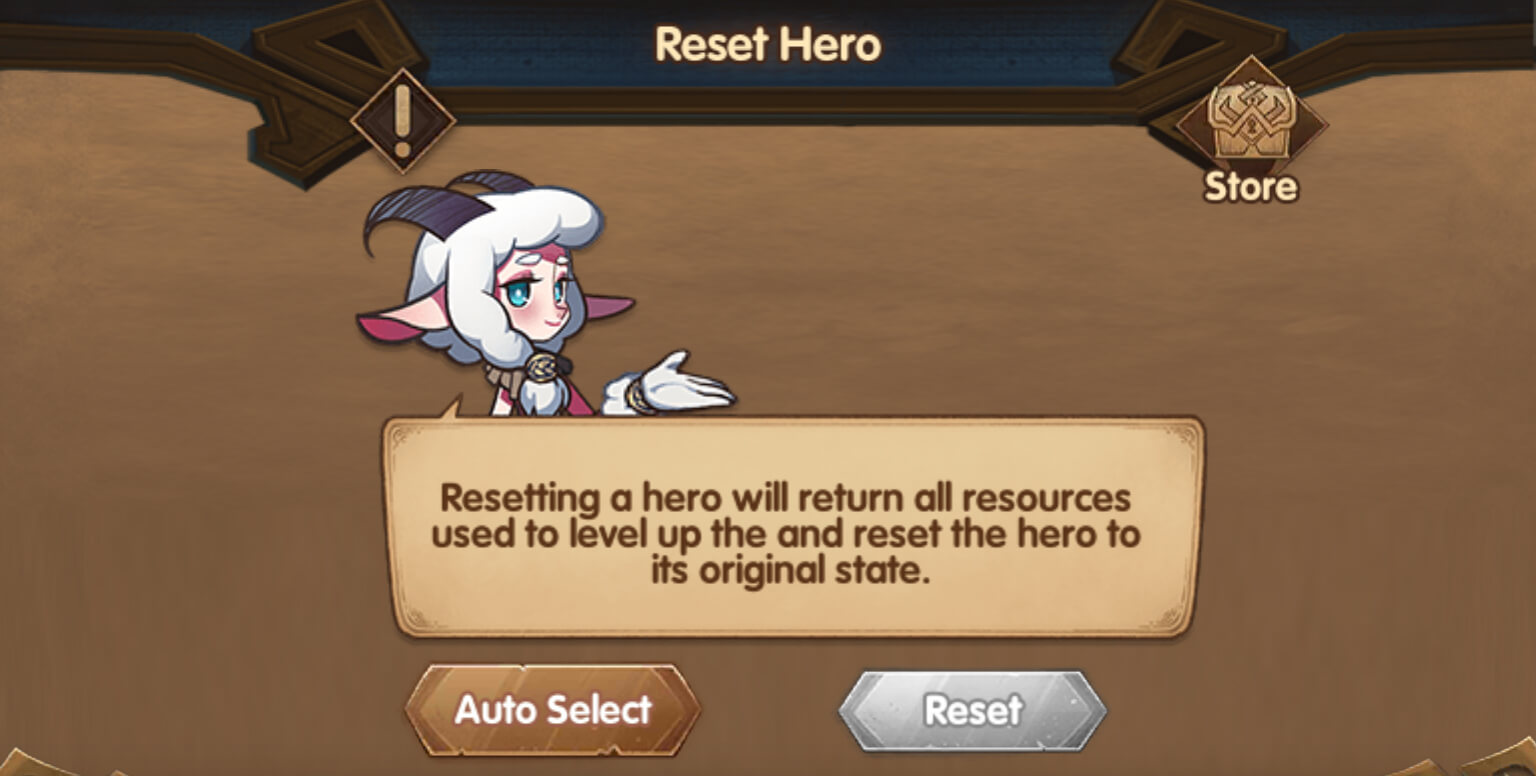 Rickety Cart
This is where you can reset any hero you want back to level 1 and destroy all of the common Heroes that are not being used, in exchange for the

Hero Coins, which is used to purchase items and Heroes in the Barracks.
Tip: It's best to spend your

Hero Coins on
Elite Hero Soulstones.
More details: Rickety Cart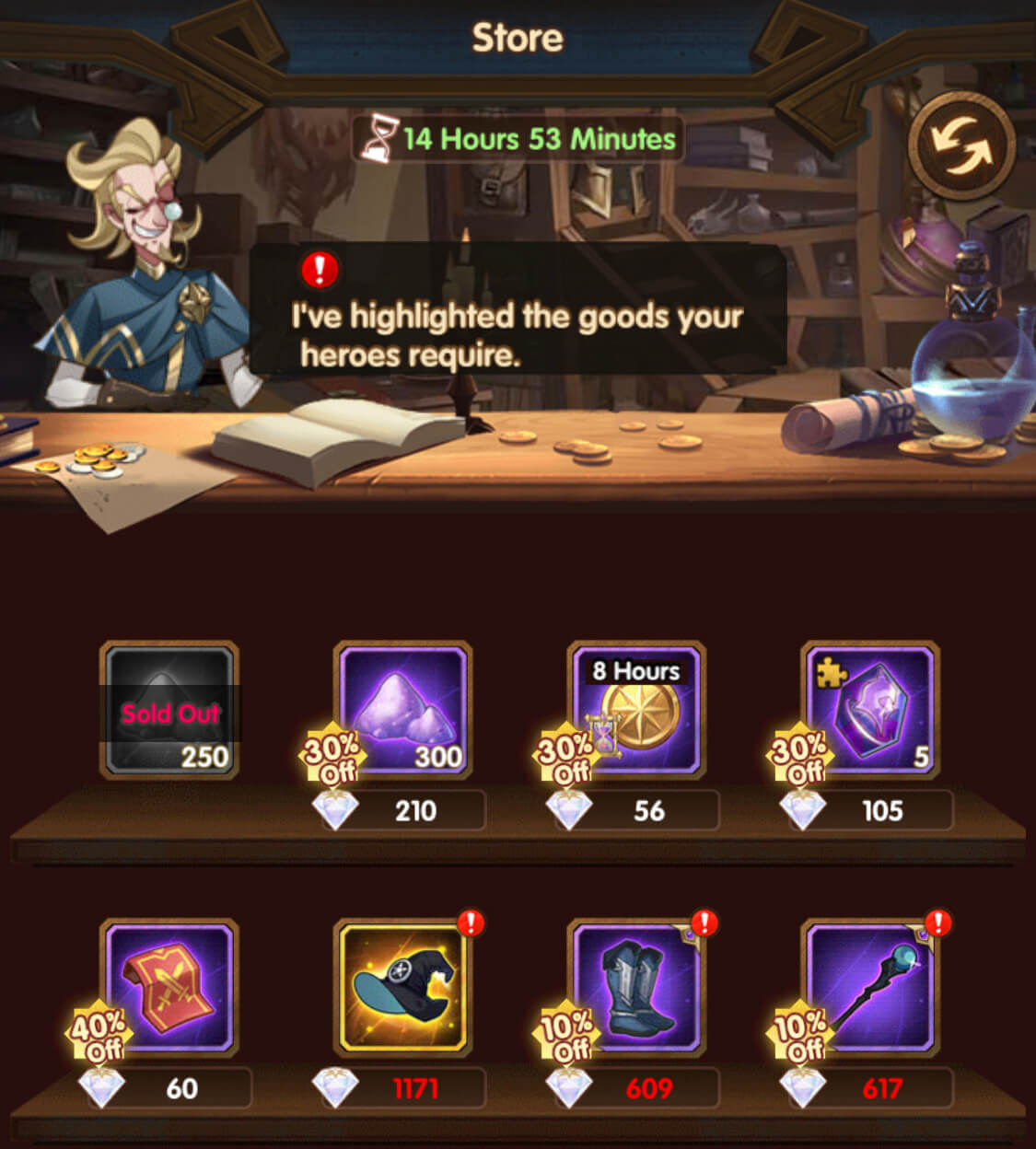 Stores
The Store is located in Ranhorn. This is where you can purchase various kinds of items, from

Hero's Essence to high tier Gears.
Here are some of the items you would always want to purchase from the Store:
5x Elite Hero Soulstones = 90x Diamonds (Instant Buy!)
Hero's Essence = Gold
Mythic Gears ~ 3k1 Diamonds per item (40% off comparing to the

Labyrinth Store after Campaign Chapter 12-2).

Mythic Gear = 31k Guild Coins
Legendary Gear = 19k Guild Coins