This is the full list of all items in AFK Arena.
Right now, the amount of items in the game is not quite a lot so we will do a summary page here first. After wards, we will try to break down everything in details soon.
You can find all of your items via the Bags menu, which is located at the top right of your screen.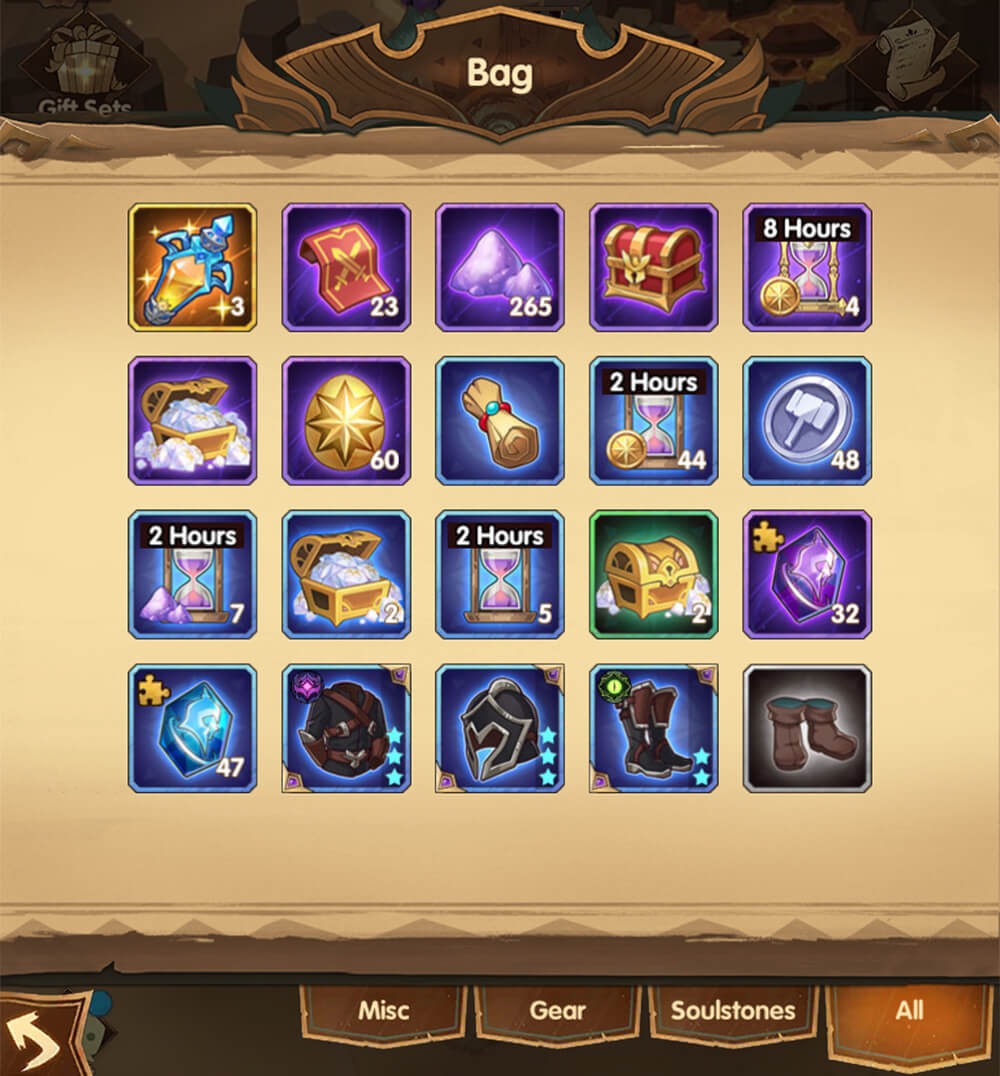 AFK Arena Item List
| | |
| --- | --- |
| Item | Description |
| Dura's Tears | A miraculous exlixir that has the ability to fully restore heroes' life and energy. However, it would seem this elixir only works on the Arcane Labyrinth. |
| Arena Ticket | For doing battles in the Arenas. |
| Hero's Essence | Can be used to enhance your hero gears. |
| Gear Sets | Offers you sets of gears. |
| Fortuitous Hourglass (2 hours) | Use the Fortuitous Hourglass to receive 2 hours worth of EXP/Gold/Hero's Essence you could get from the Campaign. |
| Sacred Hourglass (8 Hours) | Use the Fortuitous Hourglass to receive 8 hours worth of EXP/Gold/Hero's Essence you could get from the Campaign. |
| Treasure Bags | Contains a certain amount of Gems (10/30/50/100/etc) |
| Common Hero Scroll | To summon Heroes in the Tavern. You can either use 1 or 10 at once. |
| Faction Scroll | Similar to Common Hero Scroll but it summons Hero from a certain faction. |
| Rare Hero Soulstone | Acquire 60 Rare Soulstones to summon an Elite Hero. |
| Elite Hero Soulstone | Acquire 60 Elite Soulstones to summon an Elite Hero. |
| | |
| | |
| | |