The reason most people are looking for AFK Arena Secrets of the Forest guide is that the first two chapters are just very easy to complete. There's not too much you can stuff up. However, Secrets of the Forest is the first one that you can actually have some trouble with.
You can progress and ignore the main chest and get a bunch of loot, which is probably what most people will have to do when they first start out because getting straight to the final chest is really hard.
Most people actually complete Rest in Peace and the Ancient Ruins before being able to complete The Secrets of the Forest.
Every time you beat an enemy, the thorn will grow and there's basically one path you can take that the thorns won't block that chest in time.
Secrets of The Forest Guide
Tip: You can reset any Peaks of Time stage as many times as you like. Then, you can try and reset to get better relics that benefit your team better.


First, just obviously clear the first enemy and get a relic.
Defeat the next enemy and choose a suite table relic for your team. You now are able to reach the #3 spot.
Click at the #3 object to release the enemies. However, do not attack them yet, you want to strengthen your team a bit more.
Go to #4 to receive a bonus Hero for your team. You want to get a Wilder hero from this.
Attack #5 to get another relic and strengthen your team.
Do your best to defeat #6 team using at least 4 Wilder heroes.
Tip: If you cannot beat it, weaken it using another team first. But remember to save at least 4 Wilder Heroes to defeat the enemy.
Once you have successfully defeated the #6, you can freely move to the #7 position anytime. This is where the biggest chest spawns. The thorn will not spawn anymore from now and the final chest will not get blocked. Get the chest and you will be rewarded with the Artifact.
Go around the map and collect the other chests.
New Trick To Get The Relic
New working strategy to get the Artifact.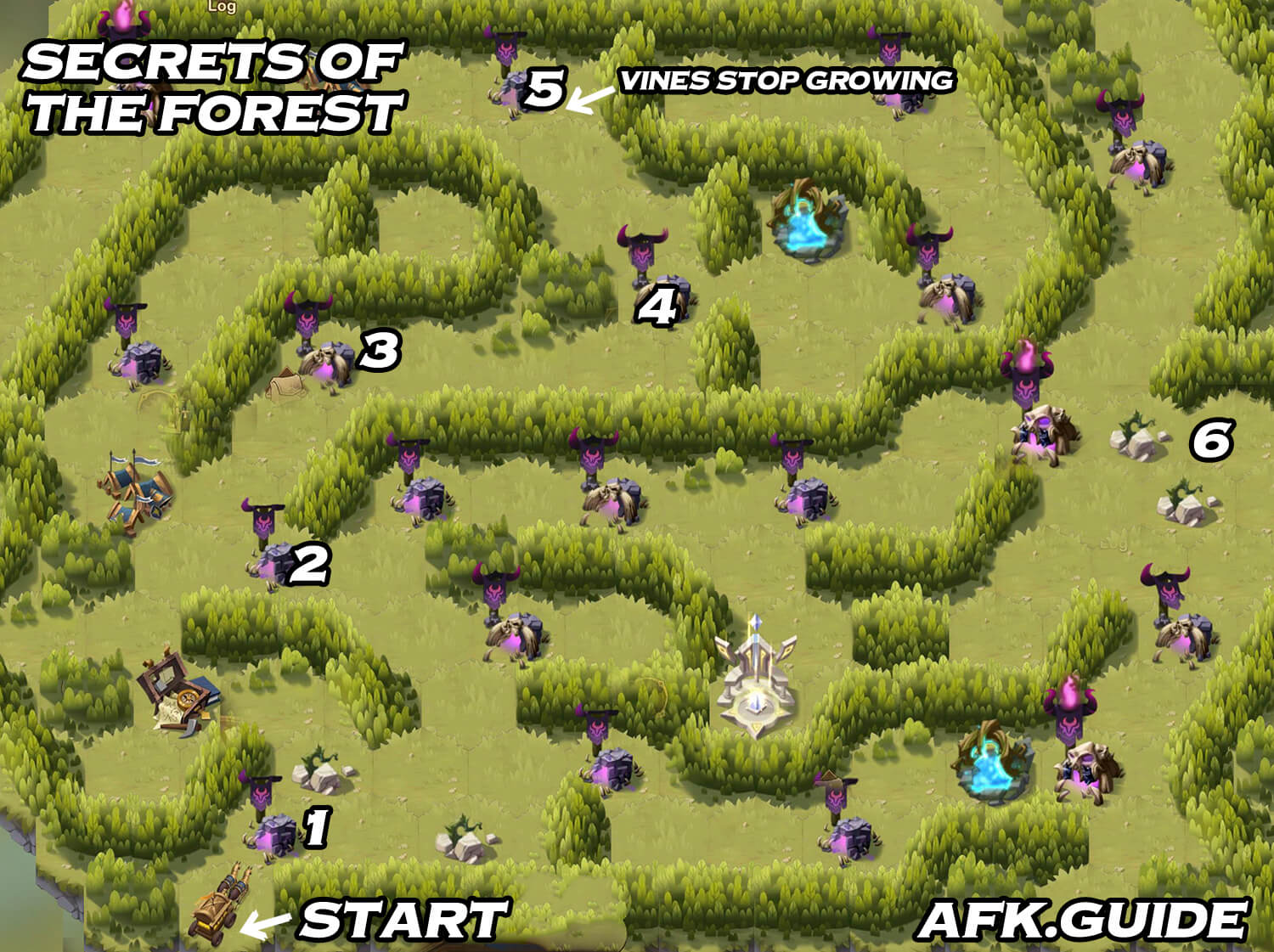 Simply attack all of the enemies from 1 to 5 to stop the vines from growing then you can get to the chest position (#6) without worrying about the vines.
However, using this trick, you cannot get the chests on the left side. So it's still recommended to use the original guide at the top of this article!
Secrets of The Forest Rewards
Hopefully, after reading this small guide, you will easily beat the Secrets of the Forest map.
If your account is just not strong enough to defeat the enemies here, check out the latest AFK Arena codes to strengthen your heroes within seconds!
If you have any question regarding this tricky one, don't hesitate to comment down below and let us know!

All Peaks of Time Chapters