Getting to AFK Arena Campaign Chapter 25 is not easy at all, but getting to Chapter 30+ is definitely a real nightmare for most people in the game.
In order to help you push easier without testing different types of comps, here are the best working AFK Arena compositions for Late-game Campaigns (From Chapter 25-30) and End-game Campaigns (Chapter 30+).
This guide was shared by AFKArty (ID: 888031) and Alpattex (ID: 27959515).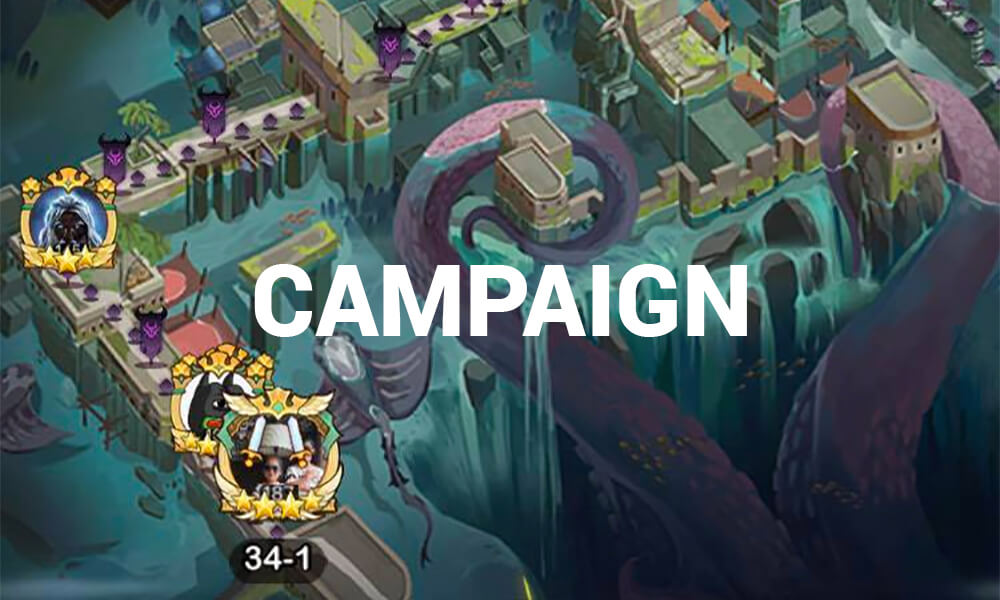 [toc labelHide="hide" hideItems="1″ smoothScroll="1″]
Best Campaign Formations
Note: The teams are not organized in any specific ranking order.
AFK Arena Late Game Campaign Team Compositions
Hi all, Arty here. I've been pushing campaign a bit, using different common comps, and I realized some of us might not know these PvE comps.
To start, keep in mind these are all based on Hero pools of a large pool of players, but is not fact and leaves space for many variations and is intended for advice in the range of chapters 25-30. These are not the only viable comps and will not always work. These are recommendations from comps proven to be effective.
Also, heroes like Wu Kong are not included due to just not being built much yet, many players are just starting to invest into them now, and aren't at a usable ascension, I'm confident he could fit into these comps.
Also, notice Talene, Ferael and Rowan are in like every comp, these are the late game heroes you need to have at least one of otherwise life will get a lot harder for you!
Standard Eironn (Late Game)
Overview:
This team hasn't evolved much in the past year, still utilizing the core of Eironn, Tasi, and Rowan to output heavy levels of CC onto the entire enemy team.
This formation allows players of wilder focus early game to excel especially.
The rest of the team is usually focused on following up or enhancing the CC provided within budget options as at this point your hero pool is rather limited.
This team is simple and straightforward, aim towards it if you like consistent progress and want a solid mix of PvE and PvP content.
If building this, after your first 4 Wilders are done, move into GBs.
Requirements:
Aim for both Rowan and Eironn to +30 (Rowan first), with gear on Eironn being core.
Tasi can function at +15 signature item.
Lyca would always want a +20 signature item as well.
Extremely adaptable and has no unbeatable matchups.
The most well defined late game team.
Needs gear to be fully invested into both agility and mage heroes.
Some matchups require niche options.
Standard Daimon (Late Game)
Core:

+ Stall
Overview
Since the meteoric rise of GBs, a team focused around them with Daimon as the carry was inevitable. This team is centered towards those who used most of their faction investment into Graveborn options by using the stallier and disruptive faction to enable Daimon to carry.
This team doesn't have a standard form, and is usually just built similarly to the end game team with less tools and geared towards single fights.
Aim towards this team if you plan to play harder along the PvE focus and rely on RNG for maximising the pushing potential, after getting 4 GB done or so with faction focus, move into Wilders.
Requirements:
Daimon needs his +20 signature item and 3/9 furniture, Rowan likes his +30 signature item, and good gear is recommended for both.
Adaptable and able to push massive deficits.
Very few weak matchups.
Struggles against ferael.
Relies heavily on RNG.
Raku Mehira Charm
Replacements:

→

Works great in most cases and Rosaline should follow Mehira
Overview:
This is kind of a cycle campaign team where Mehira using Windbinder starts the battle with 300 Energy, Rowan's Signature Item also helps Mehira ulti first while Raku and Daimon finish off the enemies.
Very simple but effective comp. Works great in end-game as well when you have Raku maxed.
Requirements:
Mehira at Elite+ is enough. Raku and Daimon should have at least +20 for mid-late game and +30 for end-game. Brutus doesn't require any investment.
Ainz Comp
| | |
| --- | --- |
| Optimal Team | |
| Multi Fights | |
| Budget Team | |
Core:

Overview
This is the current strongest team for pushing single stages in the entire game, beating out the God comps and Cheese comps variants.
How?
This is due to the immense power that Ainz and Albedo bring to the table. Used in both PvE and PvP, this team has overtaken Gwyn teams as the 5th team for campaign at end game.
The game plan is simply to stall for Ainz until he ults, and his ability "The Goal of life is Death" activates, half healthing and stunning all enemies so his following ult has less health to burn through.
Non-Albedo owners can still use Ainz as a carry but he'll play slower without the damage buff, focus on heavy CC for those teams. This is the best KT and single-stage core (Albedo, Arthur and Ainz.)
Requirements
Both Ainz and ALbedo want their +30 signature items, Ainz also wants his furniture investment to a 9/9, prioritize this heavily.
Scales forever.
Extremely potent in PvP.
High levels of flexibility.
Strongest single stage team.
One of the few anti flora options.
Requires high levels of investment into Ain.
Vulnerable to extremely high levels of burst.
AFK Arena End Game Campaign Compositions
Charmizard
| | |
| --- | --- |
| Optimal Team | |
| Multi Fights | |
| Budget Team | |
Overview
This comp mainly revolves around the chain CC potential of [Rowan+Mehira] core.
Izold, Raku, Kren and God comp also uses this core, but a recent patch enabled rosa to follow Mehira which provides continuous CC with an M+30 Khazard. Lay back and watch the enemy heroes kill each other.
Zolrath is good for initial Haste and is a must for Flora stages in late/end game. Zolrath is also good for killing the last enemy in some stages.
This comp can work without Rosaline so she can be replaced if stage necessitates more tanking/CC/burst etc.
Requirements
Mehira/Khazard at M+30 would work well. Zolrath and Rowan require +30 3/3 at least.
By Meymenetsiz
Alna Grezhul
| | |
| --- | --- |
| Optimal Team | |
| Multi Fights | |
| Budget Team | |
Overview
This newer endgame team has risen through the release of Alna and the discovery of the immense power Grez's 9/9 holds.
Through making Grezhul damage immune as well as using Alna's 3/9 furniture to heavily slow enemies, this team rides off the innate synergies the two heroes have with one another.
The rest of the team is usually aimed to support the damage output from Grezhul or further slow and CC enemies.
This team has almost no bad matchups in PvE however heavy backline burst may force more resources to be utilized within the team.
This team does however force out the very high priority Alna so it may not be applicable on many stages.
Requirements
Alna would like a +30 and 9/9 on her furniture, however, some stages may let her get by with just a 3/9 furn.
GrezhuL would like a +20 9/9, and similarly to Alna a 3/9 may be acceptable on some stages.+30 on Grezhul is an overinvestment. The rest of support differs on progress but usually each hero has their own standards for success.
Very powerful single and multi battle formation.
Never falls off into CH40+
Alows the utilization of a less standard carry.
Requires a high initial investment to succeed.
Not extremely flexible.
Thoran Cheese
| | |
| --- | --- |
| Optimal Team | |
| Multi Fights | |
| Budget Team | |
Core:

Overview
The purpose of this team is to utilize Thoran's signature item along with his ultimate ability, Retaliation.
You do so by manipulating all enemy's positions to surround Thoran, and have all enemies attacking Thoran so he can counter with sufficient damage.
This team is perhaps the single strongest non-Mehira energy cycle team for campaign purposes, but requires heavy game knowledge of interactions between heroes to ensure a successful clear.
This team never falls off no matter what some may say, there is no downside to investing into Thoran besides personal preference and some extra RNG on retries.
Some troublesome heroes like Tasi or Kelthur as enemies can be handled by using Flora or Ferael to trigger their immunity skills.
Requirements
Requires a signature item on Thoran, and as such he must be at minimum Mythic ascension.
However, optimally, Thoran is at minimum ascended, with a +30 signature item to allow Thoran to ultimate twice with death immunity. His 3/9 and 9/9 furniture effects are also both effective for this strategy.
Works at a theoretical infinite level deficit.
Only requires investment into Thoran.
Allows for high RNG success.
Does not require other core heroes such as Rowan, Talene, or Lyca.
Very weak for PvP purposes.
Reliant on extreme levels of RNG.
Weak against Ezizh and Oden
Lucretia Cheese
| | |
| --- | --- |
| Optimal Team | |
| Multi Fights | |
| Budget Team | Any-2 |
Core:

Overview
This is one of the strongest compositions in the entire game, I highly suggest stargazing for Lucretia after twins for an effectively Low investment 5th formation. Power manipulation is rather impactful for Lucretia due to barricade triggers.
The purpose of this team is to utilize Lucretia's signature item by killing her own teammates while providing small benefits to Lucretia through doing so.
Unlike Thoran cheese, no enemy placement manipulation is needed, but instead it's more hero matchup knowledge.
Lucretia is a newer hero who has risen through the priorities on stargazing rapidly. She makes for an extremely efficient 5th team for f2p and spenders alike who need a 5th team outside of faction-based comps.
This is not a static team, and frankly, any hero can be subbed in for success based on game mechanics knowledge.
Requirements
This team requires at minimum a +20 signature item on Lucretia, however, ideally, it's +30 and a 9/9 furniture.
The rest of the roster may vary on ascension and investment.
Only requires heavy investment into Lucretia.
Can clear with very few other core heroes.
Very high RNG success.
Takes up a stargazing slot.
Weak against multiple high burst mages.
May take resources away from other cheese teams.
Izold Cheese
| | |
| --- | --- |
| Optimal Team | |
| Multi Fights | |
| Budget Team | |
Core:

Overview:
Many may not call this a cheese comp, I do.
This PvE team has soared up the usage lists after furniture was released, and is debatably a top 5 carry in the game. His entire goal is two things, ulti and kill an enemy (summons are included). These two things allow him to stack damage mitigation and eventually damage output.
The teams he fits into all revolve around enabling him to achieve these two goals.
Izold does not stack passive stacks with Alna immunity except from his own skills, but the immunity still allows him to survive initial attacks and gives a hero like Ferael or Silas time to ramp up damage mitigation and snowball heal so as soon as he's no longer immune, the enemies lack the ability to kill him.
Requirements:
Izold requires a +30 signature item and 3/9 furniture effect, his 9/9 is a also a solid additional buff.
ALL other heroes' investments differ based on progression points.
Extremely flexible rplacements.
High comp versatility.
Requires little to no strargazed heroes.
Requires high inestment on Izold.
Struggles against anti-heal and high levels of burst.
Gwyn Comp
| | |
| --- | --- |
| Optimal Team | |
| Multi Fights | |
| Budget Team | |
Overview
This team is simple, utilize the innate power that stems from Gwyneth inside a PvE format.
This is usually done through higher levels of investment into Gwyneth, and multiple heroes aimed around supporting her.
You often want to utilize this comp into a stationary backline so Gwyneth can hit 3 enemies at once with her flaming and lightning arrows (4 enemies with more pushback).
It's the optimal lightbearer based team and often quite RNG with clears based on arrow RNG. Note that this team falls of when entering chapter 35.
Gwyneth herself does fall off as an effective carry entering ch35 and above, but that does not mean you should avoid building her, as most LBs are weak by that point already. You'll still get decent use from that team in PvP and PvE.
Requirements
Gywneth wants at least +20, but +25 is ideal.
Arthur is a near staple too and he enjoys a +30 signature item.
Nothing else is required but Rosaline stars are helpful.
Bursty and punishes stationary backline.
Requires lower levels of investment.
Doesn't take core away from other teams.
Weak against mobile and displacement enemy heroes.
Often can't fit other high powered heroes due to narrow win condition.
Falls off entering chapter 35.
Skreg Invade
| | |
| --- | --- |
| Optimal Team | |
| Multi Fights | |
| Budget Team | |
Core:

The goal of this composition is to utilize the immense power of Skreg's furniture effects while simultaneously using high synergy heroes to punish low survivability backlines.
Generally, smart targeting heroes such as Tidus or Satrana are extremely effective.
Enemies such as Tasi, Hendrik, and other self-sustaining and tankier compositions may cause this formation to struggle rather heavily.
This team is excellent due to the lack of other cores it utilizes, but is still in a heavy developmental phase with new additions such as Kren bolstering its power.
The team is still in the early stages of its development and may not be as effective as others until more synergistic heroes are added to the game, but it's a team worth putting some investment towards for most players.
Requirements:
Skreg furniture is a requirement, besides that Tidus often wants at least a +20 3/9 investment. The rest of the team widely varies based on progression points.
Bursty and punishes stationary backline.
Requires lower levels of investment.
Doesn't take core away from other teams.
Weak against mobile and displacement enemy heroes.
Often can't fit other high powered heroes due to narrow win condition.
Classic Disrupt
| | |
| --- | --- |
| Optimal Team | |
| Multi Fights | |
| Budget Team | |
Core:

+ Disruption
This team is one of the most consistent and flexible of any end game comp.
Usually utilizing the CC abilities of tanks such as Mezoth and Orthros along with backlines involving Ferael, Nara, and many other high crowd control heroes.
This isn't a team you can use every stage, mostly due to taking core away from others, but it's efficient and simple to build around.
This team will struggle against any compositions that can ignore CC such as Skreg or Tasi.
This team doesn't have a "meta" formation as it's usually very heavily stage-based, but the concept remains as a solid 5th team for many. Any forms of CC usually have a place within the team.
Requirements
Ferael would like a +20 signature item, rest of the team varies but most are high-priority heroes to begin with so high investment is preferred.
Extremely Flexible.
Strong in PvP!
Weak to any evasive threats such as Talene, Flora, Mezoth, or CC Immune Heroes.
Less consistent at extreme deficits.
Energy Cycle
| | |
| --- | --- |
| Optimal Team | |
| Multi Fights | |
| Budget Team | |
Overview
A classic PvE staple, this team is used rampantly in end game Campaign and King's Tower through the high sustain of Talene mixed with the energy cycle core of Ezizh, Rowan, and Twins.
This team is most people's ideal formation due to the high flexibility and impact of the formation.
It struggles against heroes who are directly built to counter ultimates like Flora or Oden, as well as those who are CC immune like Skreg.
I refrained from calling this core the "God Comp" as the pieces can usually be split down to the energy cycle core as it's uncommon to be able to run the full formation that many look towards building. Rowan,Twins and Ezizh are the real core of that formation.
Requirements
Rowan needs a +30 signature item, each other cele/hypo wants at minimum M +20.
All other heroes' investment differ based on progression points.
Extremely high versatility.
All primary heroes are extremely strong.
Effective in PvP.
Requires moderate ascension on Stargazed Heroes.
Lots of investment time wise.
Burst Comp
| | |
| --- | --- |
| Optimal Team | |
| Multi Fights | |
| Budget Team | |
Overview:
Burst is a fast-paced team-oriented around winning before 20 seconds have passed.
The formation uses heroes with strong early damage and CC to chain high damage and strong control to a point where enemies can rarely use their own skills before dying. This is done primarily through the use of the pairing of Eironn and Lyca, which brings amplified haste alongside repositioning tools and control.
Skirath is not included as I believe he creates a new team outside of burst. This formation is slowly falling out of favor for the aforementioned 5 pull compositions but still hasn't left PvE meta yet.
Requirements:
Eironn wants a +30 and 3/9 furniture effect, Lyca would Like a +20 and 3/9 effect, but 9/9 is very solid on her.
All other heroes have differing levels of investment based on progression.
Very effective in PvP.
Easy to build into low initial investment cost.
Falling out of meta.
Struggles into extremely tanky options like Skreg and hard to disrupt targets like Tasi or Kelthur.
Five Pull
| | |
| --- | --- |
| Optimal Team | |
| Multi Fights | |
| Budget Team | |
Overview:
The currently rising Eironn team, 5 Pull is based around utilizing Skirath's 3/9 furniture effect along with Eironn in the back middle to pull all 5 enemies together.
This grouping allows for heroes with effective AOE control and damage to excel in situations that usually would rarely occur. This does often leave Eironn to die or in a near-death state, but protection such as Barricade can often negate part of this effect. This would be the Eironn team I'd aim for.
This team is rising in the meta heavily as it can be used alongside other effective carries like Thoran and Lucretia, giving it perhaps the highest flexibility of any team mentioned due to the many unique win conditions and can switch between many win conditions.
Requirements
Eironn would like a +30 & 3/9 furniture effect, Skriath does not need anything besides 3/9 furniture as well. Bring him to +30, or just leave him +0.
If using an alternate carry for this team, Eironn can function off of Less investment.
Extremely high flexibility and overall utility.
Never falls off.
Leaves heroes exposed to very early burst.
Weak against heroes who naturally reposition themselves like Tasi or Flora.
Daimon Comp
| | |
| --- | --- |
| Optimal Team | |
| Multi Fights | |
| Budget Team | |
Core:

Overview:
This child has defined the late game PvE meta around him, using his high enemy percentage-based scalings to push power points previously thought unbeatable.
His use in the end game is no different, attempting to enable Daimon to stack bloodshields until he steals enough enemy stats to snowball into a victory.
He is most commonly used with the least amount of Gravebom support as that goes to other carries, however, he can use all forms of support rather well.
He is especially strong against tanky enemies like Skreg and Mezoth as well as summons.
Daimon teams are often the easiest or hardest to make work with little in between depending on the support you give to him. He's extremely effective at his role of solo carrying. Additionally, heroes like Athalia, Ferael, Silas, and Khazard return less total health to enemies so for longer fights try looking towards them. Avoid enemy Nemora.
Requirements
Daimon wants +20 and 3/9 Furn as a bare minimum, but people severely underestimate the power of his +30, which gives him more shield uptime and the ability to stack more total shields more consistently.
High versatility.
No bad matchups.
One of the few anti Flora options.
Requires high Daimon investment.
Often high levels of RNG are needed.
Khazard Wilders
| | |
| --- | --- |
| Optimal Team | |
| Multi Fights | |
| Budget Team | |
Overview:
Originating from the chinese servers, this team is rising in use among the western players quite rapidly due to its extremely high amounts of CC and lack of core heroes from other formations usually in play.
This team is built around utilizing Khazard's signature item and base kit along with other high impact CC heroes. Usually, any team that doesn't have the ability to dive onto Khazard is a winnable fight.
This team is also in a developmental phase among the western playerbase, but has been proven to work in chapter 39.
F2P stargazing is usually based around a budget version of spender gazing which encompasses PvP and PvE.
If you prefer a PvE focus, I can recommend gazing Khazard as early as second or third compared to other priority lists as he builds a team around himself quite easily.
Don't think this team isn't attainable just because it centers around a cele/hypo, it's extremely powerful!
Requirements:
Khazard would like a +30 and 3/9, Tasi enjoys a +25 and 2/9, and Mehira functions at M +30.
Works at extreme deficits.
Uses more niche options to save stronger heroes.
Often can split other formations.
Undefined in the meta.
Stall Comp
| | |
| --- | --- |
| Optimal Team | |
| Multi Fights | |
| Budget Team | |
Overview:
Another PvP team with overlap into PvE.
Stall is based around the same concept it has always been, use healers and tanks to slow down the fight until heroes ramp up and chip away at enemies.
This version is primarily done through the use of Talene Flora, but other variations may end up looking more Like the disrupt team.
There's a multitude of tanks who slot inside this team but the most popular variations look most like the PvP versions with Mezoth and Orthros.
Although this team is falling from meta, there are many times when you'll have leftover heroes and may be able to afford a team like this. This formation is rather diverse in its win condition and should be adapted, Zaphrael is just my personal preference for a 5th but for a budget player look towards an alternate option.
Requirements:
Flora wants at least an M +20, but ideally is A with a 3/9 furniture effect, Talene is a similar investment but likes a +30 9/9 quite often.
All other tanks often want a high investment to make use of the sustain.
Effective in PvP.
Extremely powerful against teams with high levels of initial burst.
Falling out of meta.
Takes many high-priority heroes.
Weak into teams that outstall it.
Portal Party
| | |
| --- | --- |
| Optimal Team | |
| Multi Fights | |
| Budget Team | |
Overview:
This is a far more newer team that has been rising among the western community more than the eastern.
Piloted primarily by Aimb, but others have adapted it and seen high levels of success.
This team revolves around the two 'portal' heroes of Oden and Pippa, who manipulate enemy positions into a grouping, similar to 5 pull but with alternate resources. It then chains CC and allows Oden with his rework to stifle enemy alts and carry.
This team however is still in development and has yet to be adapted into the meta.
Although this team is in a developmental phase, I feel it'll rise in the future and I'd keep my eyes on the formation just as the Khazard Wilder set has risen, both have many similarities, and if one shows good results, as will the other.
Requirements
Both Oden and Pippa want a minimum of +20 signature item and 3/9 on their furniture, but both can go beyond, especially Oden due to the high power of his furniture stats and carry potential.
Utilizes untouched powerful heroes.
Potentially a less expensive alternative to other CC teams.
Still in development
Uses parts of other compositions
Q&A
Where is Belinda Lighltearers/Shemira?
I do not believe these are late game teams, heroes for late game are those who you invest into that will last until new heroes and released that usurp them, Bel and Shern are heroes you'd be moving away from.
Isn't Ainz strong in late game?
Indeed, Ainz is a very powerful hero in late game, I excluded his teams from this guide, as I want this guide to retain value and newer players won't have access to the core hero.
What if I don't have X hero?
If it's a core hero, then you need to build them. If ifs not core, look at my in-depth analysis and choose a hero who fits a similar role as the hero you lack.
When should I start gazing?
I would not start gazing with diamonds until you have around 30 Ascended heroes. Most cores don't require a cele/hypo and as such having a wide and diverse roster for 5 fight battles is optimaL A few may debate otherwise and there's a valid discussion to be had.
What hero should I focus on building?
Look towards those who synergize with what you have built, if you are completely unaware, Look towards my 'Choosing your Faction' Guide!
How far can I push with these teams?
Each team has a different technical progression point. In reality, even Gwyn is fine with ch35 with some levels above the optimal. Around half of the teams have been proven to the end of chapter 39 though.
What's the difference between late and end game?
Late game I define as between chapters 26 and 32, the area where you're heavily developing 5 functioning teams for the more intense multi stage fights, end game is anywhere from 33.
What's the difference between Optimal/Multi Fight/Budget?
Optimal means full investment. a 30 9/9 on every hero, and usually meant for single fights like kings tower.

Multi Fight is a Lower power version of optimal meant on allowing you to divide resouces like most multi stages require.

Budget takes away the less commonly built supports and often works at Lower levels of investment.
Is there anything to take away from how the teams are ordered?
No, the teams are organized aesthetically. Comps constantly rise and fall from the meta, so giving them an objective ranking when LiLith can change 1 feature and the meta shifts seems improper.
Conclusion for AFK Arena Campaign Compositions
Please note that while this is an analysis of winning hero combinations in the very endgame campaigns, this is not a definitive list.
There are a lot of hero synergies and team comps that will outperform those in this data set so please do your own testing and come up with your own meta comps —that's half the fun!