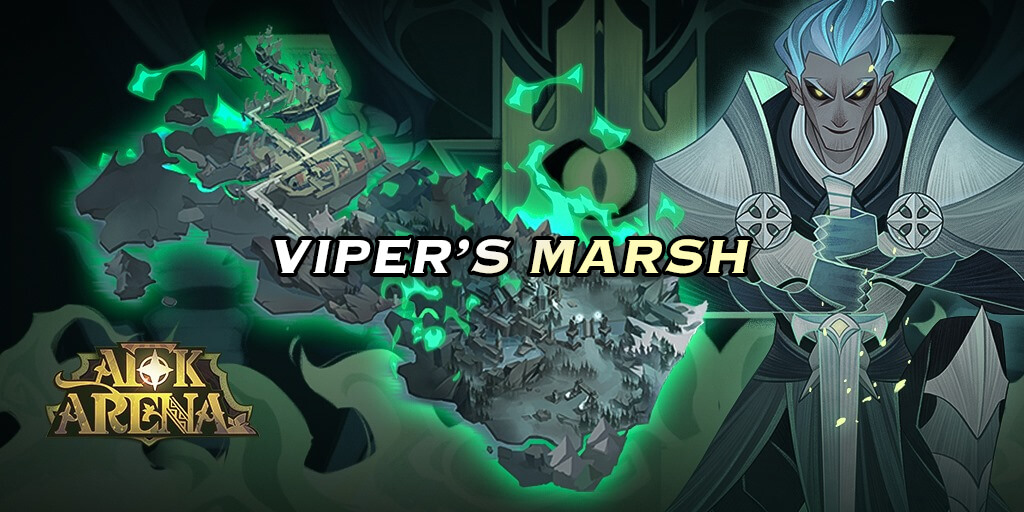 Viper's Marsh (PoT 9) is actually be considered a hard chapter in Peaks of Time because it requires you to have a decent team power to defeat the enemies. So, no tricky move or any sneaky enemy here at all!
Tip: Trigger the control of the battle to Manual at the end of the battle so that you will not waste your Energy for the last enemy's health. You will be able to cast your ultimate right at the beginning of the next battle.
Viper's Marsh Guide
First, Hogan gives you a relic called Flag of Courage to start the journey called Viper's Marsh.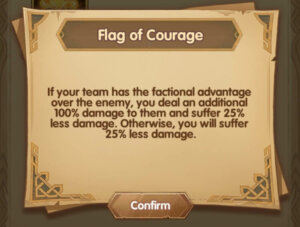 After you get the Relics, there will be 2 camps spawning nearby. Just fight the easier one, get a relic and fight the other.
Fight the one on the left If you have Lightbearers/Wilders.
Fight the one on the right If you have Maulers/Graveborns.
Always try to make the most of the Flag of Courage relic.
Also, you want to focus on damage relics, but remember to collect at least 2 Relics for HP Regenerating. If you don't have any better choice, pick Defense & Energy Recovery Relics.
Next, move to the right and you will see another small camp there, like the screenshot below. Defeat this camp and collect the relic. It's best to use Maulers here. The casual team works here too If you have obtained some great Relics.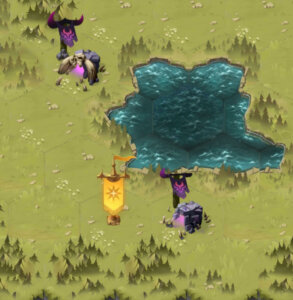 Shemira defeats Viper's Marsh
Clear the Lightbearer camps. The first one doesn't drop any relic; it also contains high-level enemies so be careful. You want to send at least 3 Graveborns, or have a team that can support your Shemira well.
You will face 2 Lightbearer camps: One has overleveled duo and the smaller one has a Wilder. Defeat the smaller one and get a Wilder.
You want to have Lyca and Tasi in your team. If you already have them both, pick Kaz.

Defeat 2 Lightbearer camps staying close to each other. The small camp near the Shrine drops relic, the other doesn't drop relic.
Now you can fight the big Lightbearer camp in #2 which has the overleveled duo. Defeat it using the strategies I mention at the next section. Pick a relic then keep exploring.
Go to the Graveborn camp below. You should be able to defeat it with the Wilder you hired before. Build up a team with Shemira + 3 Wilders. 2 Wilders also work but you want to have 3 Graveborns. This camp doesn't drop Relics.

Beat the 2 camps below for more relics and hire either Belinda or Lucius for your team. If both are not available for your uses, just pick Lucius.

From now on, you can defeat the Viper's Marsh much easier with the equipped gears.
Work on the Mauler camps with the hired Lightbearer.
Don't have Shemira?
Just contact me via Discord Chen#1218 and I will guide you step-by-step.
Best Team Compositions for Viper's Marsh
For Mauler Enemies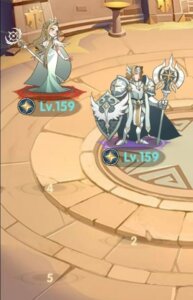 Lucius
Belinda
Your strongest Heroes, as long as they can give a team buff.
For Graveborn Enemies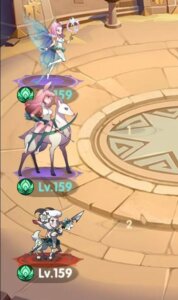 Lyca
Tasi
Nemora
Other heroes who can give you a team formation buff.
For Wilder Enemies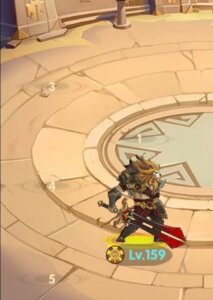 Brutus
4 Heroes, as long as they can form a buff for your team.
For Lightbearer Enemies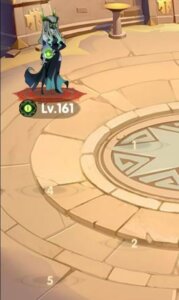 Shemira
4 Heroes, as long as they can form a buff for your team.
How to Deal with Overleveled Duo Camps
Against Lucius + Belina
Try to have as many disablers as you can.
Have a healer in your team because the Duo can one-hit many Heroes if they can cast an attack.
Use Shemira, of course, and place her in front of Lucius. She has the most sustain here.
Arden, Tasi, Nemora or Ferael are recommended here for their disables. Ira is also pretty useful here due to her debuff making enemy Lucius heal lower.
Form at least a 3-2 team.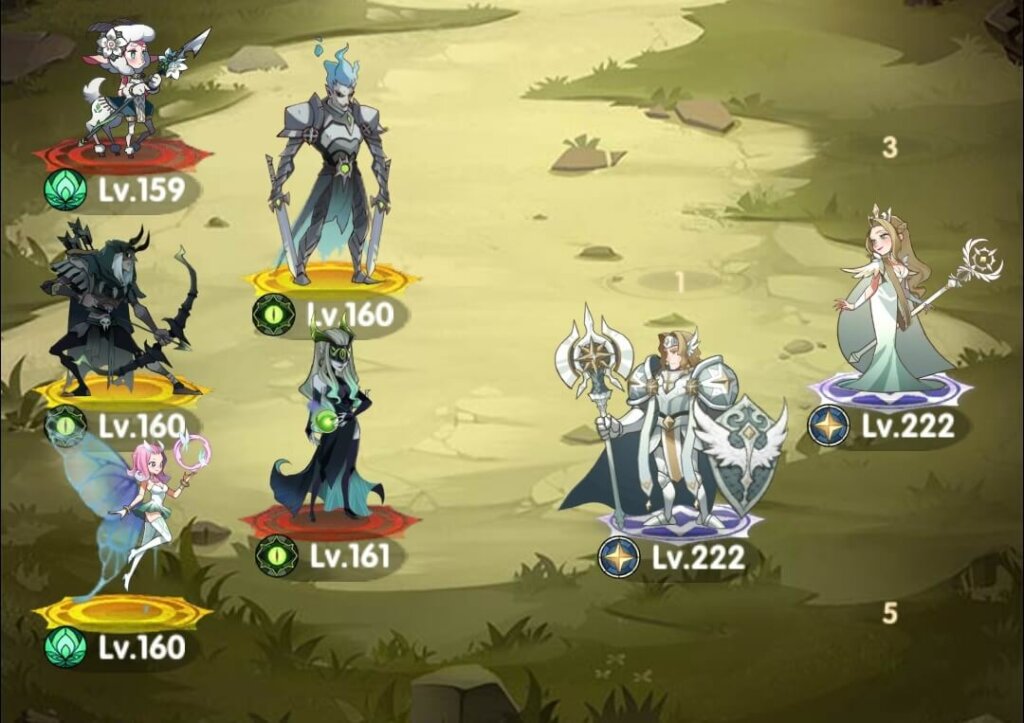 Against Thoran + Grezhul Team
Try to obtain as many relics as you can first. Focus on damage relics and obtain 2+ HP regeneration relics. This is because they are hard to kill due to their high defense.
If you haven't used any fountain yet, heal your Heroes fully first.
Most of the time, you need to do 2 battles for this camp only.

First battle: You should be able to take down the enemy Grezhul in the first battle and Thoran should be at very low HP. If Thoran is able to trigger his revive skill in this battle, exit and try again. Don't let him trigger his revive skill in this battle.
The second battle kills Thoran.

You need 10 Heroes, 2 teams, for this camp. Don't hesitate to try different combinations. You want to use manual control and x1 game speed for the first battle.
In the first battle, pick nukers. However, you also need to have good nukers in the second battle so be careful and make some plans.
Place your nukers on the side of the enemy Grezhul. Front-line should be tankers. You can use Lucius + Grezhul for the front-line because they both can easily bait the enemy Grezhul's ultimate. Lucius turns his back to the Grezhul's skeletons while healing your team members.
Both teams should have the sustainability. Some great names for you are Khasos, Nemora, etc. Place each one in a different team. You can also hire them from the recruitment camps.
Before going into the second battle, go to the revive shrines to revive all of your dead Heroes.
Each team must to have at least the 2-3 buff.
Against Khaos + Brutus Team
Lucius + Belinda is a great combo for you. If you don't have them, you still can hire Lucius from the requirement camp.
On the Khasos's side, put 3 hard nukers. Some good names are Shemira and Belinda. You want to kill Khasos first and put as less damage as possible on the enemy Brutus.
In the next fight, place your Lucius in front of the Brutus to bait and tank for your team.
Fawkes is a great disabler in this matchup. Use Nemora if you need more healing.
You can also bait Brutus using Grezhul. If you have him, place him at the back of your Lucius.
Always try to get a formation buff.
Other Peaks of Time Chapters