Voyage of Wonders is the new AFK Arena event (game-mode), which has just been added in the patch 1.22. Bringing a new fresh air into the game, Voyage of Wonders will give you tons of fun as well as a lot of valuable rewards while discovering The Forgotten Mine!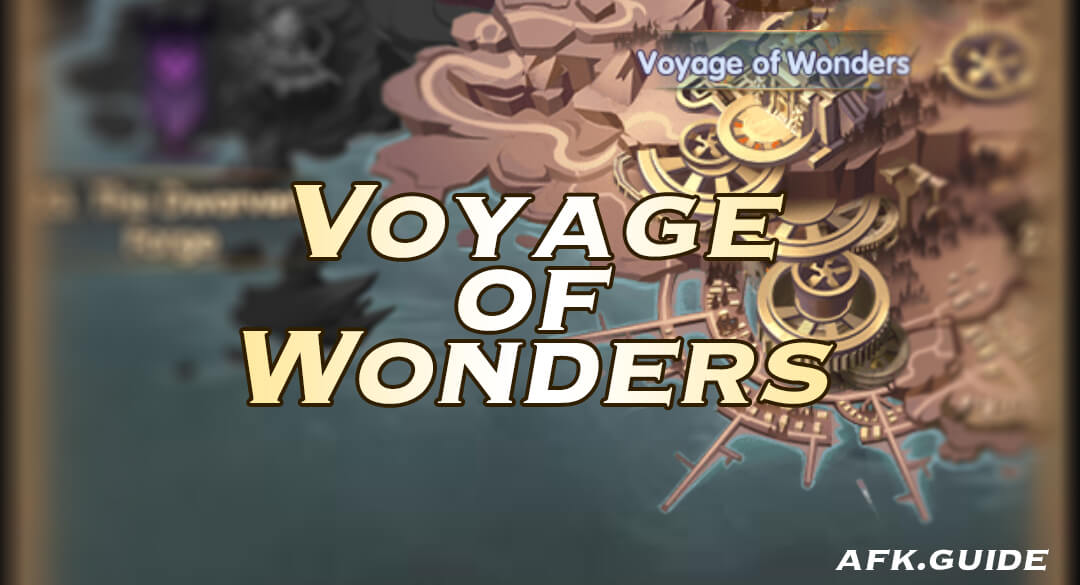 Voyage of Wonders

Summary
The gameplay of Voyage of Wonders is pretty similar to Peaks of Time as you take mini-adventures throughout the maps by solving puzzles, defeating the enemies, obtaining the relics (which make your team stronger) and eventually you will earn a lot of valuable rewards.
Voyage of Wonders Event lasts for 14 days. It will be closed for a few weeks before getting re-opened again.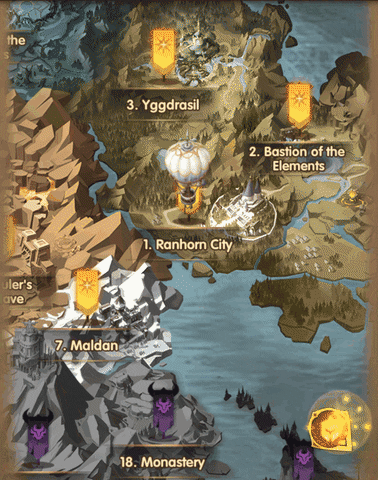 Rules
Explore the world and acquire an assortment of loot and rewards while the event is underway.
After each battle has been concluded, the health and energy levels for heroes and enemies will not be reset.
If a battle timer runs out, the attacking side's heroes will be wiped out.
Players may restart the adventure at any time, Resetting adventure will return all heroes and enemies to their original state. Do it until you find the correct path to defeat the event.
The strength of enemies is based upon each player's own strength. Enemies' strength level will not change once the event has begun. Even the most powerful players in AFK Arena will have a very hard time finishing this event.
Rewards may only be collected once per event.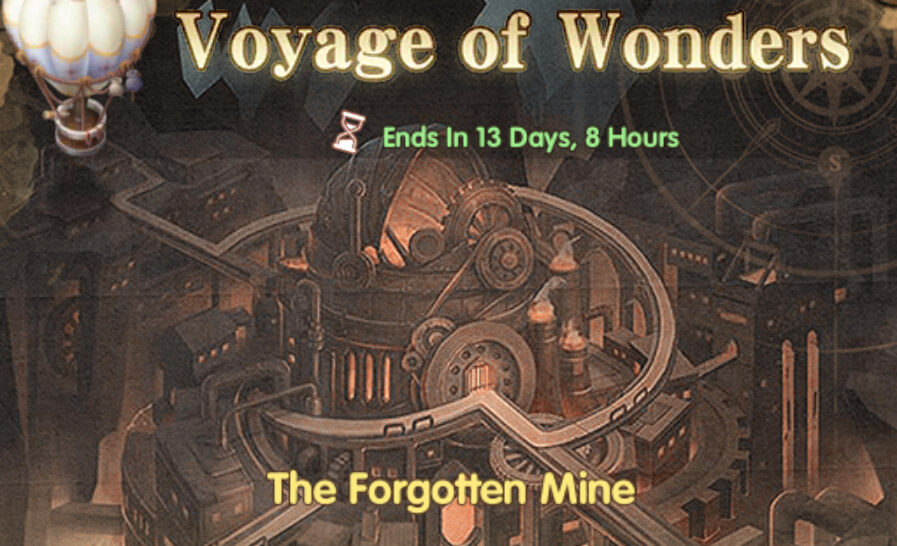 The Forgotten Mine Map

The hardest parts of this map are all of the battles against Nara teams. Just do not fight them, because you just cannot defeat them.
Instead, use the Magic Turret to wipe them out with ease.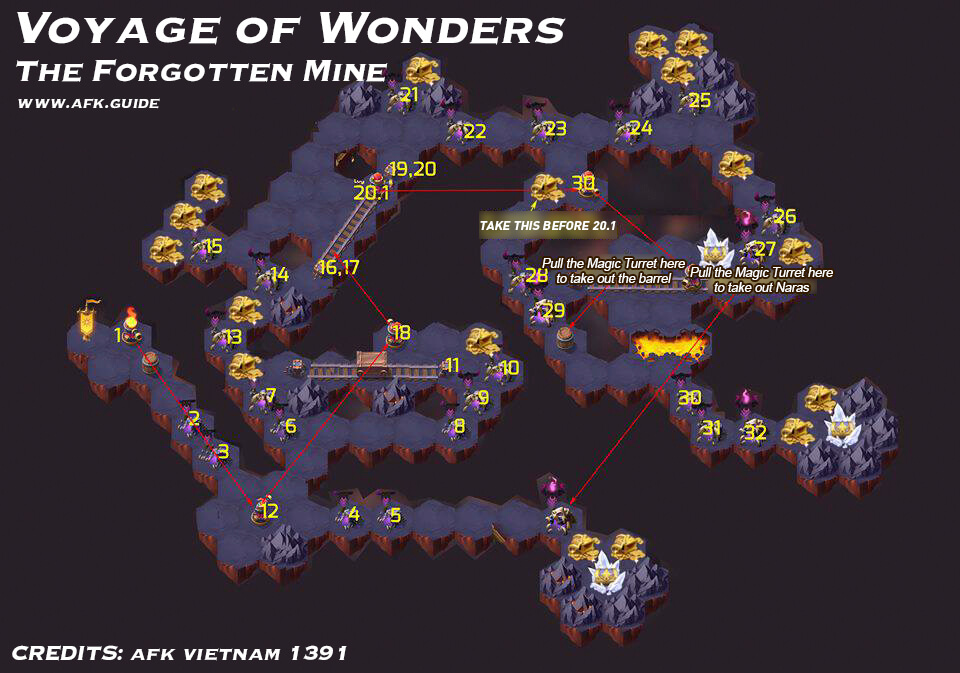 Rewards

Below is the complete list of rewards you could earn from the Voyage of Wonders event.
The red "Hero of Choice" Chest allows you to pick one from some specific rewards.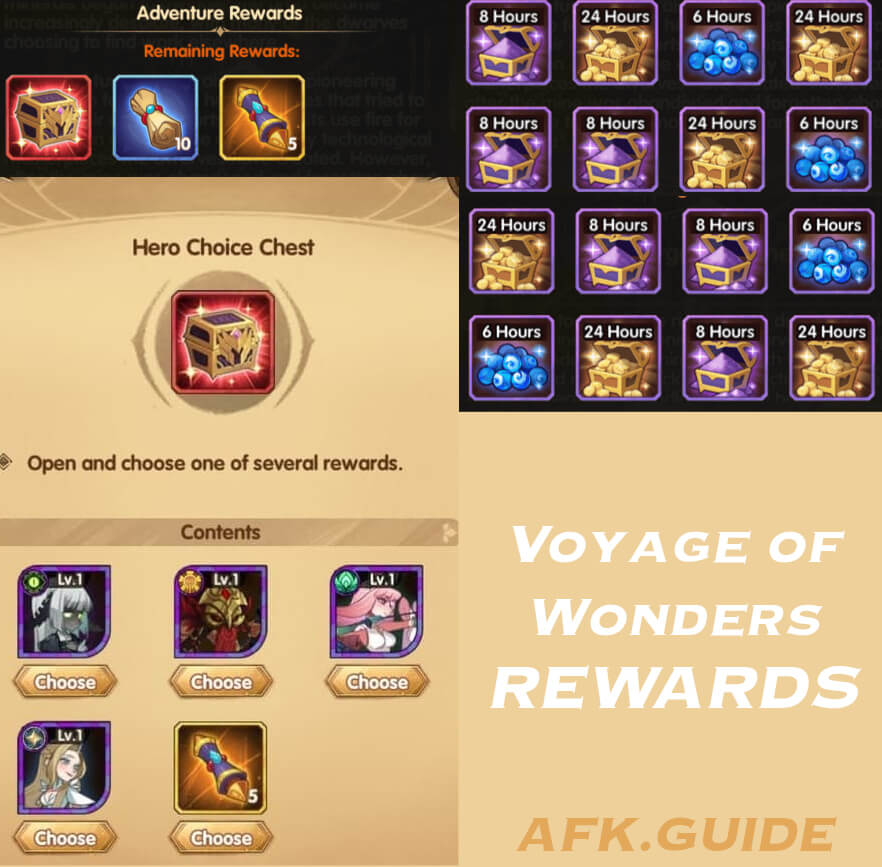 Story
In order to exploit the rich mineral deposits buried in this continent, the pioneering dwarves dug deep, winding underground mines, in which they constructed railroad tracks in all directions. As the minerals began to dwindle, the area became increasingly desolate, with many of the dwarves choosing to find work elsewhere.
Magical turrets were also built by pioneering dwarves to fend off the hostile natives that tried to disrupt their mining efforts. The turrets use fire for ammunition and are one of the many technological masterpieces the dwarves-have created. However, after the mine was abandoned and forgotten about, most of the turrets are now inactive and need to be reactivated.
Fun Fact: The current spot of Voyage of Wonders was previously used for the building called Dura's Trial. It was removed right before the global release of AFK Arena.