The Savage Wastes chapter (PoT 11) is not a very tricky one in AFK Arena Peaks of Time. However, it's super annoying.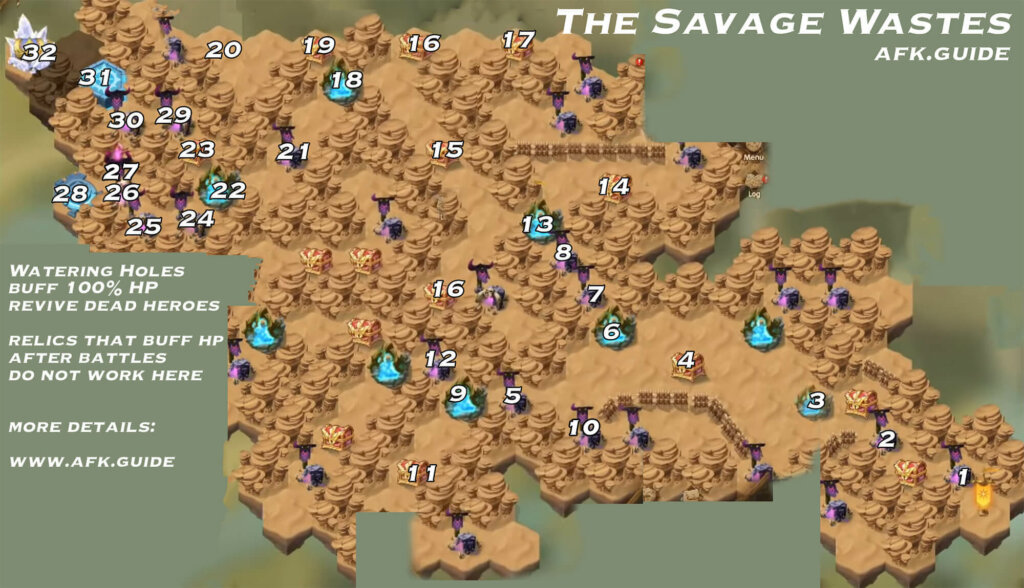 Every time you complete a battle, all of your Heroes will lose not only HP but also Energy by a certain percentage. Thus, healers and Fountains are extremely important here on this map. As long as your team has a decent heal after each battle, you won't have too much trouble here.
The map above gives you a general idea to get to the final crystal chest on the map.
Simply you want to play around a bit to strengthen your team. You also want to trigger the #28 button first then get to the #31 later, the final gate leading to the ultimate chest.
If you want to push levels and still do this map, it's doable(-ish), though unless you are incredibly lucky you need to run it multiple times and we are cheating a little.

The trick involves scouting the map in a first run. You will notice that the relic chests here are not dropped by the monsters, but on the ground. Once you scouted the map, on reset you will be able to see the chests from the beginning of the map. Use this to your advantage > scan and reset the map until you get a very good set of relics.
Once you have the good relics focus on getting them all with MINIMUM fountain usage. You will NEED those fountains in the last few battles – otherwise you will find it ridiculous to do 30/31 without regenerating for example. Note that they regenerate both health and energy, so the next battle after consuming a fountain you can ultimate the opponents like crazy. It is incredibly important to focus on a more difficult camp in that particular battle.
The best way to save fountains is to follow the path towards 31, and whenever you are blocked by a fountain, assess if you have enough health to do one more battle. In general your power level & team composition should be at the point where you can do two battles before consuming a fountain. If you do, you can "go back" towards getting the relics on the side. Make sure you have both orange relics and all good purple relics before going for Athalia. She is super tough but with proper timing and enough disable (and those powerful relics) she should fall.
It is a super annoying map, but might actually be one where you can get the final artifact without having to over-level yourself like crazy.
Tip shared by Tilwin
Before You Explore The Savage Wastes:
After each battle, the amount of HP your Heroes is taken should be a half.
The Watering Holes can recover 100% HP of your Heroes.
The Watering Holes can also revive all of the dead Heroes.
The Relics that recover HP after fights do not work in this chapter.
Rewards
You will get a super powerful artifact called Dura's Chalice of Vitality for all of the hard works you have done!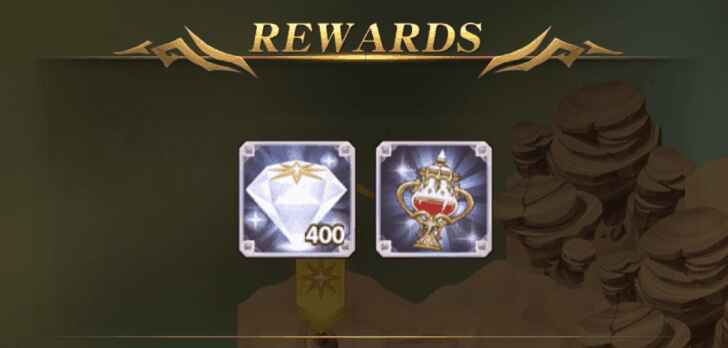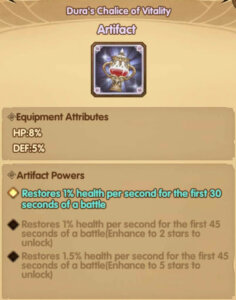 All Peaks of Time Chapters