This AFK Arena Relic Tier List gives you the general idea of the best relics to pick while solving mazes in the game.
Relics are the items that help boost Heroes' power in Arcane Labyrinth, Peaks of Time and Voyage of Wonders.
Every time you win a battle, you can pick one from three given Relics. Relics can only be used in the mentioned game modes. They do not affect the gameplay outside of these game modes.
Pro tip: the mercenary feature is unlocked after completing stage 6-40 and allows you to borrow heroes from your friends for a limited time. You can use mercenaries on Arcane Labyrinth, Peaks of Time and Voyage of Wonders. A very strong Awakened Solise, Awakened Belinda, Awakened Talene, or Ainz mercenary should be good enough to kill the enemy team pretty quickly in these game modes, regardless of their relics.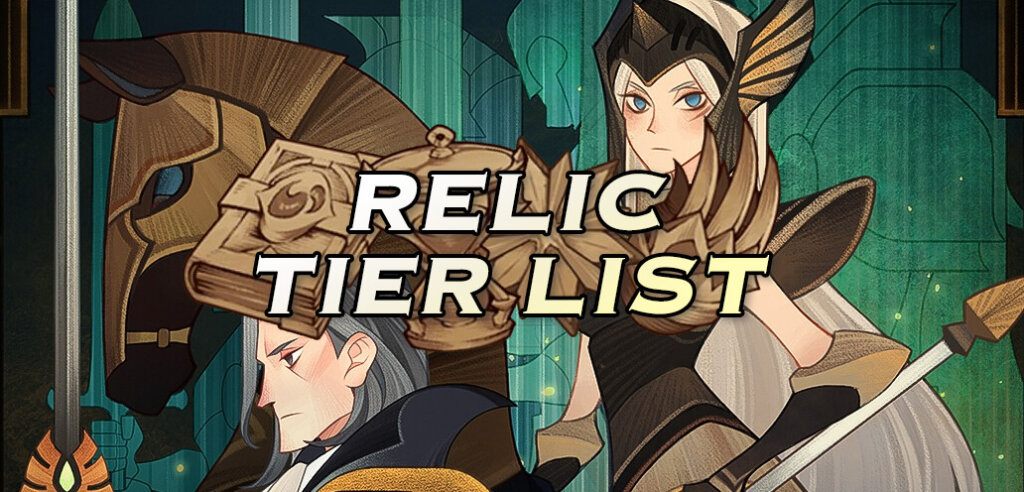 AFK Arena Relic Tier List
by whitesushii
Notes:
Tier S/S- Relics are the best ones. Pick them immediately whenever you see them.
Tier A Relics are great in general.
Tier B Relics can be great relics in specific situations.
Tier C Relics are usable.
| Tier | Relic | Description |
| --- | --- | --- |
| S | Firebringer | Whenever your heroes deal damage, reduces the enemy Attack Ratings. |
| S | Icebringer | Whenever your heroes deal damage, reduces the enemy Defense Ratings. |
| S | Sunstone | Allies recover energy over time when HP > 50%. |
| S | Moonstone | Allies recover heals over time when Energy > 50%. |
| S | Voodoo Doll | A random target will receive more damage! |
| S- | Deathly Embrace | Instantly kills all enemies below 15% HP |
| S- | Heroes' Hope | +35% Defense and Attack Ratings in "Hard" mode. |
| S- | Pendant of Betrayal | If an enemy takes damage within the first 10s of a battle, all other enemies will also receive 15% of the damage dealt. |
| S- | Spider Thread Gloves | Keep all enemies in spider's silk for 5 seconds. The silk could get broken if a decent amount of damage is dealt. |
| S- | Thunderburst | Damage and stun the enemies periodically. |
| A | Sands of Time | Increasing Haste for 10 seconds. |
| A | Blessed Hammer | Has a chance to do additional damage for successful attacks |
| A | The Unmounted Heart | Does huge amount of damage & stun all enemies once within first 25 seconds of battle. |
| A | Eagle Strike | Firing Arrows to the enemies, dealing damage every 15 seconds |
| A | Ragespike | Heroes' Attack Ratings +5% for every win, max 40% (Can be stacked) |
| A | Idol of Hastening | Allies' Haste + 20 when there are no enemies within your side. |
| A | Dispelling Arrow | Backline Heroes normal attacks are able to remove most buffs the enemies using. |
| A- | Call to Arms | +120 Energy at the start of the battle. |
| A- | Vambraces of Accuracy | Accuracy +50, Crit Rating +10% |
| A- | Book of War | -70% Damage dealt to backline allies when frontline allies are still alive. |
| A- | Heartseeker | Crit Damage +60% |
| A- | Arcane Spellbook | Intel Heroes deal +30% damage. |
| A- | Praetorian Helmet | Damage received -25%. |
| A- | Aegis of Preservation | Casts a shield protecting your Heroes for 3 seconds, mitigating damage equal to 60% of their max HP when any enemy hero uses an ultimate ability for the first time. |
| A- | Supporter's War Flag | Backline heroes Attack Ratings +20%, Crit Ratings +30%. |
| A- | Hunter's Grasp | The more HP they have, the more damage you deal to them. Max 25%. |
| A- | The Silent Hope | A hero recovers 700 energy over 5s at the first time they cast Ultimate Skill. |
| A- | Idol of Savagery | At the beginning of the battle, Heroes who have more than 95% HP will have Attack Ratings +20%. |
| A- | Poisonous Embrace | Normal attacks can apply poison to the enemies (can be stacked). |
| A- | Beast Claw | Agility Heroes +30% Damage & +10% Life Leech. |
| B | Insolence | Enemy front-line Heroes attack their allies for 5s at the beginning of the battle. |
| B | Nosferatu's Fang | Life Leech +25%. |
| B | Shadowfall | Crit rating +25%. |
| B | Death's Bite | Kaz's attacks also deal Poison and Poison can be stacked. |
| B | The Elegant Focus | +20% Attack Ratings for all heroes each time the Dura's Tears is used. |
| B | Faction Relics | - |
| C | Lucius' Fortitude | Removes the time limit of Lucius' "Heaven's Protection". |
| C | The Spiker | Causes heavy rocks to fall upon enemies affected by crowd control abilities. |
| C | Vanguard's War Flag | Frontline heroes' Defense Ratings +25%, Energy recovery rate +40% when injured. |
| C | Heaven's Grace | Wearer's HP regeneration +80%. |
| C | Pendant of Force | Reduces all enemies' HP by 35% at the start of battles but will gradually be regenerated within the first 10 seconds. |
| C | Relic Chest | Increases HP & Defense Ratings of your Heroes by 2.5% for every Elite or Legendary relic obtained. Max 30%. |
| C | The Pearl Oath | The lower your hero's HP falls, the more damage they can deal. Max 35%. |
| C | War Horn | Raises all allied heroes' attributes each time an enemy is slain until the end of the battle. |
| C | Winged Spurs | Dodge +40%. |
Overall, damage relics are king in Labyrinth due to carry-over energy from fights and how with enough damage, you can forgo defenses entirely. Everything else that didn't make this list are mostly regeneration items which are bad since you should already have a healer on your team and if you don't, just use your mercenary on ono. There are also some other potentially controversial decisions I've made which I will explain here. For example, Shadowfall is a relic many players value since it gives Critical Rating but honestly, since you can just re-roll fights, the critical rating isn't important and thus the low ranking. Silver Arrow is also another relic that's actually great and didn't make the list but if you struggle with VW. and have Belinda as your primary damage dealer, then go for it (since Min is a Mauler and Belinda gets faction advantage). Lastly, the shard of Force set Is actually amazing but there's no guarantee that the player can build it It is worth going for, however, if the Labyrinth path for the day forces low tier fights.
Below is a list of every relic that I have left out (or rather placed In the ..F" tier) just for reference:
Steel Cuirass, Shield of Fortitude, Hellspawn Head, Silver Arrow, Shard Combinator, Shard of Force, Statue of Retribution, The Angelic Thorn, Elixir of Energy, Rope of Calamity, Branch from the Yggdrasil, Horn of Replenishment, Goblet of Resurgence, Carnal Grip, The Diligent Vow, Restorating Crystal, Wristguards of Invigoration, Vowed Spire.
How Some Special AFK Arena Relics Actually Work!
Shared by tinhboe
Shadowfall (Crit rating +10/15/25%):
Additive. This kind of relics stacks together. It also stacks with other crit increasing buffs as well.
Silver Arrow (Additional 40/60/100% damage to factional damage advantage):
Stackable. This relic is multiplicative. It multiplies the initial 125% damage advantage by 1.4/1.6/2, helping you increase the bonus damage to up to 175/200/250%.
Check out this video for proof.
The Silent Hope (Allows a hero to recover 350/700 energy over 5 seconds the first time they cast their ultimate ability in battle):
This relic works for the first hero which casts their ultimate. Other Heroes do not receive any benefit from it.
Nosferatu's Fang (Life Leech +10/15/25%):
Stackable itself & with other buffs. This relic actually increases the life leech rating by 10/15/25 points. Each Life Leech Point converts 1% of the output damage into Health.
For example, If a Hero deals 1000 damage and has 10 Life Leach, he/she will be healed by 100 HP for each attack. This can be increased further by Heaven's Grace.
The Carnal Desire & related relics (Raises all teammates Life Leech by 3/5/8 points for every Mauler hero that is on the battlefield):
Stack with itself & other buffs. The damage/dodge/defense version is the same. It only works for eligible heroes.
Ragespike & related relics (Raises your heroes' Attack Ratings by 5% for every battle they win and can be raised by up to 40%)
This works for all Heroes and counts won battles.
Praetorian Helmet (Damage received -10/15/25%)
Different tiers stack. Thus, you can increase the bonus up to 50%.
Heaven's Grace (Increases the wearer's health regeneration by 80%)
Works for both heal & life leech attribution of all Heroes.
Rowan's potion with both versions of Heaven's Grace can restore up to 40%x(1+0.4+0.8)= 88% HP. This relic is excellent at increasing the effectiveness of other relics.
Tome of Necromancy & related relics: (Reduces a Graveborn's hero's Cooldown period by 30% and restores 30 energy points per second):
This actually works with all of your Graveborn heroes.
Winged Spurs: (Dodge +20/40%)
This artifact actually multiple the current dodge rating of your Heroes by 1.2/1.4. It is useless If your Heroes do not have any dodge rating already.
Note: Defense is the flat reduction to the damage taken. It is calculated before all forms of reduction.