Christmas is here! Enjoy the biggest holiday of the year with the special Midwinter Feast in AFK Arena and get the new Satrana winter skin for free!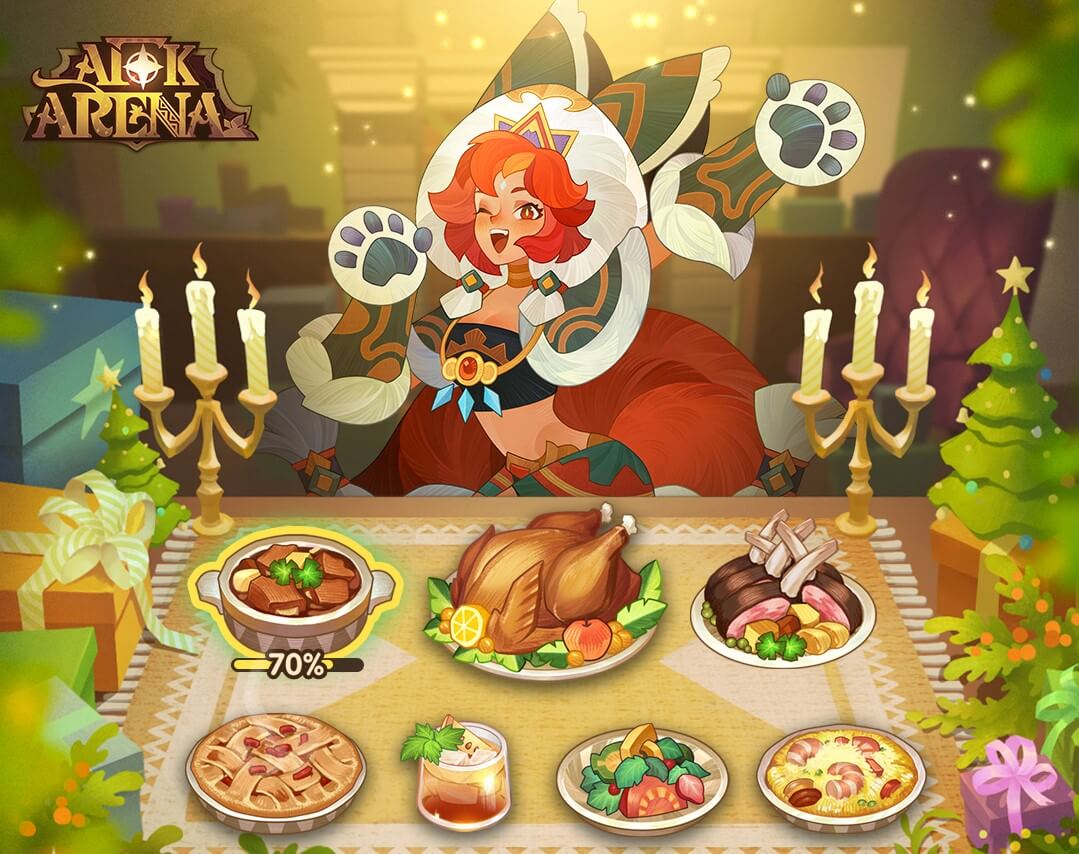 How to Play Midwinter Feast
1. During the event, players need to work together with their guild mates to collect ingredients and create delicious culinary delights.
2. This event shall last for a total of 14 days. A new delicacy will be unlocked once per day for the first 7 days of the event for all guild members to cook.
3. During the event, players will receive 15

Stamina Points per day. Stamina Points cannot be accumulated, but players can spend Diamonds in exchange for Stamina Points they skipped, with a maximum of 15 points available each time. However, Stamina Points can only be exchanged when the player has zero points remaining. Stamina Points only affect the player's self.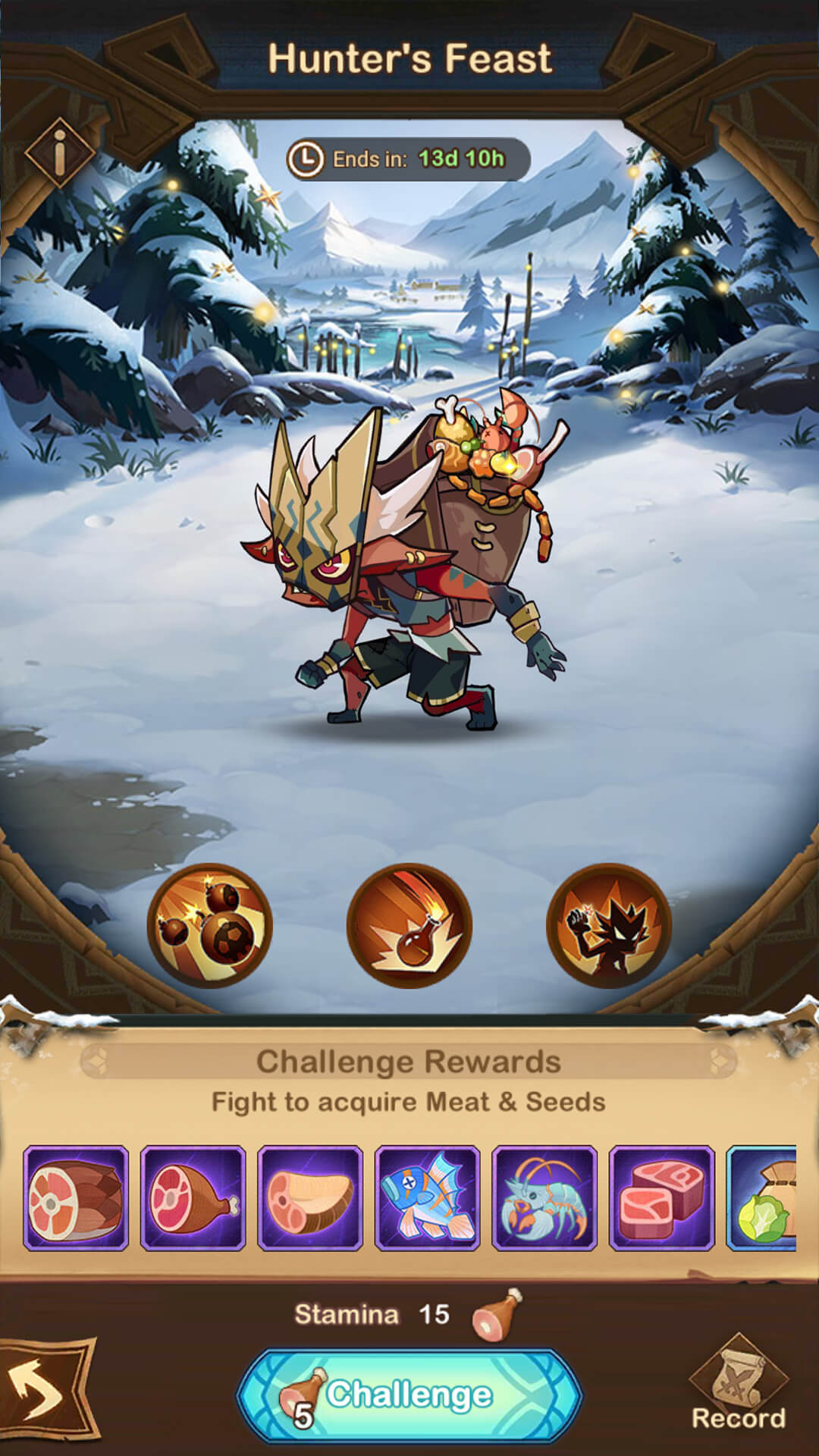 4. Hunting: 5

Stamina Points shall be consumed when fighting against Wrizz. Stamina is deducted at the start of battle, if a player chooses to exit the battle halfway through, the Stamina will not be returned to them. Wrizz drops varying quantities of Meat and Seeds based on the amount of damage dealt by the player. Dropped ingredients are stored in the Guild Depot and can be shared by all guild members.
5. Sowing Seeds: Each time a player sows seeds, 10 Seeds will be consumed as well as 5

Stamina Points, which are immediately deducted. After a period of time, players can manually harvest 10 Fruit and Vegetables which correspond to the 10 planted seeds. Harvested food is stored in the Guild Depot and can be shared by all guild members.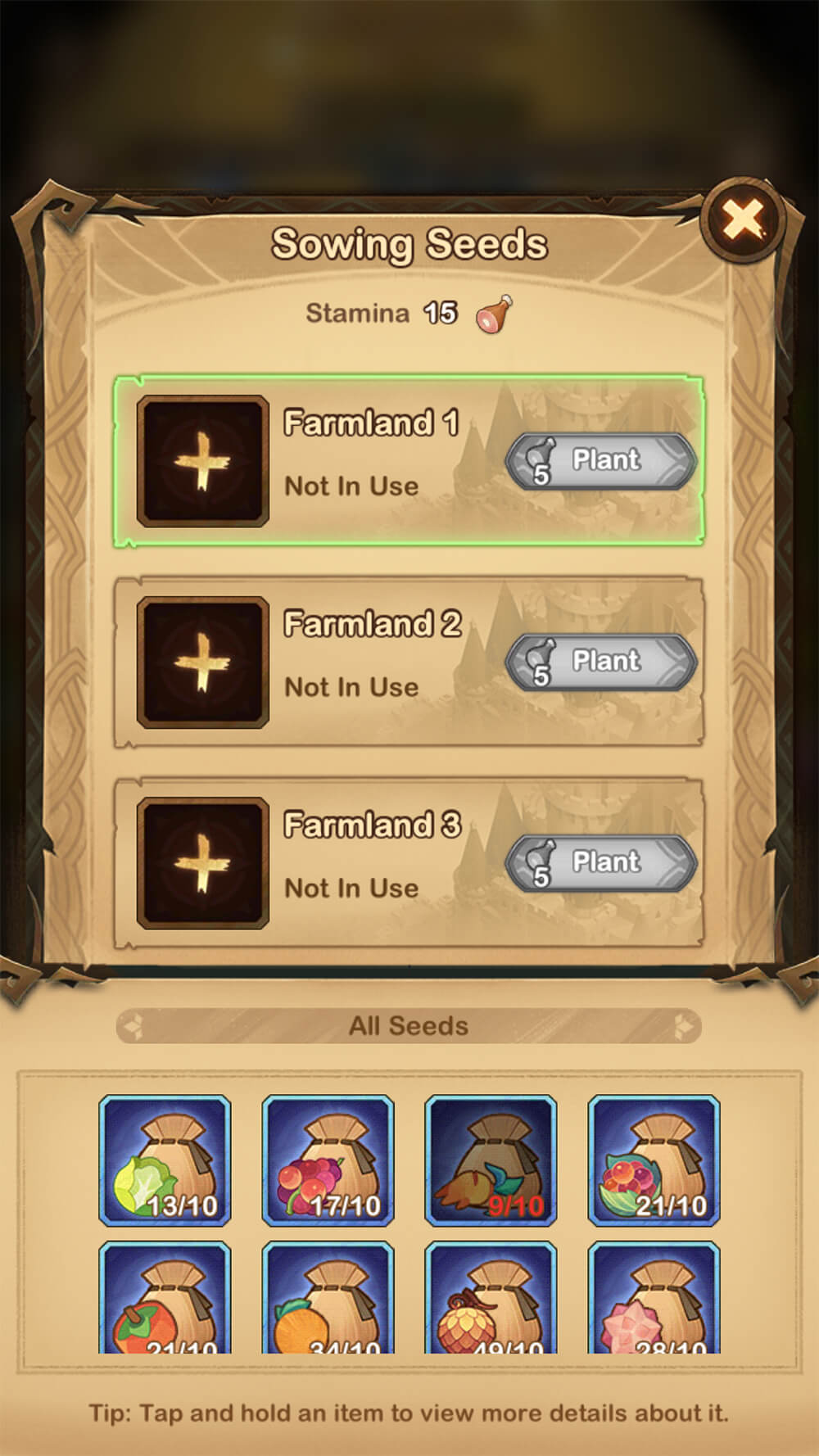 6. Cooking: Once the needed amount of ingredients has been collected, players can consume 5 Stamina Points which are immediately deducted, to begin cooking. Cooking requires two actions to be carried. The final resting point of the moving needle shall have a direct impact on a delicacy's overall completion progress. Delicacies are shared among all guild members.
7. Cooking Rewards: All guild members shall receive a reward when specific increments of a Delicacy's progression are reached.
8. Personal Rewards: Once players have accumulated a total of 100 Stamina Points they can receive Satrana's Exclusive Winter Skin – Wintry Blaze and other such rewards.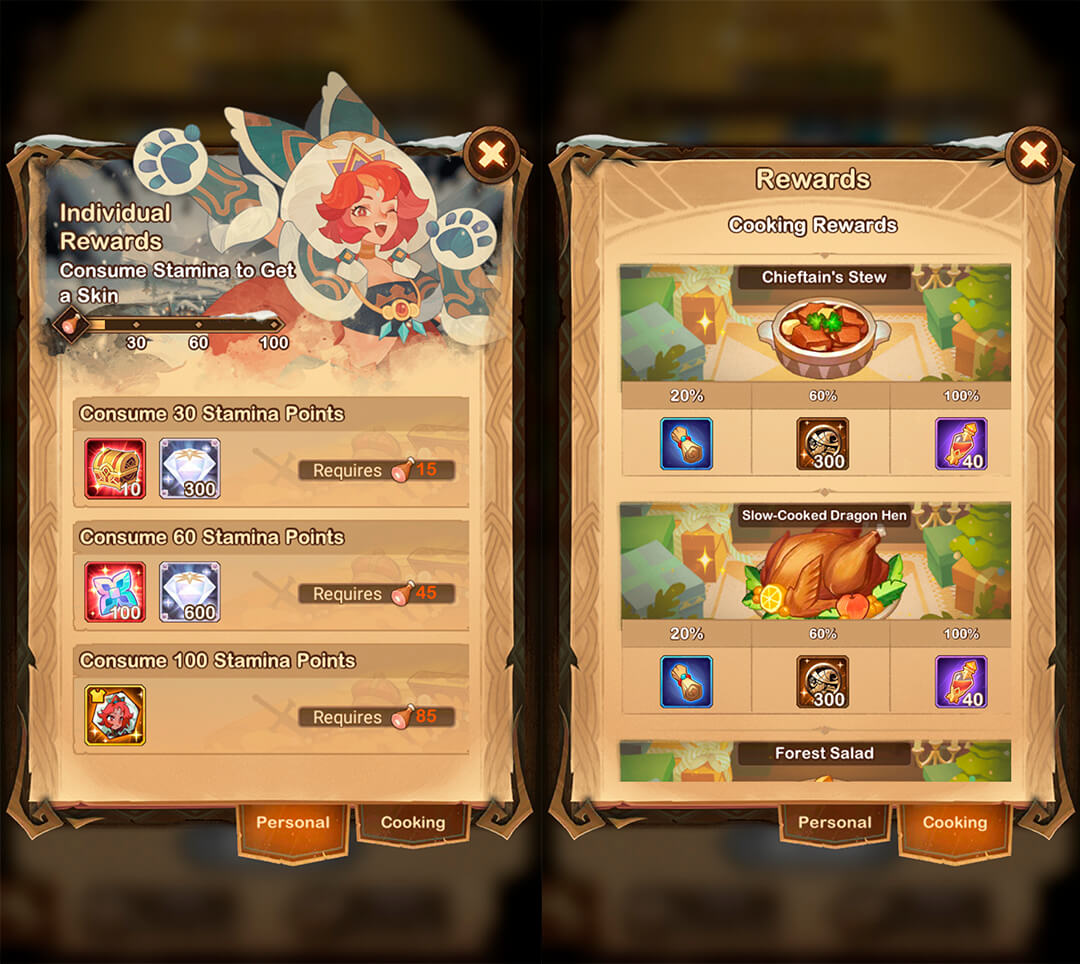 9. Players can refer to the scrolling messages atop the event screen for information about what ingredients need to be prepared.
10. After the event has ended, if the player has unclaimed rewards, then the rewards will be sent to the player's mailbox, according to their guild's current progression situation and the quantity of Stamina Points the player has personally expended.

Tip: For a faster progress, lower guild members can focus on planting the necessary foods, while stronger players are focusing on raiding the boss to having enough ingredients for cooking.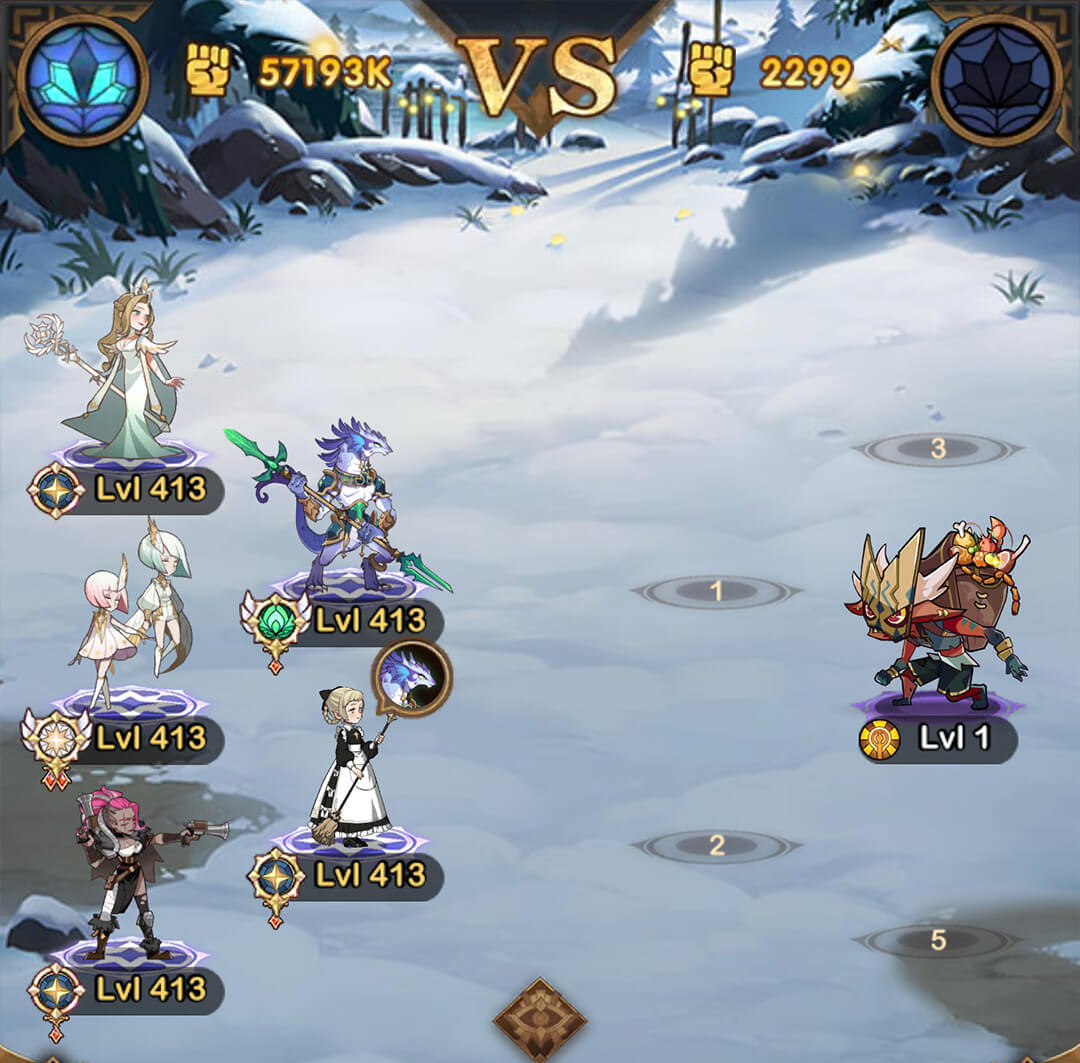 Hunter's Feast
Best Teams for Wrizz:
1. Players need to consume 5 Stamina Points each time they fight Wrizz. Wrizz skills are similar to the Guild Boss Wrizz.
2. A differing quantities of Meat and Seeds shall drop from Wrizz based on the amount of total damage dealt to him.
3. Dropped Meat and Seeds will be directly deposited in the Guild Depot for all guild members to share.
4. After receiving Seeds, players can proceed to the "Sow" function to plant their seeds based on their guild's current needs. Once the seeds have finished growing, the Fruit and Vegetables that they produce can be harvested.
Story
Esperia is a place with lush green fields, barren deserts, mountainous ravines and roaring oceans. So, naturally its food is as varied as its terrain. With an abundance of food available many great chefs have come to fruition, their great recipes are known throughout the realm and even transcend factional differences. If there is one thing that can bring the warring factions together, that thing is food.
There are some special occasions that bring everyone together and one of those occasions is the Midwinter Feast. A Midwinter Feast without a variety of delicious foods from all over Esperia is unthinkable. It's at this time of year that everybody bands together to bring this variety of scrumptious food to the table. Only when all of the dishes are complete can a true feast begin!