Wondrous Pouch is the new Peaks of Time game mode in AFK Arena, where you can play a Candy Crush-like mini-game, complete different tasks to earn rewards!
Wondrous Pouch adventures can be played at any time and do not need to be opened or closed by the player.
Best Tips for Forest Mania
Shared by Hi-POWERED
If you are getting a lot of trouble getting 3 stars in the new Forest Mania event, here are some tricks for you! I was able to beat all levels at 3 stars in just an hour so I believe that these tricks will work for you too!
Don't move randomly
The cascade is fun but you will not get any star if you are really close to it and you are super lucky!

Don't waste your moves. Don't random finish the 3-match groups immediately when you see them.
Play with strategies!
Stage initial setup doesn't change
No matter how many times you reset the stage, it always starts with the same pattern. You always can do some great first moves if you spend some time looking for them.
For example, in Stage 15, you can match the center pink horizontal clear special with the two right below it, then trigger the side specials with each other, while trying to create more candies, you can beat it with ease.
There are of course some huge RNG elements here but if you have some good initial moves, the game will be a lot easier!
Do it from the bottom
Matching ones near the bottom is the best because it makes the most candies to fall and give you more chances to have a chain reaction.
Always match from the bottom up and never match 3 at the top unless you don't have any other potion or it's required for an objective as it's almost always a bad move.
Vertical moves are better than horizontal moves
Because it has more chance for you to get the chain reactions. If you have to choose between them, the vertical moves are always better.
Open up the map
The hardest stages are where you have only a few candles to match. The easy stages are where you have a giant square. More space gives you more options, making it easier to get special candles. The top priority is to make as much space as possible.
Know the special candies

You get the special candy every time you match more than 3 candies. The special candies are extremely critical for getting 3 stars.
Matching 4 gives a horizontal or vertical special candy. This one can remove an entire column or row. They are the easiest special candies to make but are very useful. The clearing hard to reach squares is easier to get by making 1-2 moves to build and activate the special ability instead of trying to match the square directly itself.
Having 5 candies in T or L shape creates a bomb. The bomb helps clear 9×9 area and 1 additional square on each side of the area.
Having 5 in a straight line creates a star. The star clears all of the squares having the same color of the one you swipe it to. Meaning you can have a super-powerful combo (in the next point) and generally creates a lot of chain reactions, making it a lot easier to create special candies. Thus, you don't want to keep the star for too long. If you don't have any clear combo, it's best to just use the star right away because of the momentum it could give.
Know your Combos
You can activate the special candies by matching them with their color normally. You can also activate them by swiping two specials together.
Using some certain move, you could create a devastating combo.
The combinations don't require specials to have the same color so be aware when two specials are next to each other.
You have the chance of activating them at the beginning of many stages, making them a lot easier!
The normal vertical and horizontal clear candies don't have the advanced effect but you can use them to set each other off without having the same color.
Matching a horizontal/vertical clear with a bomb will clear 4 full rows/columns! This combo can pretty much defeat many stages. It's very hard to get this combo, however.
Bomb + Bomb combo clears an incredibly large area but also very hard to have.
The best combo by far is with the star. When the star is swiped into another special candy, it will transform all of the matching color candies into that special candy and set them off altogether.
Star + Horizontal / Vertical can pretty much clear all of the board.
Star + Bomb will clear almost everything.
Star + Start = everything removed.
Find the hardest squares
Look at the board and find the hardest squares to clear because they are the main objectives you should get done. Don't do the 3-match just because it's on the squares you want to clear if the squares are in an area having many candies. You will be able to clear those via the chain reactions after working on much harder squares.
The hardest squares are always in corners or small nooks. Always clear them first! This is when the horizontal/vertical clear special comes in handy as it helps you get to the hard-to-reach areas.
Just focus on getting the hard squares, the easy squares can be naturally get cleared.
Focusing on clearing the center outwards is a very common mistake. You don't need to waste a lot of more that you don't need.
Never Obsess Over Single Squares
This is another common mistake. Never try hard to clear a single square like spending everything you have hoping it works.
This really is a metal trap and a lot of players lose the stages they could easily 3-star just because of this.
If you don't have a good way. to clear the square then just look around the board, finding other opportunities like creating vertical/horizontal special, creating chain reactions using specials, etc.
Often, working on the other section will give you some chain reactions, making the situation a lot better for you.
Jump all around the board and look for specials!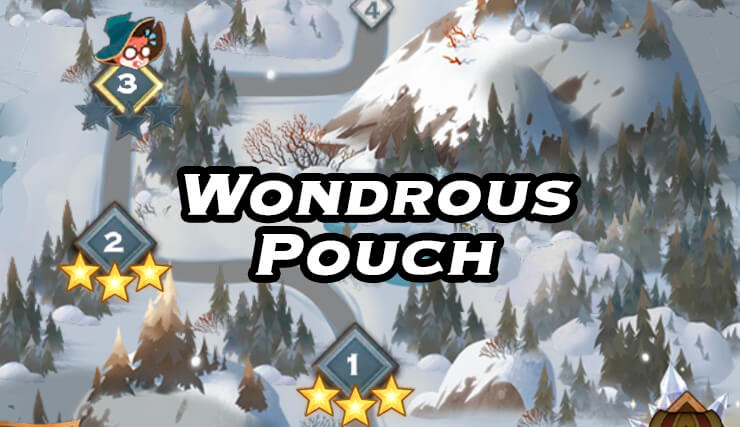 Wondrous Pouch Rules
1. Stages will become unlocked based on the player's Campaign progress.
2. Players can claim one-time rewards every time they complete a stage for the first time.
3. Players are able to obtain a certain number of stars according to their stage score. By reaching a higher number of stars, players are able to unlock more chests and claim even more rewards.
4. Players can attempt to surpass their current high scores by replaying stages. Stage scores will contribute to the player's ranking on the 'Friends' and 'Server' leaderboards.
Wondrous Pouch Screenshots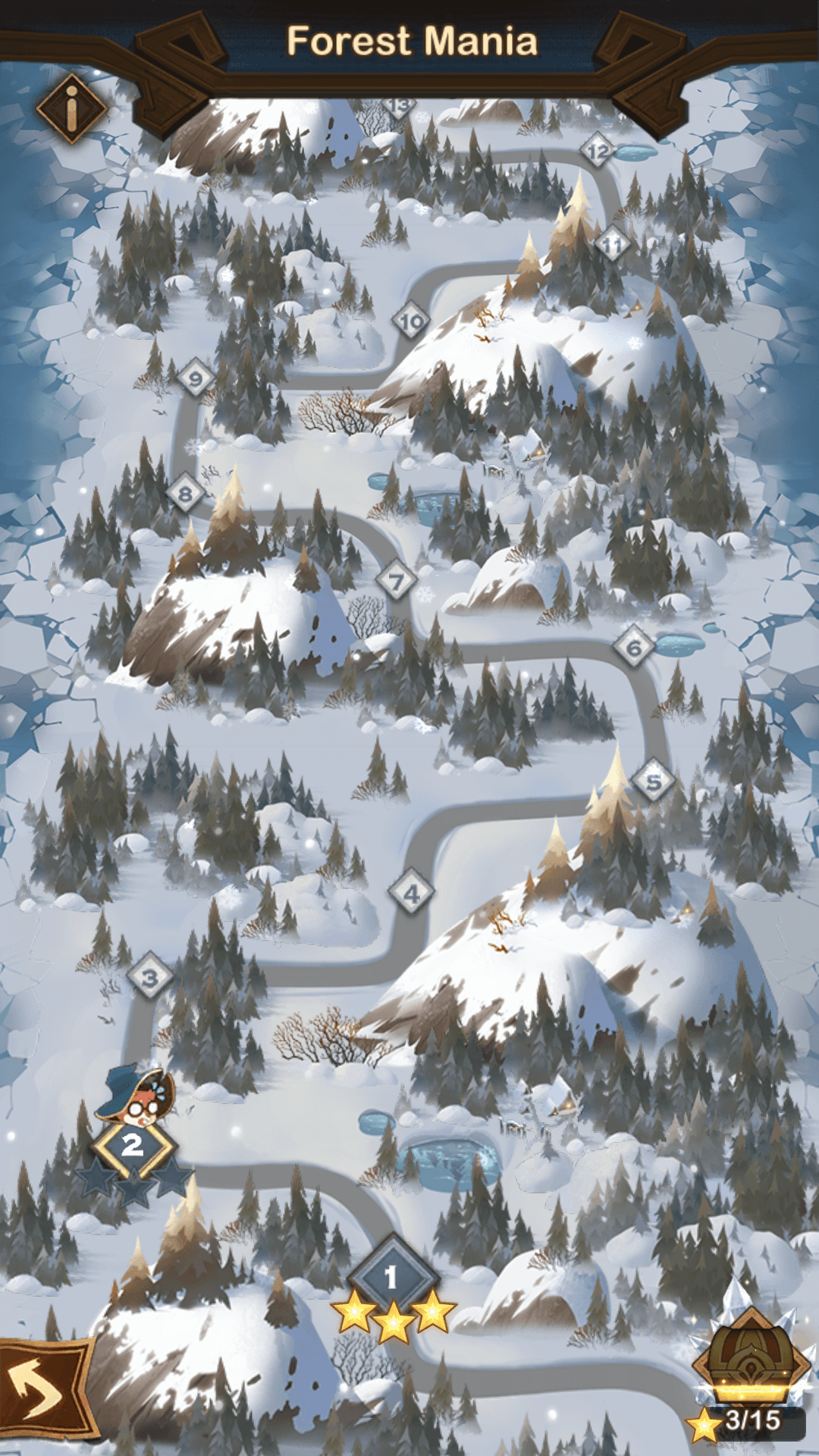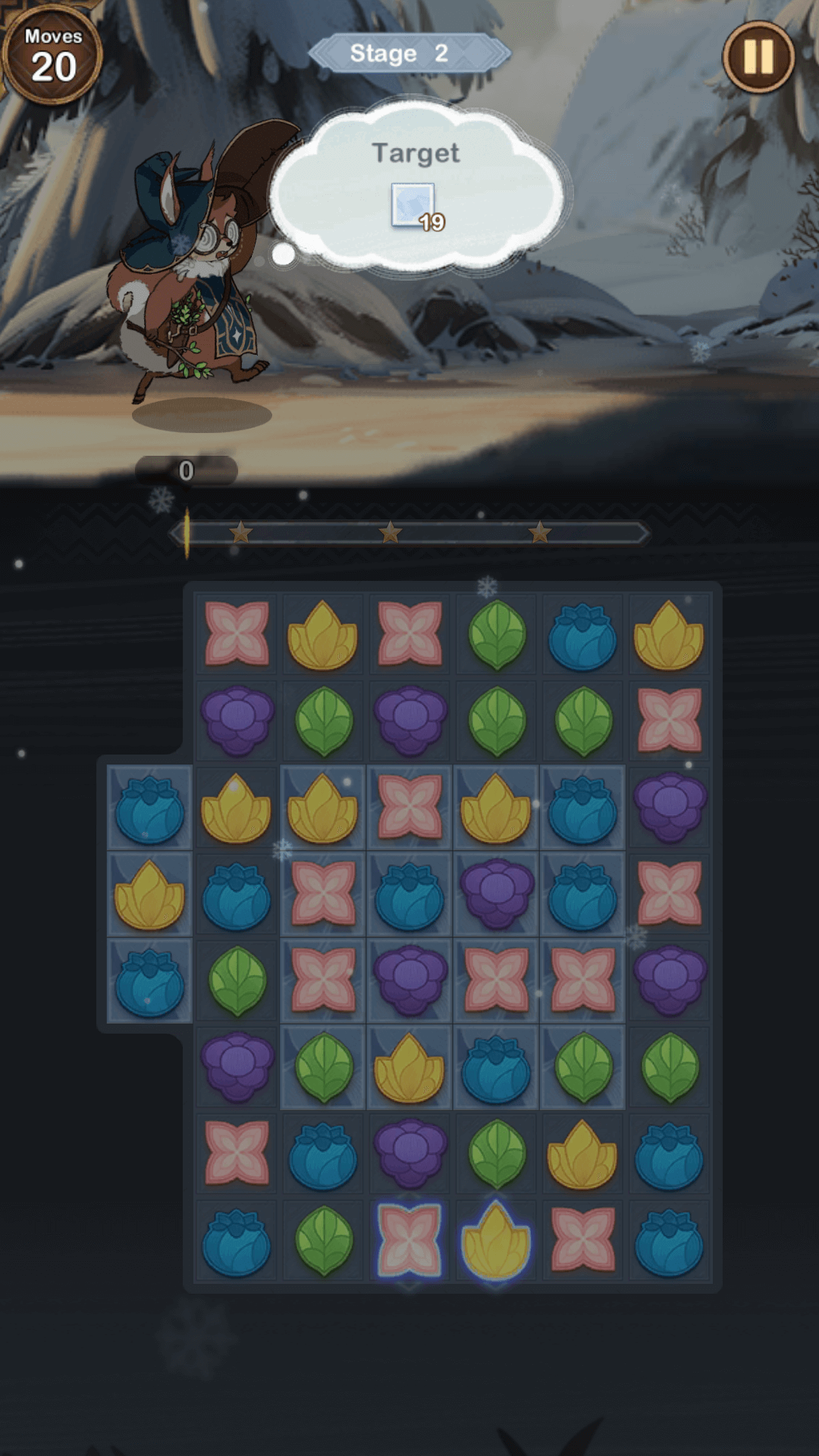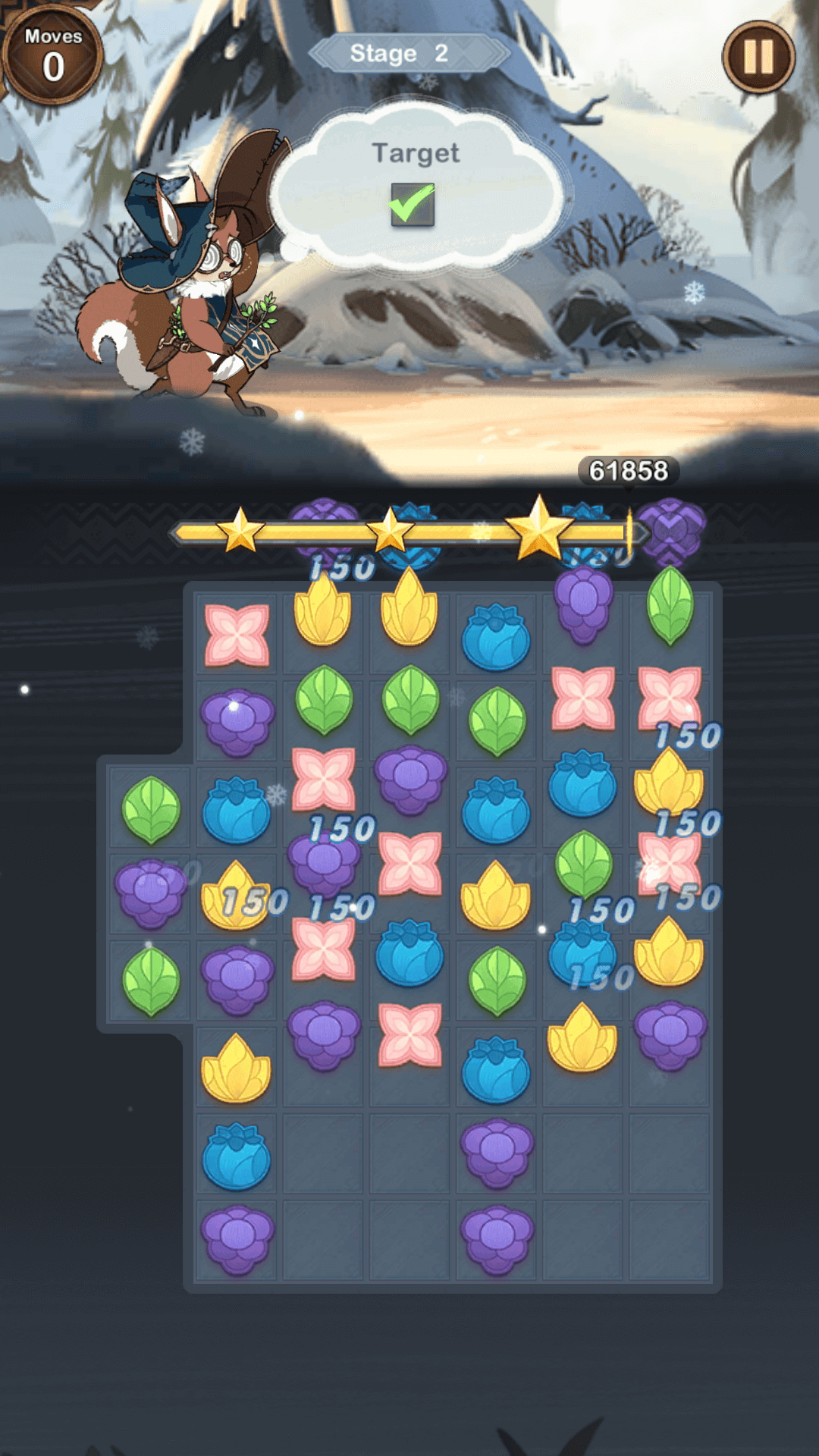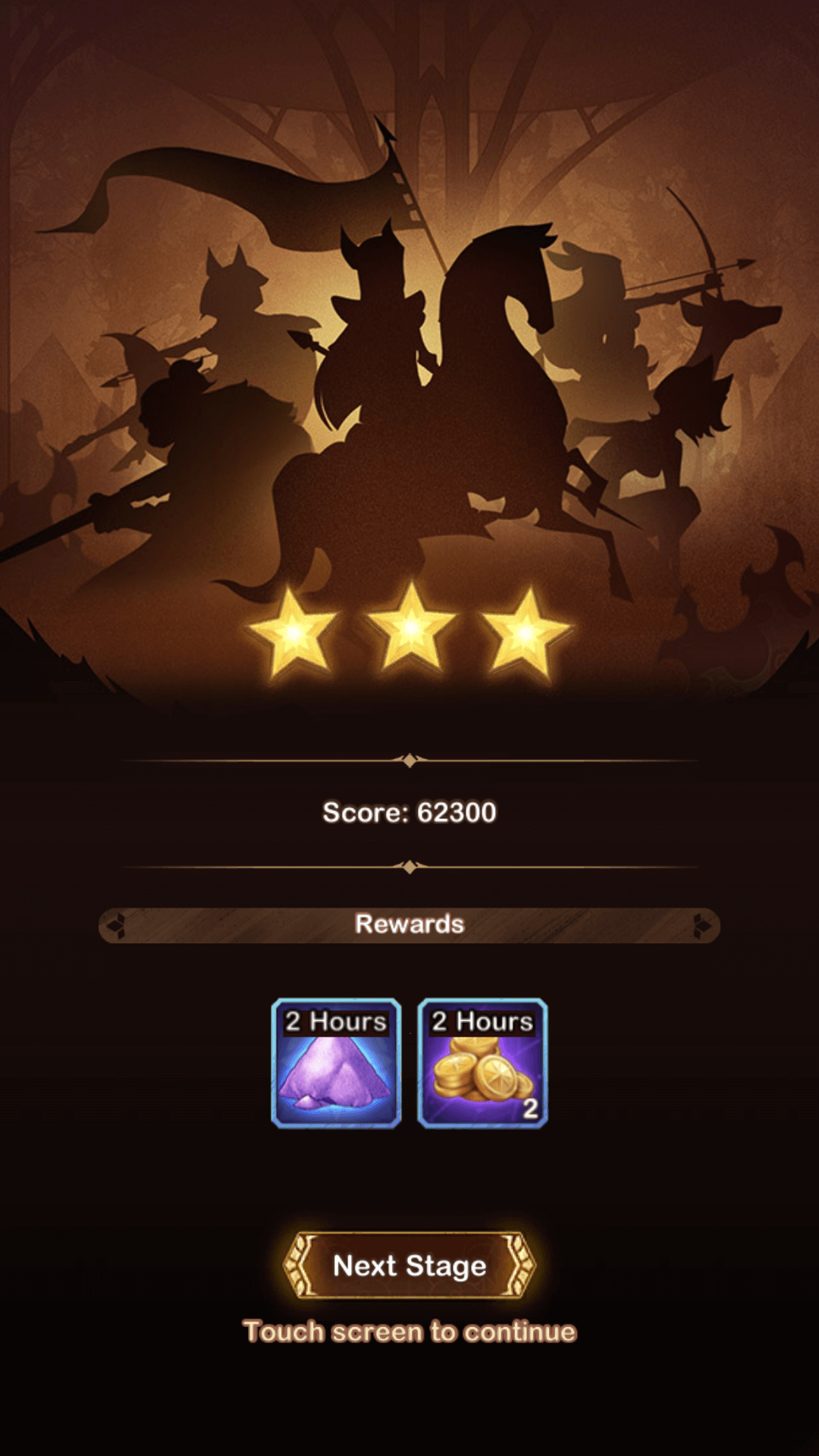 Wondrous Pouch Adventures

Forest Mania
Forest Mania is the first adventure players can play in Wondrous Pounch!
Rewards:
15
Rare Hero Soulstones x180
Hero Summon Scrolls x5
30
Niru Winter Skin
Hero Summon Scrolls x5
45
Elite Hero Soulstones x60
60
Shemira
75
Faction Summon Scrolls x5
90
Faction Summon Scrolls x5
Stage
Rewards
1
2-hour AFK Hero EXP
2x 2-hour AFK Gold
2
2-hour AFK Hero's Essence
2x 2-hour AFK Gold
3
2-hour AFK Hero EXP
2x 2-hour AFK Gold
4
2-hour AFK Hero's Essence
2x 2-hour AFK Gold
5
100 Diamonds
6
2-hour AFK Hero EXP
2x 2-hour AFK Gold
7
2-hour AFK Hero's Essence
2x 2-hour AFK Gold
8
2-hour AFK Hero EXP
2x 2-hour AFK Gold
9
2-hour AFK Hero's Essence
2x 2-hour AFK Gold
10
100 Diamonds
11
2-hour AFK Hero EXP
2x 2-hour AFK Gold
12
2-hour AFK Hero's Essence
2x 2-hour AFK Gold
13
2-hour AFK Hero EXP
2x 2-hour AFK Gold
14
2-hour AFK Hero's Essence
2x 2-hour AFK Gold
15
100 Diamonds
16
2-hour AFK Hero EXP
2x 2-hour AFK Gold
17
2-hour AFK Hero's Essence
2x 2-hour AFK Gold
18
2-hour AFK Hero EXP
2x 2-hour AFK Gold
19
2-hour AFK Hero's Essence
2x 2-hour AFK Gold
20
100 Diamonds
21
2-hour AFK Hero EXP
2x 2-hour AFK Gold
22
2-hour AFK Hero's Essence
2x 2-hour AFK Gold
23
2-hour AFK Hero EXP
2x 2-hour AFK Gold
24
2-hour AFK Hero's Essence
2x 2-hour AFK Gold
25
100 Diamonds
26
2-hour AFK Hero EXP
2x 2-hour AFK Gold
27
2-hour AFK Hero's Essence
2x 2-hour AFK Gold
28
2-hour AFK Hero EXP
2x 2-hour AFK Gold
29
2-hour AFK Hero's Essence
2x 2-hour AFK Gold
30
100 Diamonds