If you are tired of doing the daily quests in AFK Arena, this auto macro can help you finish them all and collect 100 daily points with just a single click.
Before reading further, here are some notes:
It's just a macro that records the screen activities and then repeats. It's not a kind of hack so your account will be surely safe.
This auto macro only works only on PC. I will try to see if I can make one for phones.
It does not work for boss fight stages. If you are in a Boss Stage, complete it before using this auto.
You need to have the screen staying at the Campaign tab before running the auto.
Make sure you have Guild Hunting Quick Battle Function unlocked.
AFK Arena Daily Task Auto Macro
Click here to download Bluestacks. It's an Android emulator that lets you play AFK Arena on your PC. The game will be automatically installed after you install it.
Open the game, log into your accounts. If you are using iOS devices, connect your account to your Facebook profile in order to load it here.
Let the screen stay at the Campaign tab.
Click here to download the macro.
Open the Macro Recorder or press Ctrl + Shift + 7.

Click Import and browse to the file auto-daillies.json you downloaded at step 4.
Press Open to load it.
You now can see the script available on the Macro Reader screen. Simply press Play to start using it!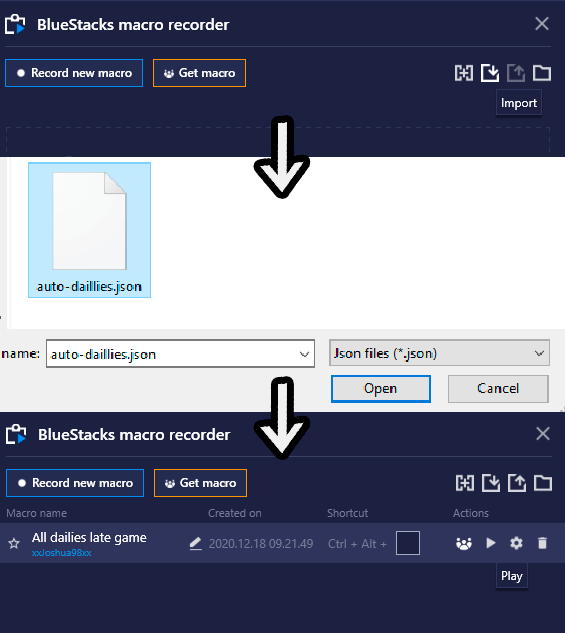 I have tested this multiple times and it's working well from my end. However, there is sometimes the game being laggy, things getting slow, making the macro less accurate.
I will do my best to create another one for the early-game account soon (since I don't have any to test at the moment)

Auto Dailies Work Flow
Collect Campaign Rewards → Use Fast Reward → Do Campaign Battle → Guild Hurting → Send Friend Gifts → Collect Legends' Challenger Credits → Start All Bounty Quests → Do Arena Battle → Do King's Tower Battles → Collect Rewards
Please make a comment down below if it works for you! If there is any issue, I will do my best to fix it!
Macro shared by xxloshua98xx