Firstly, If these are not the AFK Arena hacks most of you are looking for, I am sorry.
There are absolutely no diamond hacks or gold hacks in AFK Arena and any other online games, they are just trying to fool you. If there are, why would they share them for free in the first place?
These are actually some of the best tips and hidden information that most of the new players would find it helpful!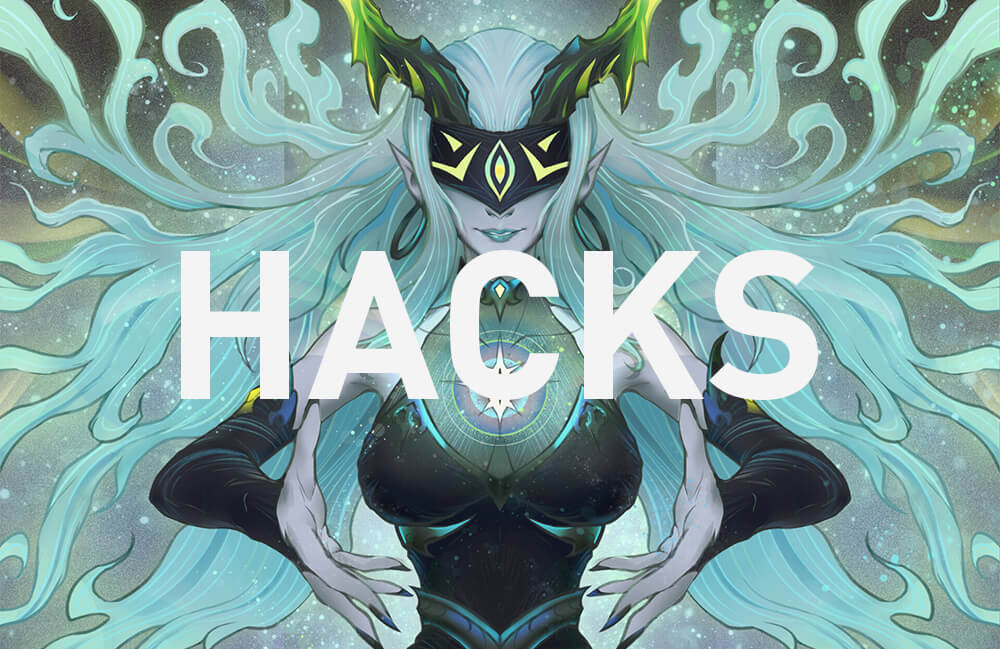 Best AFK Arena Hacks That Work
Arcane Labyrinth Boss Reward Trick
Whenever you defeat the boss of each floor, there is a chance of getting a chest that contains either

Diamonds, Mythic Gear, or

Hero Essences.
You can actually increase the chance of getting this chest by not collecting your AFK Campaign chest for more than 12 hours, not doing any daily mission, and not collecting the Fast Rewards before you actually attacking the Arcane Labyrinth Boss.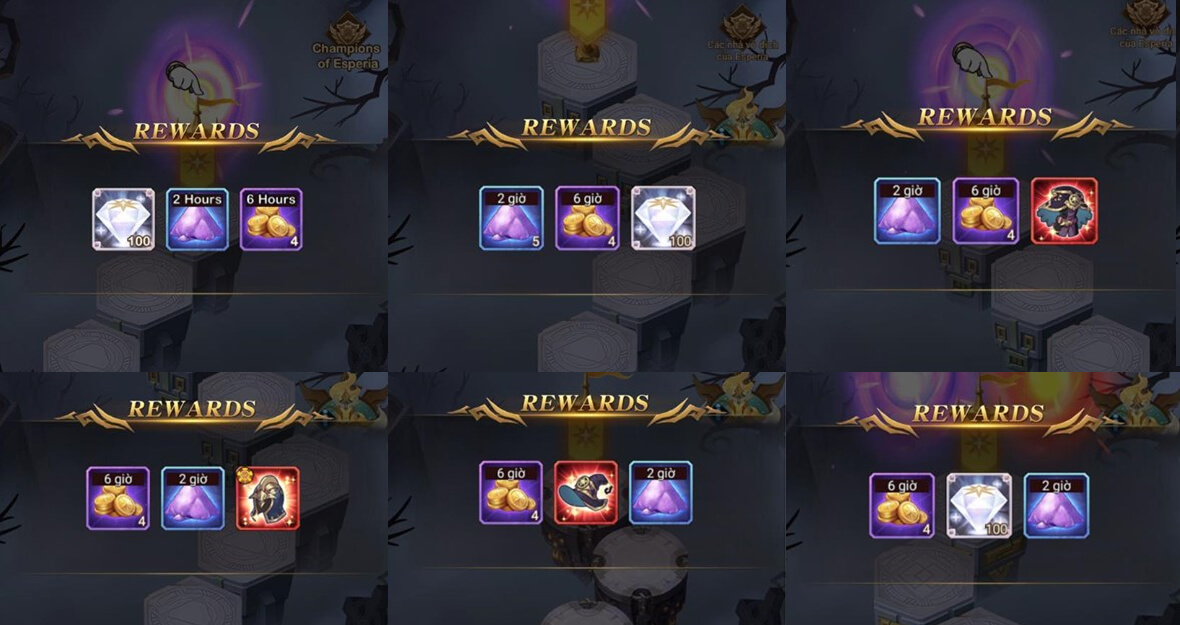 At the moment, you usually receive 500x

Hero Essences using this trick. There is a small chance of getting 100/200/500

Diamonds too.
Leveling up Heroes Effectively
If you are in the early-mid game and you have a great carry in your teams such as Saveas or Shemira, you should spend all of your resources on them before working on the other heroes.
This trick works best when you have 2 Heroes in your team whose levels are 20-30 higher than the others. Simply follow the steps below to get the idea of the trick.

With the Exception of the main carry, reset to decrease the levels of the other heroes to the lowest hero level your team has. Here, I decrease the level of Belinda to 160, which is equal to Lyca, Saveas, and Rowan's level.

Spend all of the leftover resources on your main carry. Here it's Shemira. You normally cannot increase 40 more levels for her but it's still very great to do this trick whenever you get stuck in the campaign. Here, the level of my Shemira gets increased from 180 to 193.

Reset & decrease the levels of support Heroes in your team to 140:

Level up your tank so that it will have 1 skill getting leveled up (lvl. 41, 61, 81, 101, 121, 141, 161, 181, etc). You can level up the tank to 180 before working on the supports. Assuming that Belinda is the tank hero in this case.

Spend the leftover resources on 1 support and get him/her to skill threshold level.
Improve The Gears of Mercenaries
You can actually improve the gears of the rented mercenaries in the game! This trick works when the hired Heroes only have less than 2 Mythic items!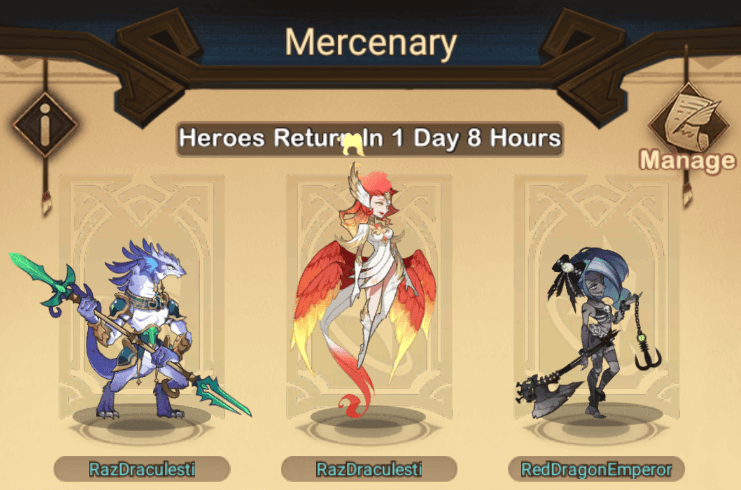 Equip your strongest gears for 10 Heroes:

5 heroes you are using in the Arena of Heroes.
5 heroes that have the highest ascended tier.

If you need to use any hero in the future, go to the hero's specific page, tap on the equipment then choose Change equipment to exchange the gears with the mentioned Heroes. Do not Remove & add gears manually.
If the gears of the rented heroes do not change after you follow the steps above:
Remove all of the gears from all of your heroes
Equip low tier gears (blue/gray gears) for 1 hero from the 10 heroes mentioned above.
Check the mercenaries to see if their gears get changed.
Follow from step 1 above.
Do not underrate this trick! It is super useful if you usually rent Heroes from your friends!
Get Extra Resources for New Players
Most new players don't know this, but you can actually visit other player's Oak Inns and collect gifts from their hotels.
To do this, you need to add players who are at high levels and have Oak Inn enabled. Every day, you can collect 3 Red Boxes. Each chest gives you either 100

Diamonds, 100

Hero Essences, or 1.5M

Gold.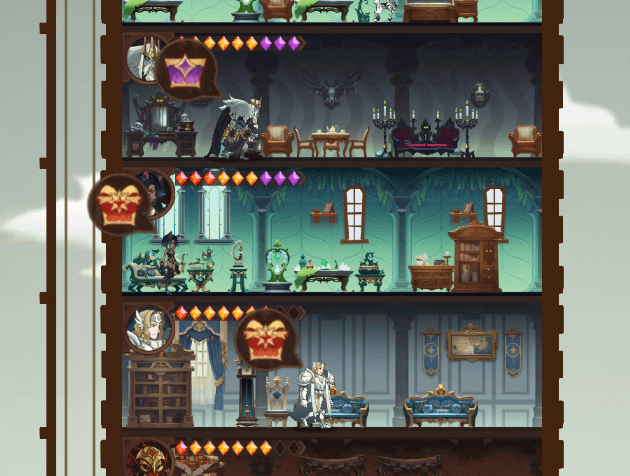 How New Players can defeat Voyage of Wonders with Ease
Undoubtedly, it's quite hard to defeat the Voyage of Wonders as a beginner at map 6 when you still don't have a decent team formation yet.
Here is a special AFK Arena hack that helps you to defeat it as easy as ABC.
Get the Wu Kong for free
Spend all of your resources on him and get him to level 100.
Upgrade 4 other heroes to level 60/61.
Do some Labyrinth battles to get the relic buffs.
Use any hero in your team with Wu Kong to trigger the formation buff (use more than 3 heroes from the same faction).
In the beginning, if you don't have enough heroes in the same faction, you can turn off the auto retire heroes function to get the green Heroes.
Signature Items
While the signature items of the normal factions can only get to level 30, Celestial/Hypogean signature items can get up to level 40. These extra levels come with the addition stats, however, there will be no extra special ability.
Also, it is impossible to tell if a hero is using a +30 or +40 signature item or not by just watching their icons.
More Discounts
The more money you spend in the game, the more deals you will get in the Store.
If you never spend money in AFK Arena, you will get a $0.99 deal every time you reach a new milestone. This deal provides excellent value.
If you have already spent some money in the game, you will get a $24.99 deal instead with less value.
In the screenshot below, the left side is a paid player's screen, the right side is a free-to-player screen.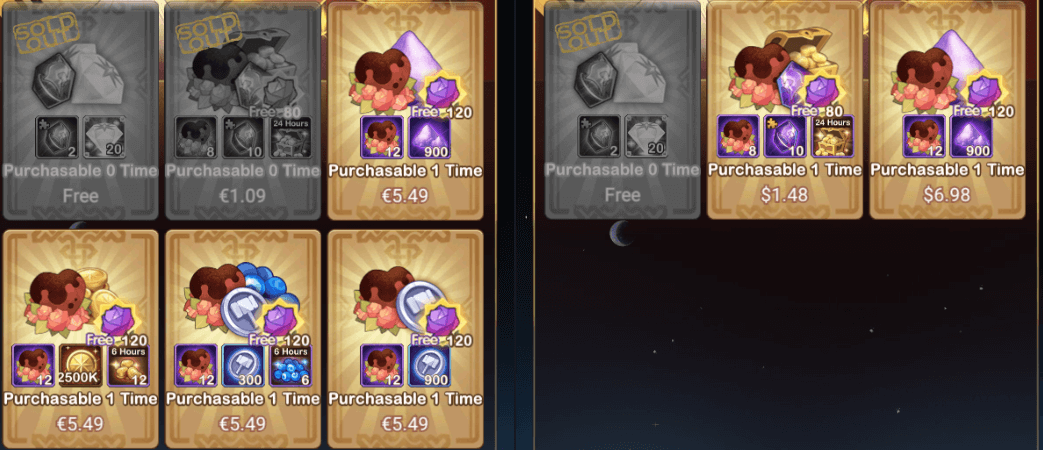 Hidden VIP Levels
Players can actually get to VIP level 20 instead of VIP level 15 as shown in-game.
The table below shows you the full benefits of being VIP level 16-20 in AFK Arena.

There are a lot of offers in the game store with various price/rewards values so Whitesushii has created a wonderful sheet below for you to easily compare the different offers in AFK Arena.
Do note that the main focus here is Heroes, not Emblems.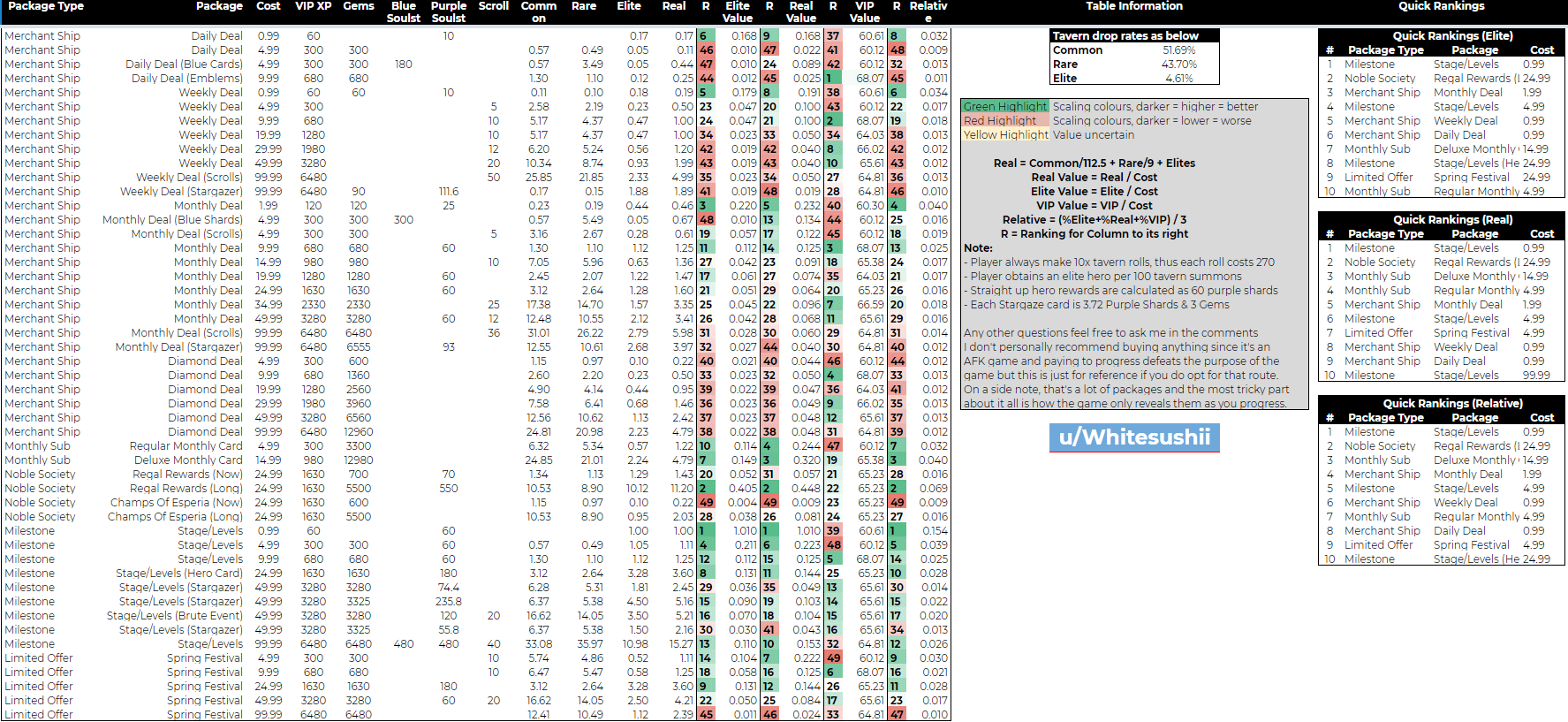 Do Battles Against Friends
You can have at max 30 friends in the game, but you can only receive

Companion Points from max 20 players every day. Having friends not logging in for a few days doesn't give you too much loss.
In addition, there is a lesser-known feature of the Friends system. It is you can actually fight against your friends for testing purposes.

Test Server
There is actually a test server allowing you to have the earlier access to new game contents and to help the developers test out new features.
Head over to our Test Server page for more details.
There are also other official servers of the game that you don't know about, including Korean version and Chinese versions.
Tweak Your Profile!
There are some interesting tweaks you can use in the game by clicking at your game avatar and go to the Settings section.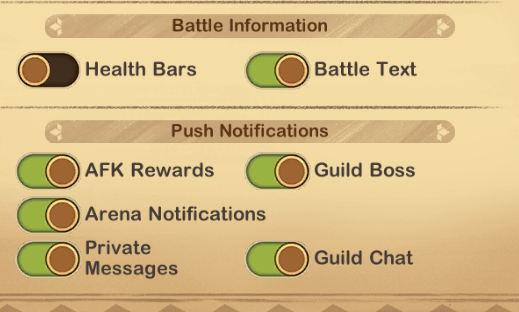 In this same section, you will find a way to enter the game redemption codes and receive some special gifts from the developers.
Follow our AFK Arena Codes page to get those codes as soon as possible.
Change Chat Channels
You can actually change the chat channels in-game by going to your Profile → Language Channels and pick the lowest number channel or the green ones.
However, If you hate the quite and want to eat some drama after finishing all of your daily quests in just 2 minutes, go to the red channels. Not many players know this AFK Arena Hack.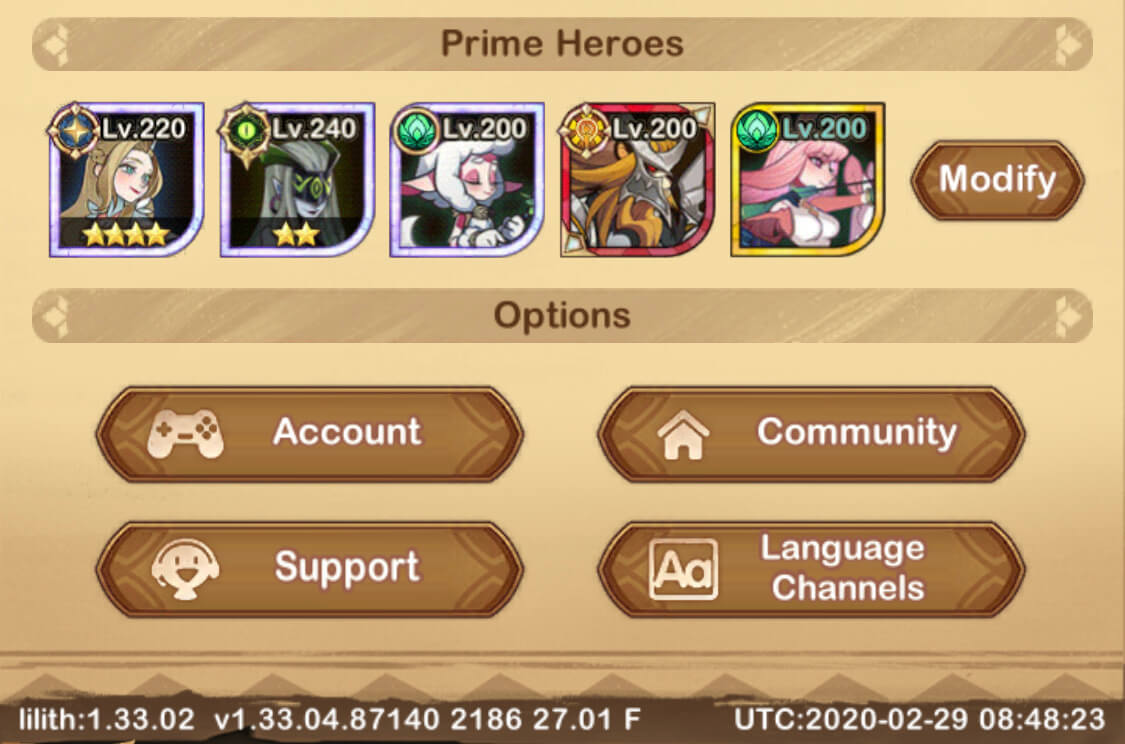 Check Server Time
You can actually check the server time with ease at the account profile menu.
The server timezone is UTC +0. Daily activities reset at UTC 00:00
Faction Advantages
The game has some faction counters, which is similar to Pokemon and many other teams building video games. You can easily check it out by going to the team building section before a battle then click at the "i" icon at the bottom left.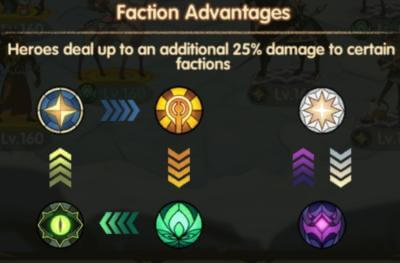 Having plenty of Heroes coming from the same faction gives you some great stats boosts during the battle. More details can be seen in the screenshot below.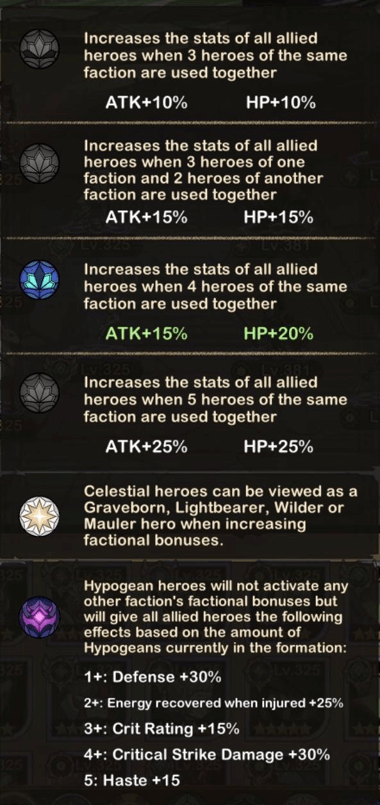 Reroll
If you are trying to re-roll your game to have a better starting Heroes, you don't have to create another account, redownload the game nor clear the game data. Simply go to the Settings and pick a different server and use the AFK Arena redemption codes to test your luck again.
That being said, If you want to focus on a specific server and get to the top of it, usually the latest server, it's better to clear the game data.
Tier List
If you are looking for a tier list, head over to our AFK Arena Tier List page.
However, please note that this game is not about having a fixed team of 5 Heroes. You will have to change your team a lots due to the game meta changing and specific enemy formations.
In addition, later on, you want to focus on at least 1 Hero from each faction for the Faction Tower (unlocked later in the game via the King's Tower).
There are about 30 top Heroes you want to have at the end of the game (for now).
Test New Heroes
Saving the Arcane Labyrinth battles to test the new Heroes is always
Also, you can test new Heroes by going to each Hero Portrait and press the Test button at the bottom. The game will summon that specific hero and some common enemies into a battle. This isn't a perfect system, however, it is enough to give you the rough idea of the hero skills.
You can also challenge your friends too, of course, in case your friends have that Hero.
Check the time you have defeated Arcane Labyrinth
Talking about the Labyrinth, you can actually check the number of times you have defeated the Arcane Labyrinth Boss by going to the Quests menu, Campaign tab then scroll down to the mission "Complete the Third Floor of the Arcane Labyrinth x Times".

Hopefully, you have found some interesting tips in the article, new players. And remember, there is no working AFK Arena Hack out there. If there is, why people would share it for free in the first place?