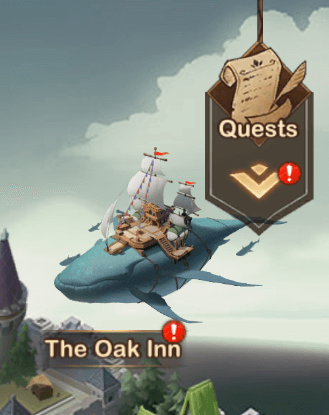 In AFK Arena, The Oak Inn is a sweet hotel where our Heroes can take some rest after the hard fights while getting their stats increased.
Your heroes work tirelessly fighting the forces of evil to collect coin, gear, and other loot for you, even when you are offline. It's only fair that the strongest of your champions should have a place to rest after a hard day of grinding.
Note: On July 7, The Whale Inn is renamed to The Oak Inn.
The Oak Inn Summary
Players can easily get into The Oak Inn via the Ranhorn tab.
There are various rooms in the hotel and each room can only be used by one Hero.
Players can visit friends' Oak Inn and collect gifts from Chapter 4.
After Chapter 17 and having ascended tier heroes unlocked, players can build their own Oak Inn!
Arkadios the butler opens a room, Rosaline does a spring clean and the room is ready to 'bind' to one of your Ascended heroes.
You can bind up to 15 heroes immediately, if you have more than 15, binding additional heroes needs you to setup additional inns starting at 300 diamonds to unlock.
Players can purchase different kinds of furniture for these hotel rooms via the Workshop standing next to the hotel (screenshot below).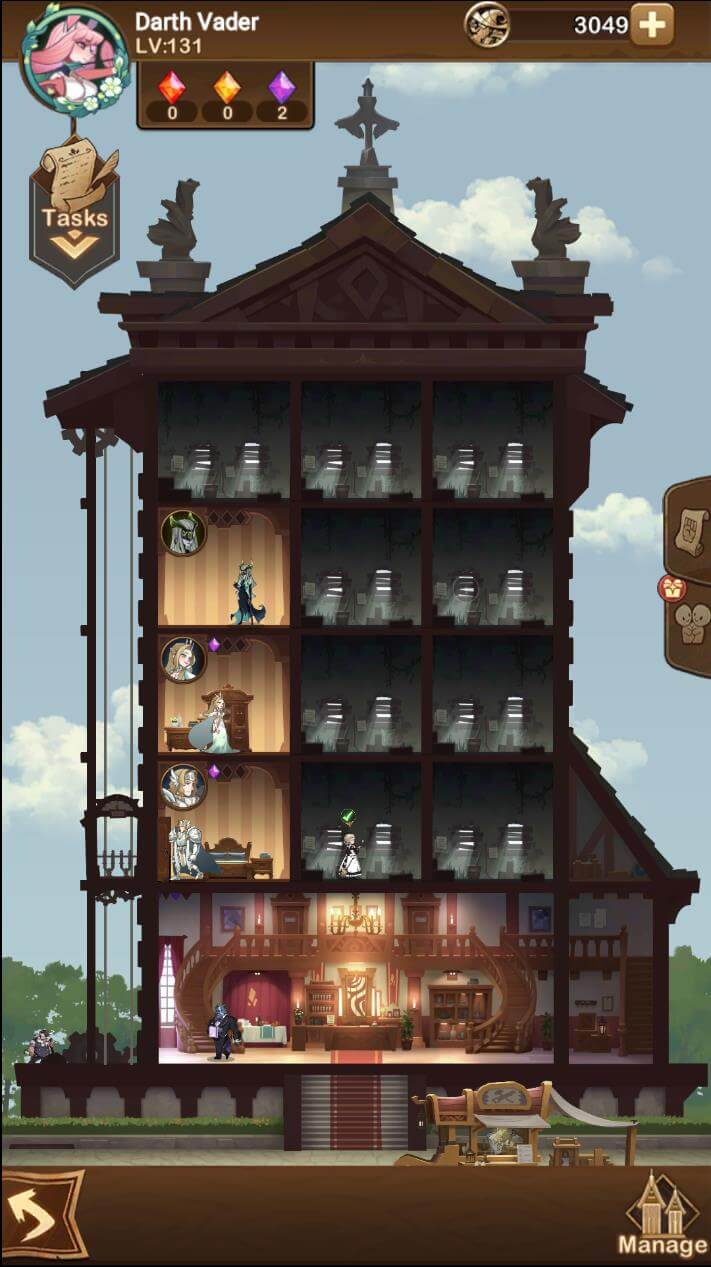 Opening up rooms 'upwards' is instant, 'sideways' takes 12 hours – this increases the limit of furniture that can be placed (3 to 6 to 9). This can be fast tracked for a small amount of diamonds (120 diamonds reducing with the timer).
Crafting Furniture costs Poe coins. Poe coins can be obtained from the AFK Campaign, Store, or Special Events.
Furniture boosts Heroes stats and can give them new exclusive abilities. All details can be read in the Exclusive Furniture section of each Hero page.
There are 4 different rarities of Furniture: Common, Elite, Legendary, and Mythic.
Similar to Heroes, Furniture has different Factions. Place the Furniture in the hotel room of the Heroes having the same faction to boost their stats.

In the Workshop, there is a featured called Furniture Wishlist.

Up to 10 Hero can be added to the Furniture Wishlist.
When drawing 10 Furniture cards, if a Mythic item is produced, it has a greater chance of matching a hero icon currently in your wishlist but will not increase the overall chances of Mythic items being produced.
Clearing slots in the furniture wishlist will not increase the chance of other hero icons appearing.
Every new hero will be added to the list of furniture wishlist choices, and will be marked "New". Please remember to add the icons you want to your wishlist.

There are also a lot of quests in the Oak Inn for players to complete and unlock new Furniture as well as earn Poe Coins.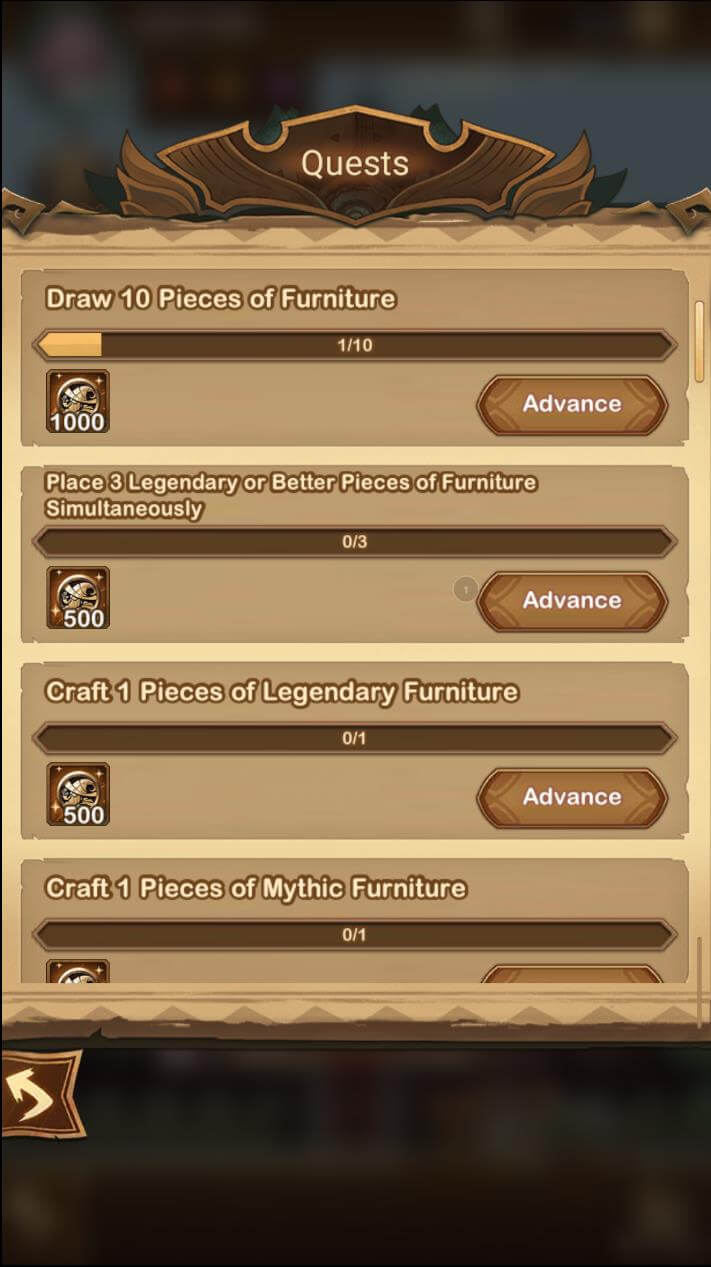 Decorating Your Inn
Once you build a piece of furniture, you are guided by the tutorial in decorating your first room.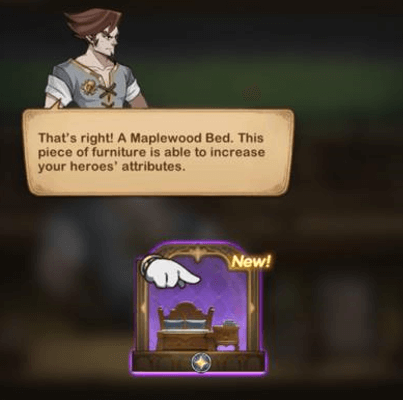 You can start decorating your rooms and as you can see, Eirron's feeling under the weather that he can't entertain Thoran with a cup of tea.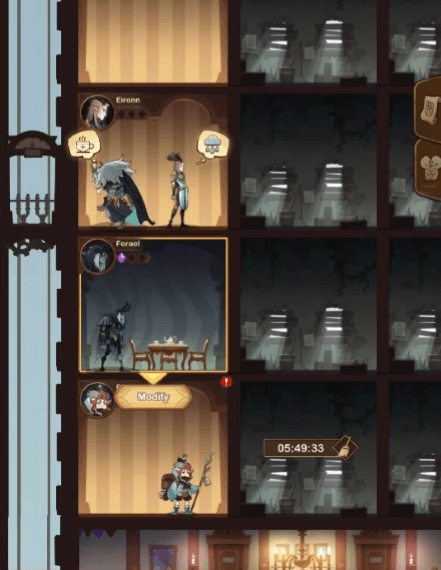 The decoration provides boosts to the hero who lives there with more boosts the more furniture you place and stronger boosts with higher 'level' furniture.
Crafting Furniture
After your first item of furniture, all new furniture can be crafted using a new currency,

"Poe coins".
How to get Poe Coins?
AFK rewards (at about 20 per hour).
Fast rewards (also ~20 per hour).
There are also a large number of quests that mean a quick burst of initial furniture with later quests becoming increasingly difficult to complete;
Store (200 for 1M gold or 200 diamonds), this is the cheapest way of collecting Poe coins in addition to idle rewards and is highly recommended for f2p players.
Roaming cart in Arcane Labyrinth.
Purchasable from the merchant.

Furniture costs 300 Poe coins to build. So you can expect currency for 1 furniture every 15 hours from idle rewards.
Each time furniture is crafted, you have a chance on getting mythic furniture.
There is also a pity counter for legendary (every 30 furniture items) and mythic funiture (every 90).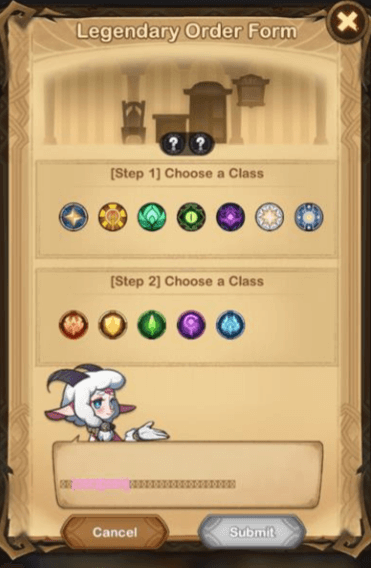 Rare furniture applies a bonus to a faction, legendary to a class (and faction), mythic to a specific hero (class and faction).
For the pity furniture items, you can choose who the furniture is for.
While the odds may seem daunting to obtain useful mythic furniture, there is a wishlist for 10 heroes to improve the odds.
Best Furniture Wishlist










Furniture Buffs
Placing furniture in a room bound to your ascended hero provides buffs. The type of buffs depends on the level of the furniture.
Rare furniture provides small buffs to attack/health/defense.
Legendary furniture provides modest buffs to accuracy/life leech/haste (etc.) as well as new stats only previously seen in the abyssal event e.g. crit resistance, crit amplification etc.
Mythic furniture provides significant buffs to a specific hero by improving the mechanics of spells or other attributes/abilities. Each hero's mythic furniture effects can be found in their portrait. For a full list of hero specific furniture buffs, check the hero portraits in-game.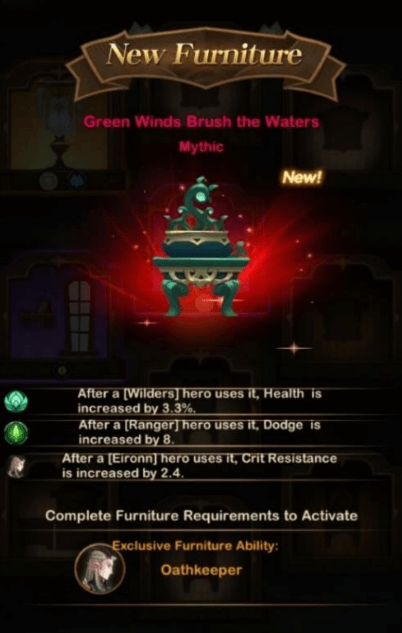 For example, Eirron gains a furniture ability "Oathkeeper".
Any mercenaries hired retain their owner's furniture and you can inspect this by checking the "!" under the relic slot.
It is unclear at this stage where the furniture buffs will apply. At the time of writing, it isn't clear whether furniture buffs will apply in PvP.
What do you think about this new game feature? Let us know about the comment section below!
Guide shared by Shizzam.