Full changelogs of the upcoming AFK Arena 1.44 Patch Notes.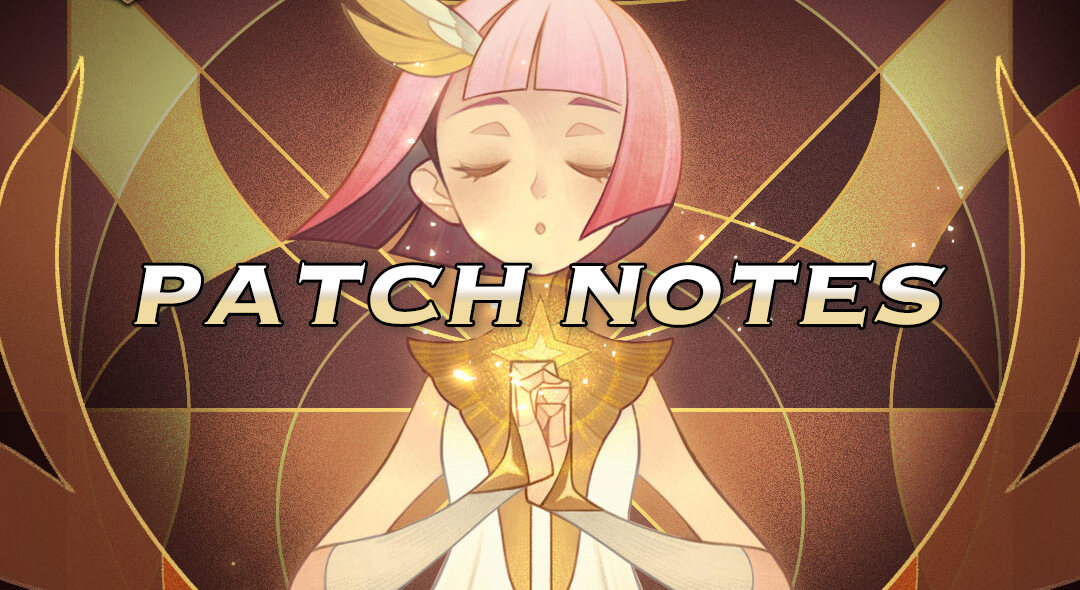 New Hero
New Mauler Hero: Drez – The Quicksand Recluse.
New Additions and Optimizations
1. Open the event, The Abyssal Expedition again. Players may enroll for this event after completing stage 15-40 of the campaign.
2. Added the new Voyage of Wonders adventure, Windfall Gorge.
3. Added the adventure The Howling Wastes' to the 'Wandering Balloon' feature, which can be unlocked after completing Stage 21-50.
4. The hero trial feature has changed and is now known as the "Arena of Trial" feature. Whenever new hero arrives In Esperia, the Arena of Trials' "Arena of Trial – Bountiful Trials" event shall also become available.
5. The x4 Battle Speed function has been added to all types of battles. It can be unlocked after completing Chapter 21 or reaching VIP level 11.
6. Added the new campaign chapter – Chapter 36- Dragons Pest.
7. Added a button to the Oak Inn feature, that allows players to select and place multiple pieces of furniture at once.
8. Added a class filter to the hero and battle preparation interfaces.
9. Added a button that allows players to organize their Resonating Crystal heroes by faction, or tier.
10. Optimized the Interactive experience of various game interfaces.
11. Optimized how certain items are sorted Inside the player's hag.
12. Increased the chances of Emblem Choice Chests being produced by The Roamer, found within the Arcane Labyrinth after completing Chapter 25.
Abyssal Expedition Optimizations
1. Added Honorable and Casual enrollment methods to the Abyssal Expedition. Honorable enrollment requires diamonds to enroll. however, once a player reaches a certain title Wring the event season, they will be able to claim hack up to double the amount of diamonds that they had originally spent. Casual enrollment is free. but players do not have the opportunity to claim the additional diamond reward. Honorable and Casual enrollees shall also not be matched with one another during the event.
2. The event has now been extended to 16 days. with the final 24 hours becoming a "Quite Time", which allows players to play normally, however, due to the malevolent effects of the evil Zolrath, settlement resources and Stamina cannot be generated during this time.
3. Adjusted title rewards. Rewards will be confirmed with the commencement of each new season.
4. Added a "Server Heroics" feature. After the first player on any server has completed ft specified task, all other players participating in the Abyssal Expedition will be eligible to claim the reward for this task.
5. Added the Militia Damage Leaderboard and leaderboard reward. The top Militias with the highest damage at the end of the event, which also meets the specified reward requirements shell receive a Guild Statue reward, that can be displayed In their Goad Grounds
6. Optimized the boss reward logic. Aside from the boss "The Devourer", dealing damage reward ther bosses or defeating minions shall players with Blessed Essence. Also, after defeating bosses, all Militta members will be able to ultilize that structure, but it will not produce any resources.
7. Added a new "Settle" feature, which allows players to set up their own encampment on vacant tiles. If the encampment is directly connected to a boss tile, the Mayer will receive an additional 5% damage bonus against that boss.
8. Added a new feature that allows tile coordinates to be shared in chat.
9. Added Militia Leader and Militia Deputy ranks to Militias. Militia Leaders can change Militia names and emblems and both Militia Leaders and Militia Deputies are able to use the Militia Marker function.
10. Added two new Gate Defenders: Satrana and Solise.
11. Optimized Stamina slot rules. If a hero is removed from a slot due to being used as ascension material, their corresponding stamina Wan also now be proved.
12. More occupied settlements within the Forsaken Territories have been discovered.
13. Reworked all Blessed Relic Tank abilities.
14. Adjusted the Blessed Relic Mage Ability "Concentration"
15. Fixed an issue that was preventing the signature items of several enemies within certain settlements from being effective, and adjusted the difficulty of certain settlements.
16. Increased the diversity of enemies.
Heroes Adjustments and Changes
1. Lucius: Optimized the character's animations. Changes made will not affect the character's battle performance.
2. Belinda: Optimized the character's animations. Changes made will not affect the character's battle performance.
3. Solise: Fixed a problem that was causing the 'Floral Specter' ability to deal damage to enemies that should have been immune to all forms of damage.
4. Zolrath: Fixed an issue that was preventing the ability "Time Rift" from being used when Zolrath was affected by control abilities.
5. Rosaline: Fixed a problem that was preventing Rosaline from receiving the effects of her allies' abilities while she was using her 'Spring Cleanin" ability.