Detailed information of the upcoming event Treasure Scramble in AFK Arena.
Keep visiting this page as we are updating it every day!
Treasure Scramble Rules
1. A single Treasure Scramble season has a duration of 12 days. Players can create their team formations 1 day before the season begins.
2. Treasure Scramble is a region-divided cross-server event. All heroes within this game mode shall have a level of 360, their gear and tiers will remain unaffected. Heroes will not receive any Artifact effect bonuses.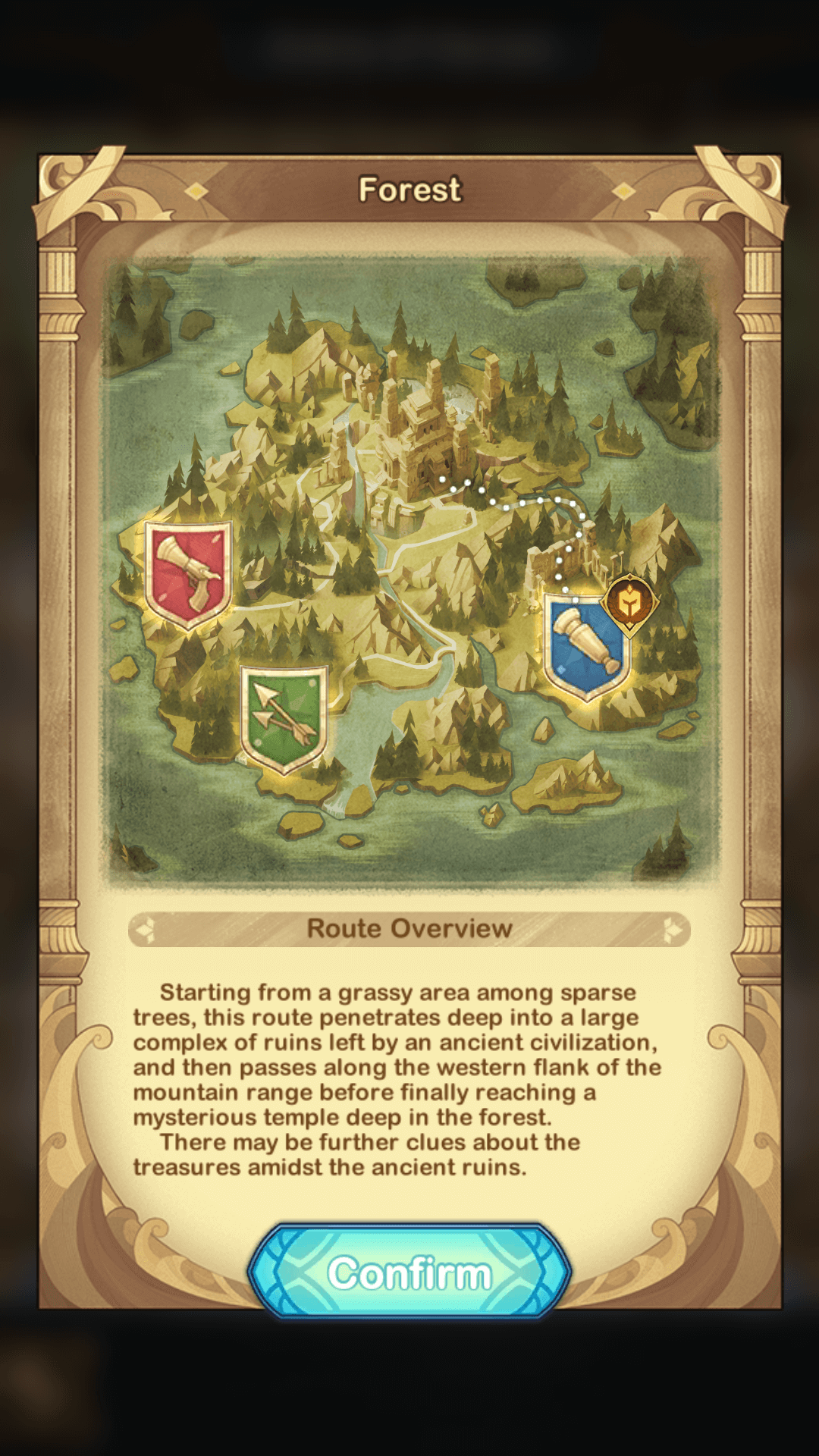 3. Trial heroes and Short-Term Mercenaries cannot be used in Treasure Scramble.
4. Treasure Scramble is division-based game mode which is divided into 6 separate divisions that are based on Prestige.
5. During the event, players will need to dispatch heroes to defeat other players so that they can acquire Prestige. Prestige is used to increase a player's division, and allows them to enter more advanced treasure hunting areas.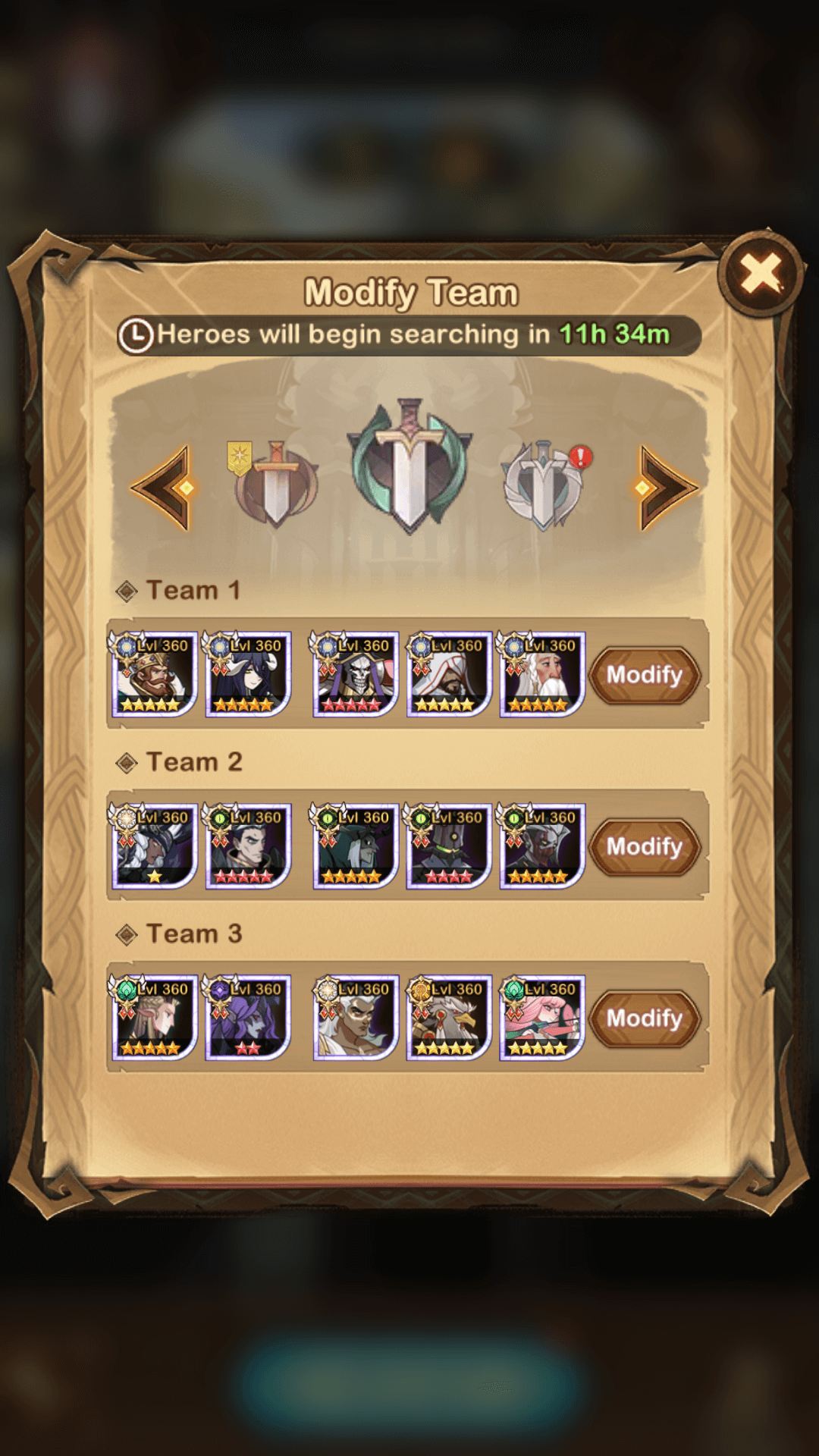 6. Heroes that are currently out searching for treasure will only encounter heroes from players that are currently in the same division.
7. In divisions below "Treasure Master", players can only compete with other players that are on the same route. After reaching "Treasure Master" division, players will compete against players on other routes.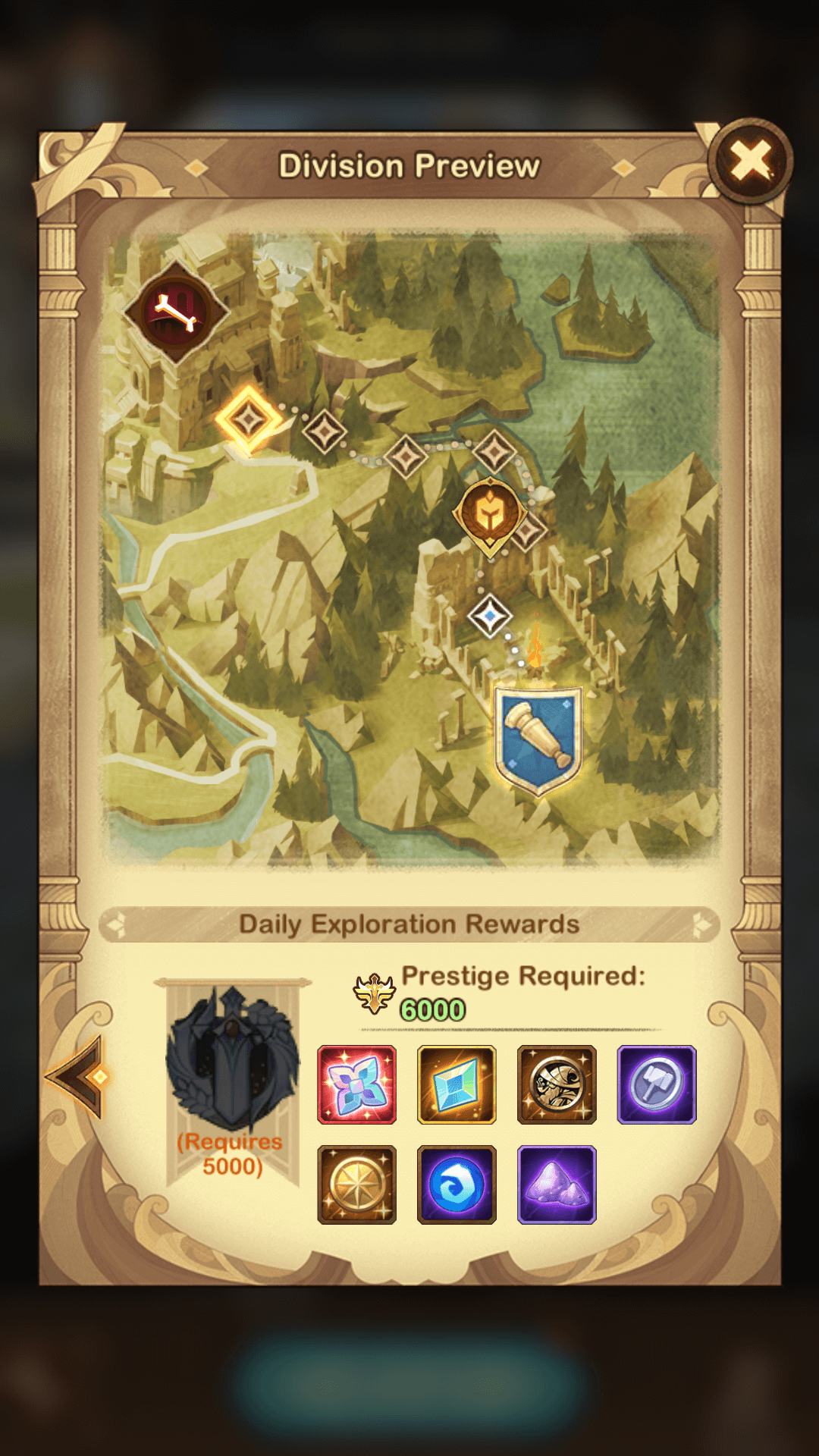 8. During the event, the number of teams that can be dispatched increases as a player reaches higher divisions.
9. During the event, each team a player has will explore and battle independently of one another. Each team can encounter enemies up to 100 times per day.

10. After players have confirmed their participation in the event, their configured teams shall begin treasure hunting every day at UTC 02:00. Players can adjust their teams at any time within the season. Team adjustments will take effect as of the next treasure hunt.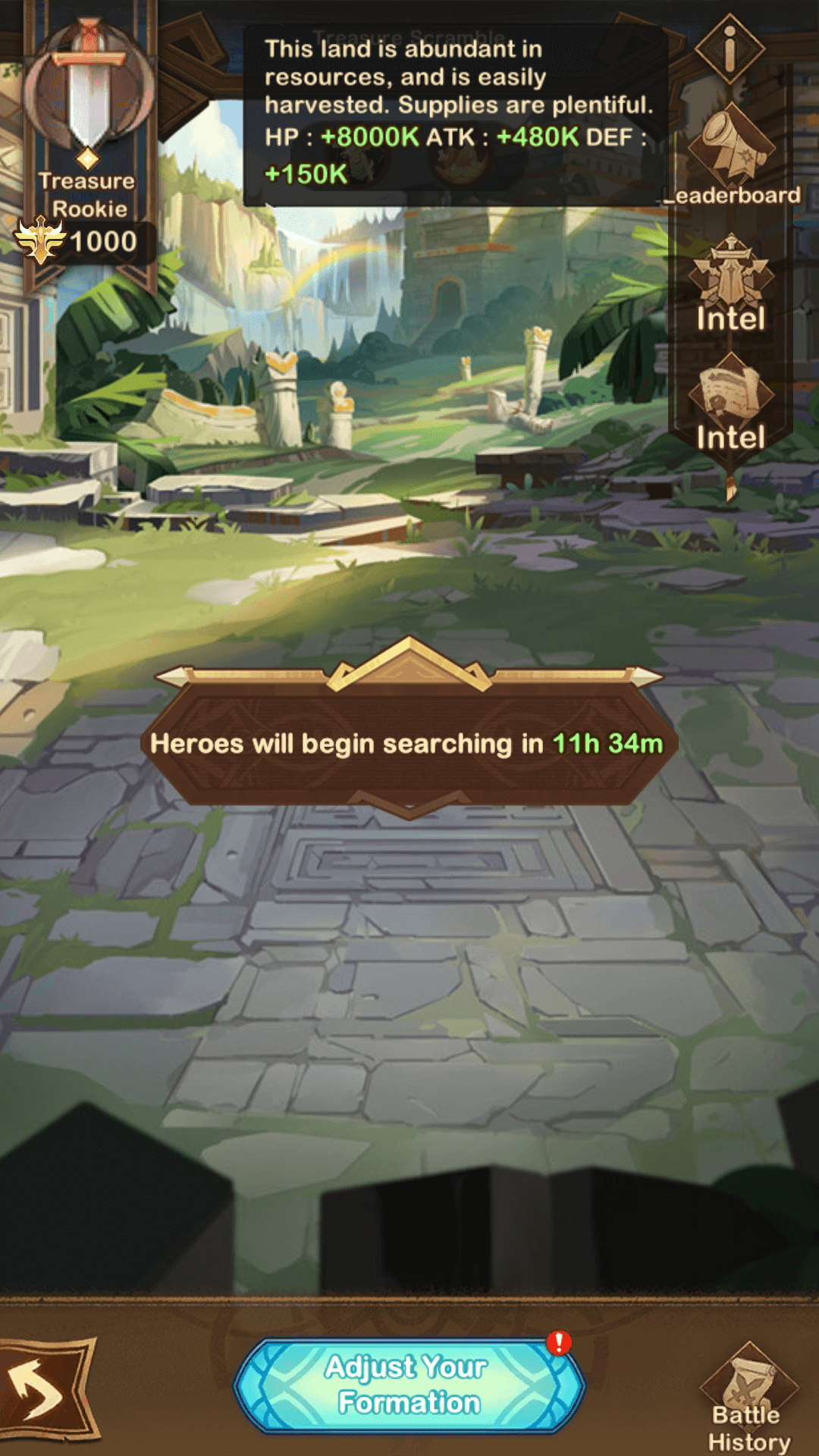 11. After heroes have been dispatched, their statuses shall remain locked. Combat calculations are based on the stats the heroes have at the time they are dispatched.
12. If a team formation is empty at the time of dispatch, the formation shall be automatically filled by the system.
13. During the event, received rewards include daily exploration rewards and leaderboard rewards.
14. After each search team has finished a battle, players shall receive exploration rewards based on the division the player was currently in when they encountered an enemy. All exploration rewards shall be sent out to players the following day of the event, and can be claimed automatically when the player enters Treasure Scramble event page. Exploration rewards are only retained for 2 days, so please claim them in good time.
15. Leaderboard rewards are calculated every sixth day after a season has commenced. Leaderboard rewards will be sent to players' mailboxes.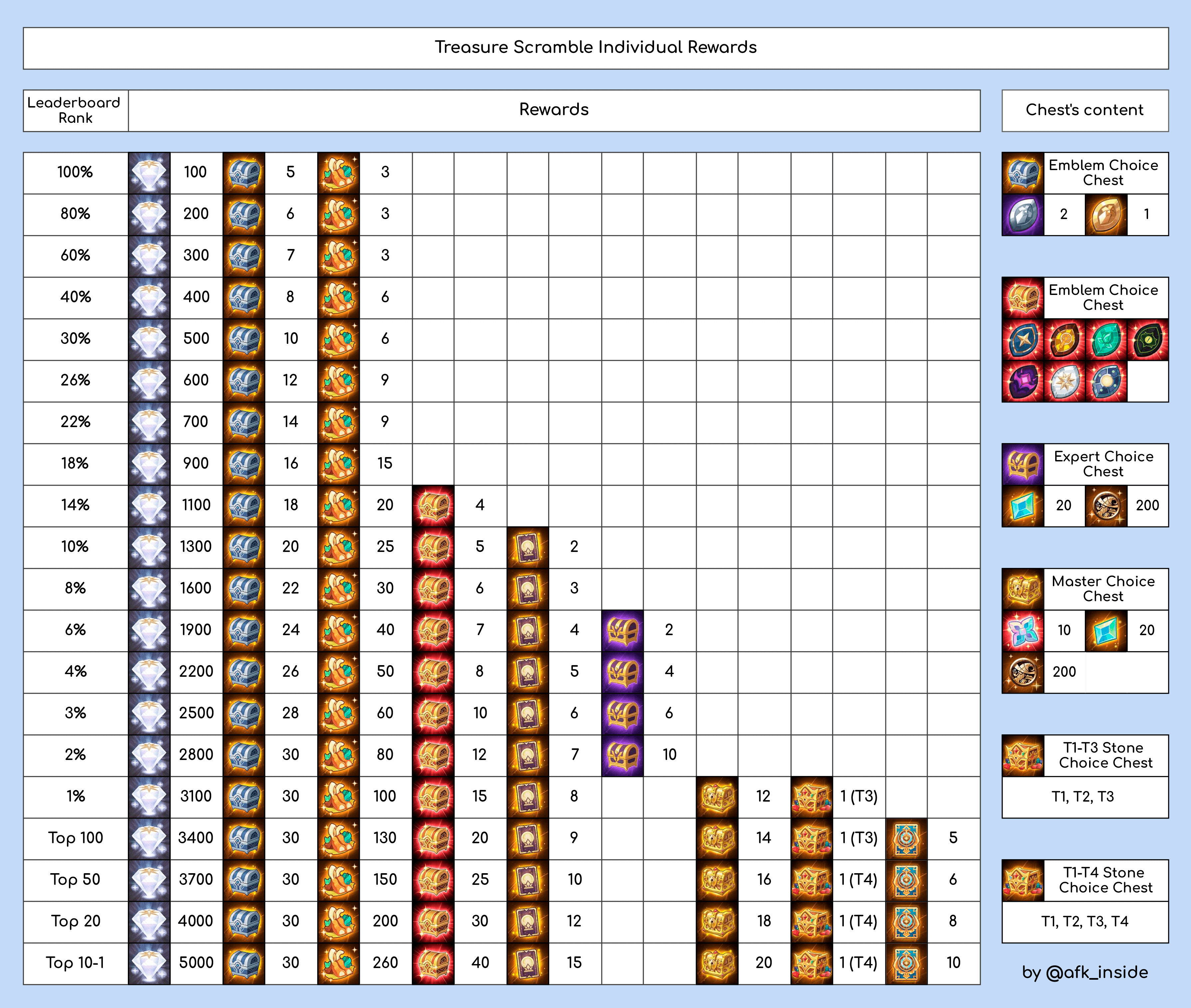 Background
Hey! Treasure hunter, are you also planning to vie for the treasures buried in a corner of this domain? Don't look at me like that! I don't care where you got the information, whether it was picked up in a tavern or pried out of the mouth of some unlucky fool, it has no bearing on the people gathered here that you're going to be dealing with. As an experienced treasure hunter, I would like to remind you that once you set foot on the road, all the spoils will be at your fingertips! However, only by defeating your rivals on the road will you be qualified to compete for the title that signifies the highest rank of treasure hunter. These competitors on the same path as you are bad news, becoming stumbling blocks in your journey. Of course, if you are strong enough, their bodies will form your ladder to victory! You will tread in the blood of the defeated, to harvest the rich fruits and glory that belong to you! Haha, take it easy! I just want to give you a little advice – choose the right route, bring your strongest, most trustworthy teammates, and forge ahead! On the way, there may be extreme weather, or harsh environments. With constant, random encounters on the way, you need to push your limits to defeat your foes, otherwise you're just a sitting duck! And next, good luck!