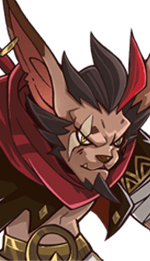 Khasos – The Unruly

This guide is shared by GloriouS. Make sure you check out their Discord Channel for more interesting stuffs!
Faction
Class
Rarity
Position
Role
Maulers
Strengths
Ascended
Any
(Ideally 4)
Def Supp / Bruiser
Synergies
Maulers
Overview
---
Khasos is a versatile hero chosen primarily for his ability to support his allies by granting them all lifesteal, but he also does respectable AoE damage and can tank in a pinch.
Artifact Recommendations
---



Strengths & Weaknesses
---
Strengths
AoE backline damage

Lifesteal for all allies
Weaknesses
Ultimate is nothing special
General Strategy for Khasos
---
Due to granting Maulers more lifesteal than other factions (after Lv.141), Khasos works best with other Maulers, especially those with strong and fast autoattacks.
Khasos's 3rd skill (Throwing Axe) damages heroes in the backline and can help Assassins set up quick kills.