I believe that many of us have faced the issue that causes us unable to purchase any merchant in AFK Arena.
The exact message you should receive is: "You are attempting to make a purchase with a device that is not secure. To ensure your account security, please try again on the device with which you normally make purchases. If you have any questions, please contact support".
Basically, when you first started playing the game, the system will pick the device you used for creating your account is your "usual device". Then, somehow you lose the control of the old device, or you simply just reset/reinstall it. The system will now recognize that device as an "unusual device".
No matter how long you wait, you will never be able to purchase any merchant on that new device until you contact the support. They will most likely ask for the number of devices you are using, and the reason you use the new device.

Please follow the simple steps below to solve this annoying issue!
How to Fix Unable to Purchase Problem in AFK Arena
Tap on your avatar (located at the top left of the game screen).
Tap on Support.
Tap on Send Message button (top right).

Tell the support about your situation. Something like this works:

Hello, can you allow me to purchase merchants using this device? I reinstalled my phone before so that I couldn't purchase again using it. Thank you very much!
Hello, can you allow me to purchase merchants using this device? I lost my old phone and I have just switched to this new one. Thank you very much!
You will quickly receive a reply from the support team in just 24 hours or so: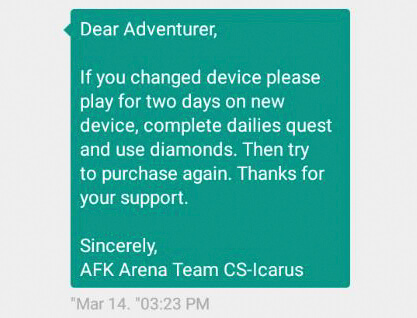 Now, you just need to do the daily quests for 2 days and spend your Gems somewhere in the game, most likely for summoning in the Tavern.
After 2 days, you can purchase all of the packages in AFK Arena using your new device.
Please comment If you have any other issues!