Forge The Elemental Blade (FTEB) is a new in-beta web (More responsive on phone) event where you can do daily quests to earn "Forge Points":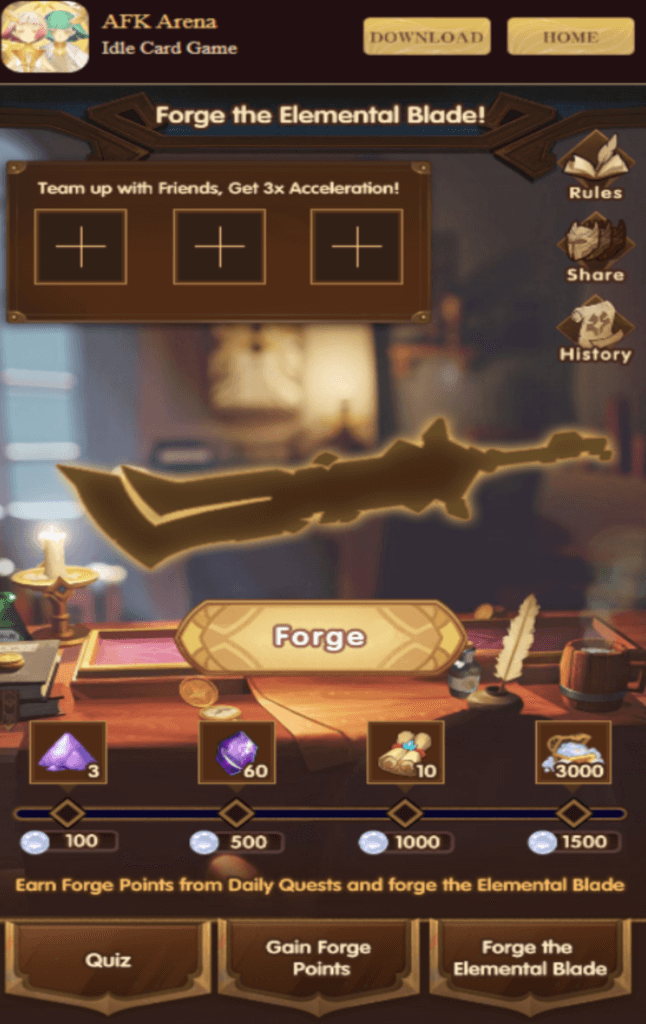 These Forge Points earn you in game rewards, pretty small prizes but still free and really easy to obtain: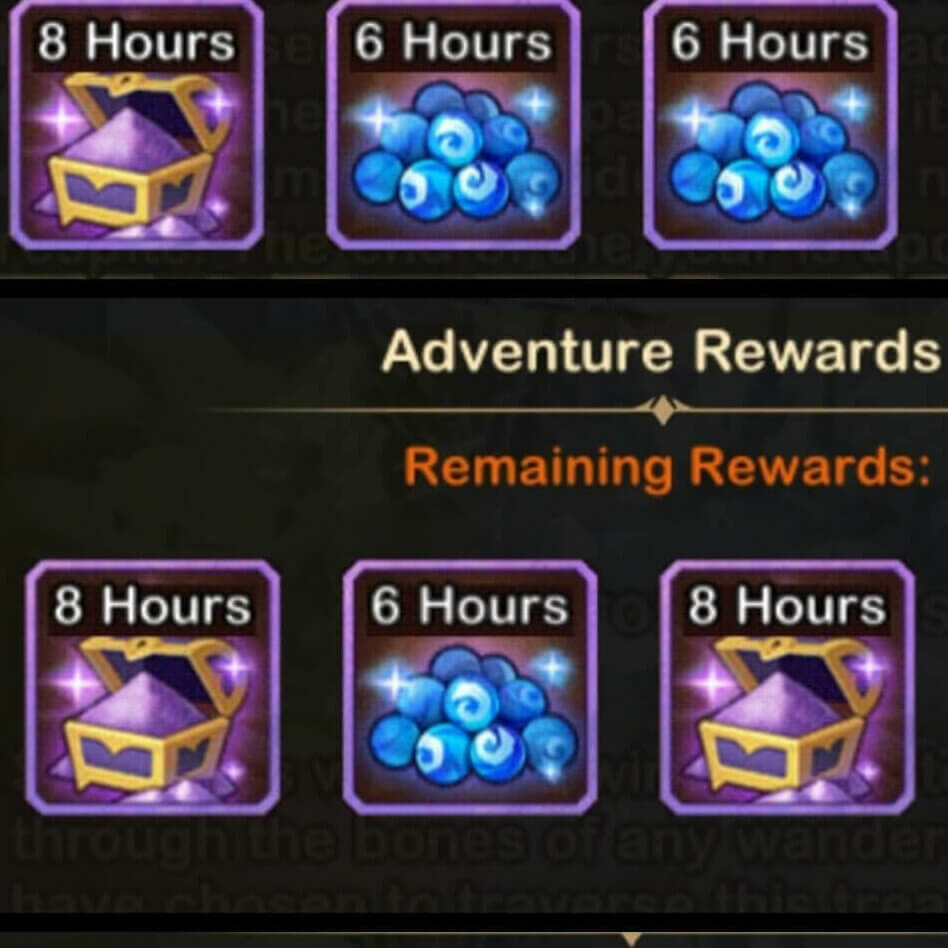 The event is on going from now until September 4th, so you want to make the most of this Forge The Elemental Blade event and earn as many prizes as possible.
How to Get Forge Points
Adventurers can earn Forge Points (FP) through:

| | |
| --- | --- |
| Daily FTBE Login | 20 FP |
| Sharing the Event | 20 FP |
| Daily Quiz | 10 FP |
| Daily Quests | 10 FP, 2Quests = 20FP |
| Forging The Blade | 20 FP |
Sharing/Teaming Up
Once you sign into the site/event with your in-game User ID and verification code, you cannot join someone's group, you can only invite new members to join your own group.
Sign up for the event using someone's invite link or if it's too late and you already signed up, invite someone with your own invite link. You cannot leave a group or kick members out, so be careful.
Currently you get 90FP daily, and max rewards are 15000FP, so you can complete this event solo in 17 days if you always gain all 90FP daily!
Forge The Elemental Blade Quiz Answers
| Question | Answer |
| --- | --- |
| Anoki's father gave him what item before passing away? | Blood Guard Warhorn |
| The Arachin leader is the | Arachin Queen |
| Brutus' skill name is | Brutal Defiance |
| The current Blood Claw is | Brutus |
| Leadership of the Blood Guard is symbolized by the | Blood Guard Warhorn |
| The hero known as The Desert Fury is | Antandra |
| Drez is a member of | Bearfolk Wellson's Squad |
| The inherent Durri nature? | Cowardice |
| Golus - The Bladestorm is the head of the | Centaurs |
| Granit... was with which faction... before joining the Maulers? | Wilders |
| The hero known as The Fantaical is | Kren |
| Khasos - The Unruly was once a | Slave |
| Kren's right wrist has a concussive grenade launcher named | Lady |
| Kren's Model 53 Multi-function Hand Cannon is called | Hot Stuff |
| Where is The Land of the Exiles? | Maulers and Lightbearers |
| The hero known as The Maniacal Mage is | Thali |
| Which... desert city welcomes everyone and is illuminated by a marshland?' | Canter |
| NOT involved in the Great Mithril Caravan Heist? | Drez |
| "Quicksand Claws" hideout is rumored to be the | Demonic Sand Castle |
| The hero known as The Quicksand Recluse is | Drez |
| Safiya - The Daughter of the Desert is the Queen of the | Sphinxes |
| Satrana has what role in the Temple of the Seers? | Flame Weaver |
| For generations The Sapera have lived near the | Bone Glades |
| Which hero is a Mauler Scout? | Alaro |
| The hero known as The Serpent Charmer is | Thesku |
| Skreg's mount is an | Ironjaw Beast |
| Skriath - The Wise One isa | Falkin |
| Skriath - The Wise One's loyal elite military force is the | Blood Guard |
| The last Sphinx Queen was killed in a | Rebellion |
| Once a member of the "Steel Fang" Artillery Division? | Kren |
| The hero known as The Strongheart is | Saveas |
| Temple Knights who stray from their duties... what punishment awaits them? | Exile |
| Thali - Maniacal Mage rescued WHO through a prison heist? | Kren |
| Thesku - The Serpent Charmer has raised | Four Snakes |
| The hero known as The Unruly is | Khasos |
| Warek's brother was killed by a | Centaur (Golus) |
| The hero known as The WIse One is | Skriath |
| Mauler Shamans used to adhere to... Voodoo should only be used for what? | Ritual and Prayer |
| Vurk - The Devious is | A Durri |
| Vurk's big brother is | Skreg |
| Zorn is the name of a | (Alaro's) Dummy |
| Not a mauler - | Dreaf |
| Mauler role associated with Wisdom? | Shaman |
| Which of these do the Maulers hold sacred? | The Temple Ruins |
| Which of these brings the greatest disgrace to Maulers? | Battlefield Desertion |
| Which of these do the Maulers live by? | Survival of the Fittest |
| Which Mauler tribe is at the top of hierarchy owing to its unrivaled strength? | Bearfolk |