Solemn Vow is a new interesting event in AFK Arena where players who meet conditions can form a Mentor-Apprentice relationship and complete tasks together to claim an abundance of rewards.
Players can easily open the event menu via the right sidebar on the screen!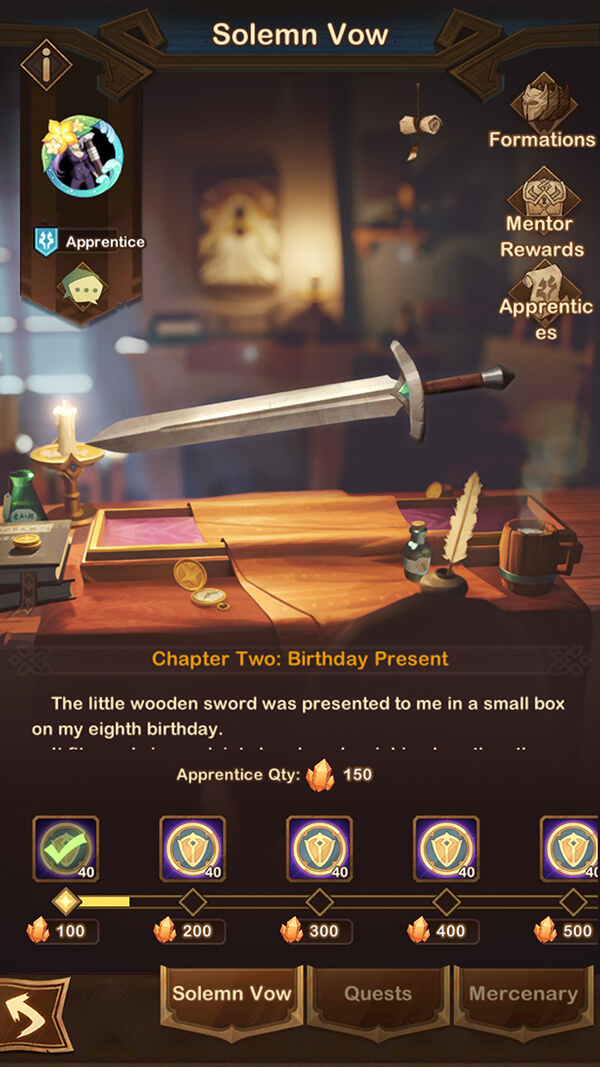 Solemn Vow Quick Guide
Quick Summary
1. When an Apprentice completes Learning Tasks and Mentor Tasks they shall receive Erudite Essence By accumulating Erudite Essence, players can raise the level of the sword "Solemn Vow", while also claiming its level-up rewards.
2. By completing all Learning Tasks and Mentor Tasks, players are able to level up the Solemn Vow to its maximum level. Once a player has claimed the Solemn Vow's max level rewards, their apprenticeship will be considered as successfully finished.

3. Apprentice's Solemn Vow level-up rewards can only be claimed once per level. A player's Apprentice level is linked to their Solemn Vow level, thus, if they terminate their mentoring relationship with a Mentor, it shall not be reset.
4. During a Mentor and Apprentice's mentoring relationship, Mentors can acquire Mentorship Points based on the Apprentice's current Solemn Vow level.
5. Mentors can claim corresponding Mentor Rewards by accumulating Mentorship Points.
6. Mentors can acquire all Apprentice rewards by mentoring an Apprentice up until they successfully finish their apprenticeship.
7. How to become a Mentor: Reach Chapter 30 of the Campaign and possess 10 Ascended tier heroes.
8. How to become an Apprentice: Reach a Stage between Campaign Chapter 4 through Chapter 25.
9. Mentors may only take on one apprentice at a time, likewise, apprentices may only ask for help from one mentor at a time.
10. Mentors and apprentices cannot halt their relationship within the first 3 days of it beginning.
11. Mentors are required to take on new apprentices at least two weeks apart from their last intake.
12. Apprentices cannot choose a new Mentor for the next 24 hours after halting their relationship with the previous Mentor. If a mentor has been offline for 7 days, the Apprentice can immediately find a new Mentor after halting their relationship with the inactive Mentor

13. When a mentor and apprentice have been in a mentoring relationship for two weeks, or the apprentice has been offline for 7 days, the mentor can choose to terminate the relationship with the apprentice.
14. After completing corresponding tasks, Mentors can claim "Years Lost" rewards. "Years Lost" contains all Apprenticeship rewards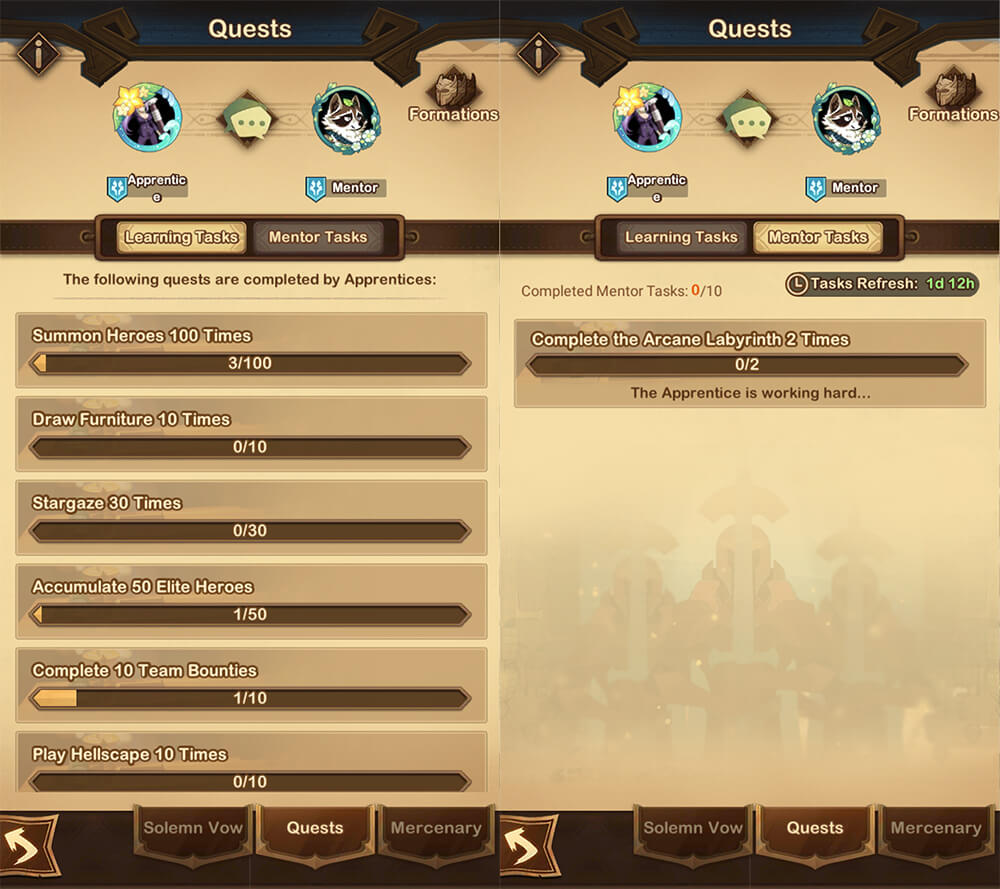 Solemn Vow Quests
1. Apprentices can complete all Learning Tasks with the guidance of their Mentors. Learning Tasks may not be completed multiple times, and the number of tasks already completed will not be reset if an Apprentice terminates their relationship with a Mentor.
2. Mentor Task progress is calculated weekly. Apprentices may commence their Mentor Tasks in advance, and the progress made within each week will be retained.
3. An Apprentice may complete a total of 10 Mentor Tasks. If an Apprentice changes Mentor, the number of chances they have to complete Mentor Tasks will not be reset.
4. If an Apprentice does not complete a Mentor Task, they do not lose any chances to complete future Mentor Tasks.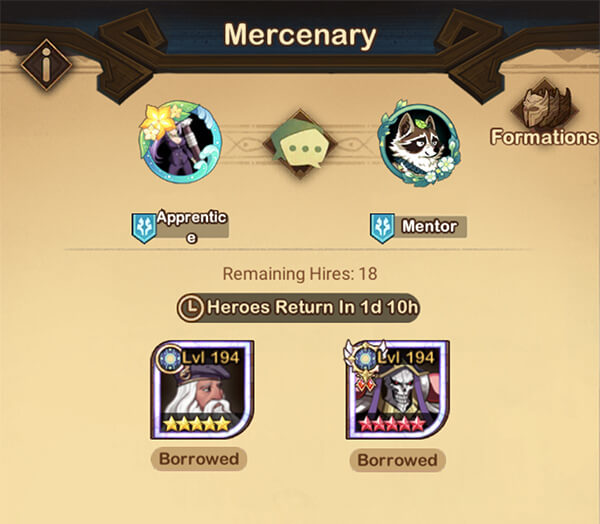 Mentor Mercenaries
1. Apprentices can borrow Mentor Mercenaries from their Mentors without their approval. Apprentices just need to confirm their heroes on the secondary confirmation page to start using them.
2. Apprentices can borrow up to 2 Mentor Mercenaries a week. Chances to use a Mentor Mercenary will only be deducted when they are used in a victorious formation. Mentor Mercenaries will be recalled on Sunday mornings at 00:00 UTC.
3. Players may only hire heroes which are Legendary tier or higher from Mentors or friends. Hired heroes can each respectively be used in battle only once in the King's Tower, 4-Factions Tower, and campaign stages if they are victorious, or more than once if they are defeated. Only one mercenary can be used at a time while 'Team Hunting'. However, there is no usage limit for mercenaries.
Formations
1. Mentors can use the Recommended Formation function to recommend optimal formations to their Apprentices.
2. The Recommended Formation function is divided into two types of formation: 'Optimal' and 'Current'. Within the Optimal tab, Mentors can select the best possible heroes within the game to formulate a formation. Within the Current tab, Mentors may only select heroes from a list of heroes that are currently owned by the Apprentice.
3. Apprentices can copy their Mentor's recommended formation into their own formation.
Rewards