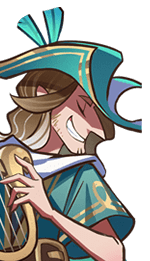 Angelo – Song of Dawn

This guide is shared by GloriouS. Make sure you check out their Discord Channel for more interesting stuffs!
Faction
Class
Rarity
Position
Role
Lightbearers
Intelligence
Legendary+
Dumpster
Ascension Fodder
Synergies
N/A
Overview
---
Angelo is useless.
Artifact Recommendations
---

Strengths & Weaknesses
---
Strengths
4 man Ultimate is ok (Short AoE silence)
General Strategy for Hogan
---
Seriously don't use this guy lol
Guild Hunt Strategy
---
Dont. His healing is too low and his Ultimate is useless in this mode.